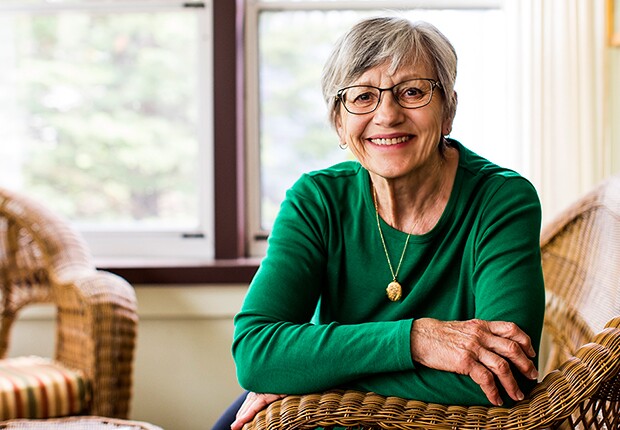 By Joanne Cleaver

Madison resident Carol Martell found a new calling after retiring in 2013 from her position as an administrative assistant with the Wisconsin Conference of the United Church of Christ.

She joined the AARP advocacy team and speaks up for older residents during state legislative hearings on such topics as caregiving and health care.

Even when she isn't testifying, Martell stands, or sits, with other AARP volunteers, all wearing AARP-logo shirts. "My job is to be present," said Martell, 69.

As this year's elections approach, AARP Wisconsin is urging voters 50-plus to be present in the process. Candidates will be listening to their concerns on issues affecting their health and financial security.

To aid this effort, starting this month, AARP Wisconsin will be offering several communications tools for older residents to express their views to candidates.

"Your voice and your vote are important," said Martell, a local election official. "No matter what your issue is, your vote is the power that you have."

An AARP van with a mobile listening post will make stops throughout the state's congressional districts, enabling people to share their views. Medicare and Social Security, both priorities for AARP members, are sure to be prime topics.

Elsewhere in the state, AARP volunteers will conduct voter information campaigns. And all members can find ways to be heard through the tools available at aarp.org/wi. Party primaries are Aug. 14 and the general election is Nov. 6.

Historically high turnouts

Older voters have clout. In the 2014 midterm elections, 55 percent of voters 60-plus turned out nationally, the highest share of any age group.

Caregiving, the cost of medical care, financial security and saving for retirement are top issues for older residents, said Helen Marks Dicks, advocacy director for AARP Wisconsin. Broadband internet access is also a crucial issue, she explained, because virtual medical services cannot be conducted without it.

"Citizens of Wisconsin have done a good job of telling their stories about how these issues affect them," she said. "In campaign season, legislators are available to listen to stories about how these issues affect people on a day-to-day basis."

One way AARP will gather these stories is with its mobile listening post, where members and others can record their opinions and thoughts. AARP Wisconsin intends to share some of those stories through social media and with local newspapers and TV stations.

Another goal of the outreach is to encourage voters 50-plus to plan how they will get to the polls. Weather, caregiving responsibilities and work schedules can be obstacles.

Wisconsin allows voters to register on election day, but that effort may require more than one form of identification, and the wait time can be long. AARP recommends that voters register well before elections so they have the option of voting by mail. Go to bringitwisconsin.com for information.

AARP Wisconsin is also preparing guides on issues important to older citizens that can be used to craft focused, informed questions to candidates.

These guides, along with dates and locations for the mobile listening post van, can be found at aarp.org/wi or the AARP Wisconsin Facebook page.

Joanne Cleaver is a writer living in Manistee, Mich.