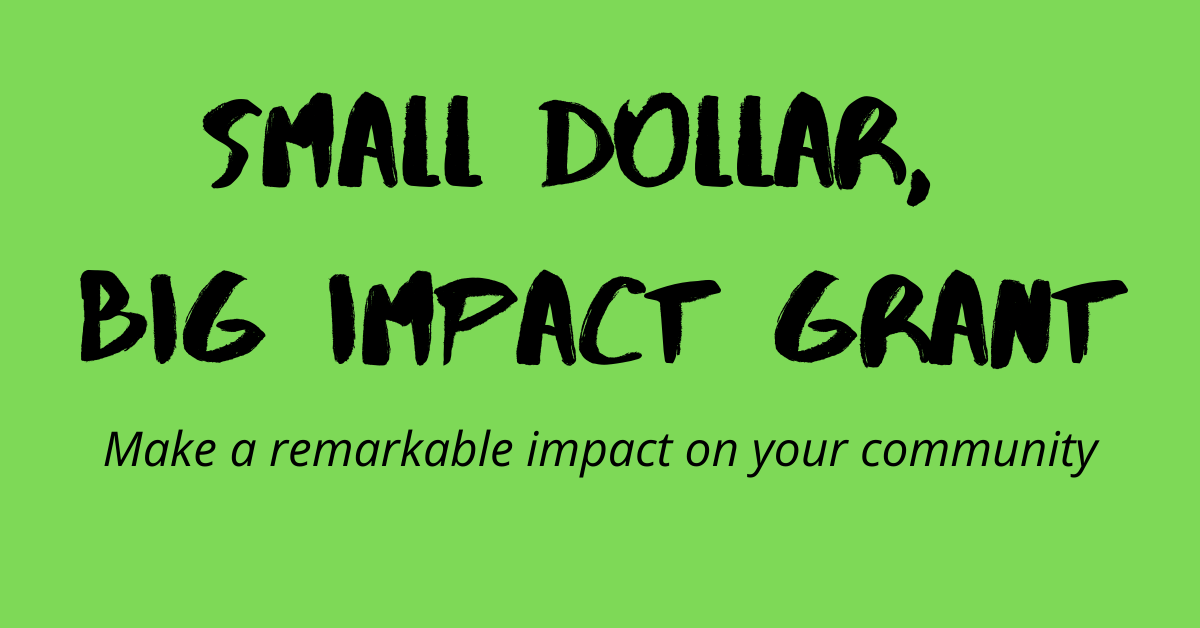 We are excited to be accepting applications from across Wisconsin for "Small Dollar, Big Impact" grants, which will be awarded to new projects that are designed to improve a community and make it a better place for everyone to live, work, and play as they age. AARP Wisconsin may award a grant of up to $1,000 to at least one eligible applicant. The grant amount could be a portion of or the total cost for the project. All projects must be completed within 60 days from winner announcement. if your project includes public engagement, please ensure that the activities follow all local/state guidelines.

Small Dollar, Big Impact grants are exactly what the name describes – simple, short-term, low-cost solutions that could have remarkable impacts on the shaping of neighborhoods and cities. There are so many great ideas and proposals for making life better in communities across Wisconsin. We know how impactful $1,000 can be. This is our way of extending some seed money to get these projects off the ground.

Applications for the current cycle are due by August 17, with future application deadlines of Sept. 21 and Oct. 19.

AARP will prioritize projects that aim to improve one or more of the following "8 Domains of Livability," which include:
• Outdoor Spaces and Public Places
• Transportation
• Housing
• Social Participation
• Respect and Social Inclusion
• Work and Civic Engagement
• Communication and Information
• Community and Health Services

The "Small Dollar, Big Impact" grant program is open to some nonprofits and government entities in Wisconsin. Other types of organizations will be considered on a case-by-case basis. Full eligibility is listed below.

Eligibility
The program is open to the following types of entities:

501(C)(3), 501(C)(4) and 501(c)(6) nonprofits
Government entities
Other types of organizations will be considered on a case-by-case basis
Must be located within the State of Wisconsin
The following projects are NOT eligible for funding:

Partisan, political or election-related activities
Planning activities and assessments and surveys of communities
Publication of books or reports
Acquisition of land and/or buildings
Sponsorships of other organizations' events or activities
Research and development for a nonprofit endeavor
Research and development for a for-profit endeavor
The promotion of a for-profit entity and/or its products and services
Selection Criteria
Applications will be reviewed by a small team of community focused stakeholders who have experience in neighborhood and city development. Reviewers will assess each project based on the following factors:

WOWNESS: does it make us say, "holy coleslaw-on-a-sandwich, that's awesome and creative!"?
USEFULNESS: will this grant make a real difference in getting the project off the ground in the near future?
NICENESS: would the idea make people happy or help people?
BIGNESS/ LOCAL IMPACT: does this project have the potential to reach many people in the community? Is it scalable?
Grant Cycle
GRANT #1
o Winner: The Osceola Area Chamber and Main Street Program's Picnic-to-Go

GRANT #2
o Winners: The Mining & Rollo Jamison Museums/City of Platteville Museum Department of Platteville AND The East Side Business Improvement District #20 of Milwaukee

GRANT #3
o Winners
Beaver Dam Area Chamber of Commerce
On Broadway, Inc. of Green Bay

GRANT #4
o Application due by August 17, 2020
o Winner announced on Sept. 3, 2020

GRANT #5
o Application due by Sept. 21, 2020
o Winner announced on October 1, 2020

GRANT #6
o Application due by October 19, 2020
o Winner announced on November 5, 2020

Terms and Conditions
By submitting an application to AARP-WI, the applicant agrees that:

The decisions of AARP regarding the eligibility of participants and the validity of entries shall be final and binding.
All submissions will be judged by AARP-WI, whose decisions and determinations as to the administration of the award and selection of award recipients are final.
AARP has the right, in its sole discretion, to cancel, or suspend the award.
All projects and applications shall not violate any third-party rights.
Except where prohibited by law, participation in the AARP- WI Small Dollar, Big Impact Grant constitutes the Applicant's consent to AARP's use of the organization's name and corporate logo, street address, city, state, zip code, county, and names, likenesses, photographs, videos, images, and statements made or provided by the Applicant's representatives regarding the award for promotional purposes in any media without further permission, consent, payment or other consideration.
All promotional materials (such as newsletters, press releases), events and signage related to the funded project will include a statement indicating that support was received from AARP-Wisconsin.

The organization is required to capture photos of the project and is encouraged to capture video. As the organization captures photos and video of the project, if an identifiable individual appears in the photos and/or videos, the organization is responsible for having him/her sign the AARP General Release (this document will be provided to grantees with the MOU and other required paperwork). In addition, the organization should not include any element in photos or videos provided to AARP-WI that may violate third party rights such as artwork and trademarks in text and logo other than those owned by the organization and AARP-WI. The organization should be prepared to send work in progress photos to AARP-WI upon request.

AARP and its affiliated organizations, subsidiaries, agents and employees are not responsible for late, lost, illegible, incomplete, stolen, misdirected, illegitimate, or impermissible submissions or any other error whether human, mechanical or electronic.