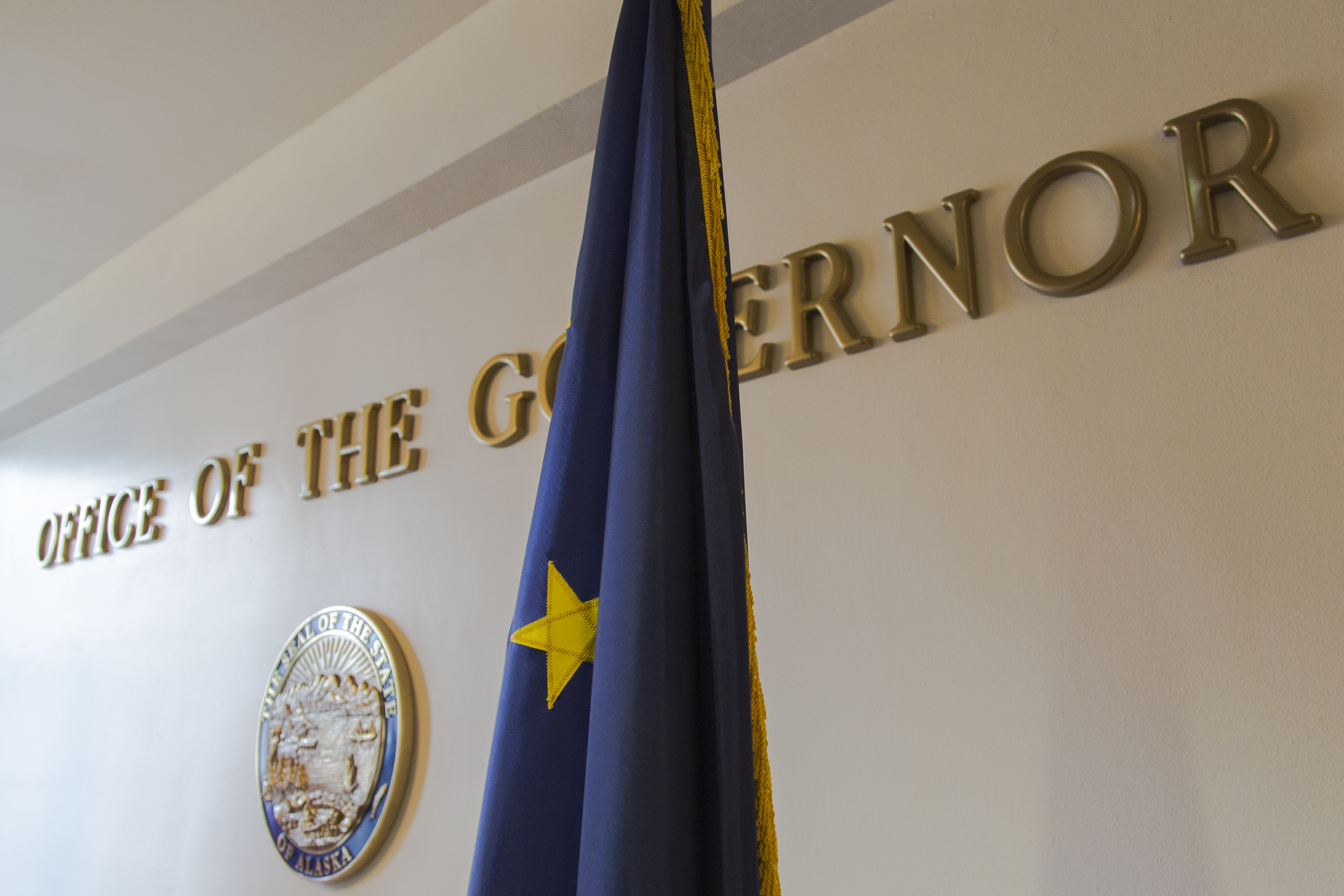 Alaska's Nov. 8 general election will feature several tight and closely watched races, including the gubernatorial contest between incumbent Gov. Mike Dunleavy (R), Democrat Les Gara and Independent Bill Walker. AARP Alaska spoke with the gubernatorial candidates to see where they stand on key issues for 50-plus voters. Here's what they had to say:


1. As governor, what role does a long-term fiscal plan play in your vision of Alaska's future?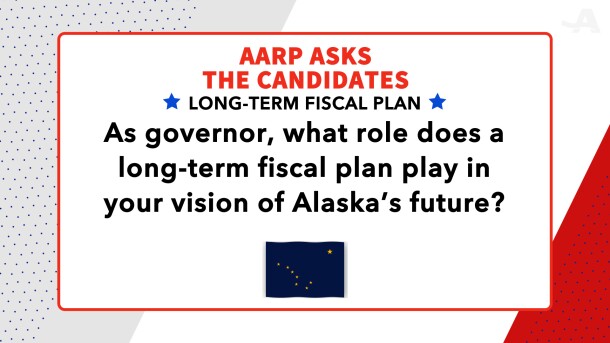 Long-Term Fiscal Plan
Dunleavy: It's crucial that Alaska has a long-term fiscal plan. It's going to provide stability going forward for the future of Alaska. Over the last four years, we have introduced many bills to the legislature in an effort to provide a stable fiscal plan. Bills that would put sideboards on taxation, bills that would ensure that the permanent fund dividend is going to be here now and for the future, as well as a spending limit, so that government doesn't end up spending all of our savings again like has happened in the past. We'll continue to push this approach that put sideboards on our spending, increases our savings. We'll also be looking at other methods of raising revenue. For example, there are new approaches to carbon tax credits here in Alaska. The ability to sequester carbon, additional oil fines that are occurring right now in the Slope, and the ability to monetize our gas. All of which will bring revenue to the state of Alaska — increased revenue.

Gara: You know, I helped form a bipartisan house majority in 2017. Before I left the legislature in 2018, we voted for a full fiscal plan that would have eliminated our deficit. But folks like the current governor opposed that, and they have done nothing, and they have left us in this fiscal crisis. The only year we haven't had a fiscal crisis is this one year where Russia has invaded Ukraine, so we have extra oil money. But that will disappear. Look, we need to make sure we have the funds in the state to support our seniors, to support our children, to support our schools, to support our university. We need to stop, we need to end this fight where this governor makes you fight between a permanent fund dividend or schools or help for seniors or the things we need to move the society forward. We should have all of those things, a strong dividend and strong schools and strong senior support, but we need to have the revenue to do that. I have voted for that in the past. I think we need a fair share for our oil to make sure we can help fund a vibrant future for people.

Walker: It's critical for Alaska to have a long-term fiscal plan. I came into office, we had low oil prices, a $4 billion hole in our budget. We put together a long-term fiscal plan, presented it to the legislature, presented it across the state. One major piece of it was passed by the legislature. The percentage of market value of taking a portion of the earnings from the permanent fund earnings to fund government. Today, 70 percent of the revenues to fund government services comes from the earnings of our permanent fund. Still have a gap to fill. I was disappointed that Mike Dunleavy did not do that as governor. He ran from that obligation.We left a $1 billion deficit after dealing with a $4 billion deficit, and that has not been addressed in any way since we left office. One of the reasons I'm running is to make sure that we step back up to the plate and put together a finished long-term fiscal plan that is so critical for the future of this state.


2. As governor, how would you improve retirement savings or savings options for hardworking Alaskans?
Retirement
Dunleavy: Well, certainly inflation is a concern for all of us, especially our seniors that are on fixed incomes. This is why this year we pushed for the highest dividend in the history of the state of Alaska: $3,300 per person, which is almost $300 per month. This is going to help all Alaskans, especially our seniors, be able to get through some of these high inflationary periods. Again, we're going to be looking at how to lower the cost of energy here in the state of Alaska. We'll keep working on how to lower the cost of food as we become more food secure and produce our own food here in Alaska. All these approaches in the end will have the impact, the effect, of making a dollar go longer for our seniors and reducing inflation on our seniors as well.

Gara: I've always believed in a pension for people. When this state came in to end pensions for state employees and city employees and public employees and teachers and firefighters and police, what you just did was — for the last 20 years — eliminated a pension system that gives people a way to retire securely. I believe in pensions so people can retire securely. I voted for pensions so people can retire securely. Those things are very important to me. This governor has opposed that. I am the only candidate in this race who has, as a legislator, tried to bring a pension back to people, because that is how people can afford to retire insecurity, in comfort, without wondering where the next check is going to come from to pay for food or rent or even a gift for our grandchild. We need to treat seniors and retirees with dignity.

Walker: You know, the retirement savings for hardworking Alaskans need to be protected in such a way that they can afford to remain in our state. Our inflation has hit Alaska like no other state, and we need to makes ure that our cost of living is reduced so that seniors on a fixed income are able to remain in Alaska. One of the best ways we can do that is reduce our cost of energy. We should have the lowest cost of energy in the nation, not the highest cost. We have a plan to do that and do that on an immediate basis. So Alaskans shouldn't have to look to other states for a place of residence at this point in their life. They want to stay where they've lived, where their loved ones are, where their grandchildren are, perhaps their great-grandchildren. So it's a matter of bringing down the cost of living, and we will address that immediately upon being in office.


3. As governor, what specific steps would you take to encourage construction or renovation to increase affordable and accessible housing options for seniors?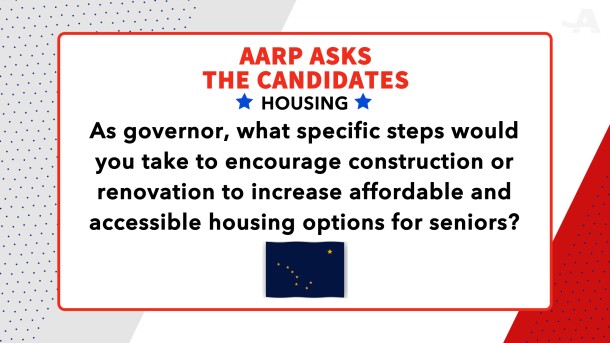 Housing
Walker: Affordable housing options for seniors is absolutely critical. I'm a journeyman carpenter by background. I grew up building houses with my father in Valdez. And so I'm familiar with construction — it's a bit of my passion. There's things we can do through a statewide land trust that can bring down the cost of housing. Alaska is one of three states in the nation without a statewide land trust. I recently was at Sitka and saw what they did with the Sitka land trust, and, my goodness, they have really brought down the cost of housing as a result of that. So we need to be creative, innovative, and acknowledge the priority of affordable housing for seniors. And we have all the tools in the toolbox to be able to do that.

Dunleavy: I think the housing options for our seniors is something the state can absolutely work on. When I was a superintendent of schools, we worked on a teacher housing program in partnership with private industry. Alaska has plenty of land. We can de-risk the cost of senior housing by partnering with contractors that provide senior housing by discounting that land in the cost of the housing. We also need to look at congregate housing settings where seniors can access care, such as medical care, prescription drugs, be able to shop close to their homes for food and other services, goods and items. We can, here in Alaska, put to use the land that we have, as well as work with AHFC, our Alaska Housing Finance Corporation, to lower some interest rates for certain programs directed at seniors. So here in Alaska, we do have the tools to address the issue of housing and affordable housing. This is something we've worked on in the past four years, and it's something we'll continue to work on going into the future.

Gara: The unspoken problem in this state — and this governor hasn't addressed it, many people haven't addressed it — is there's a housing shortage in this state, an affordable housing shortage both for seniors and non-seniors. The state needs to take a role. We have the Alaska Housing Finance Corporation. The Alaska Housing Finance Corporation should partner to make sure we're able to build more affordable senior housing, so seniors can live with dignity in the state. Our seniors have contributed to the state for decades and decades and decades. The state should not turn its back on people who have contributed to the state so strongly. So I will make sure that we start moving ahead on this housing problem that this governor and most other people have ignored for the last four and eight years.


4. As governor, how will you protect and expand services and supports to allow more seniors to live independently in their homes and communities?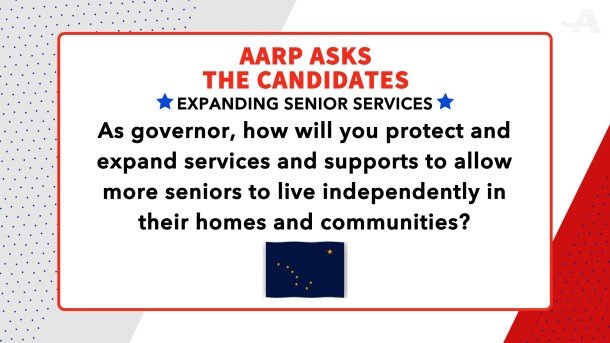 Senior Services
Gara: Seniors deserve to live with loving family. They deserve to live in their homes. We should not send seniors out of their homes if they don't want to leave their homes to be cared for. That's why we have home health. But I disagree with this current governor, who has underfunded community health and home health services. And it is time for us to say, look, we cannot just cut our way to harm for people, which is what happens. If you cut the amount of money available to home health, then home health companies cannot hire workers. And that's a problem we have in this state. We should be able to move ahead with a strong workforce so that seniors who live at home have people there to take care of them. We should stop harming families, which is something this governor has done. We should stop harming families by cutting the amount of hours that home health care workers can work, for respite, so that family members can go away to work and go shopping. These are things that are important to me, so that seniors live with dignity.

Walker: As a lifelong Alaskan, born in Fairbanks, I have had personal experience with the benefit of seniors living in their home. Both my father, here in Alaska, passed away some years ago, but he stayed in his home as long as we could keep him there. And then he was at the Pioneer Home in Palmer. My sister also had in-home care as well for the last several years of her life. So it's critically important for seniors to be able to, and those in need, be able to stay in their home. That is the best quality of care we can provide. We have to make sure that the caregivers are appropriately recognized monetarily and have a living wage, a retirement plan, so that they can choose that as a profession and not just an interim position between other positions. So we need the highest level of care to our seniors, but remaining in home is absolutely the best option that I'm aware of.

Dunleavy: So obviously Alaska's population is aging. We used to be a young state. We now have probably more seniors over the age of 50 or in the age of 50 category than most other states. As a result of that, we have to focus on our seniors and make sure that this is going to be an inviting place for seniors to stay. And so with that, my administration has added upwards of $33 million for health care workers that provide services to seniors, so we can attract good health care workers and keep them. We've also increased our relief payments to about $3.4 million additional to what we've had in the past, as well as roughly $19 million in Alaska ARP money. We'll also be working with the legislature to expand new licensing approaches, to ensure that we can provide better on health care and home health care for our seniors.And finally, we've successfully renewed all of the major Medicaid waivers, which provide stability and continuity of care for our seniors here in the state of Alaska.

Also of Interest: