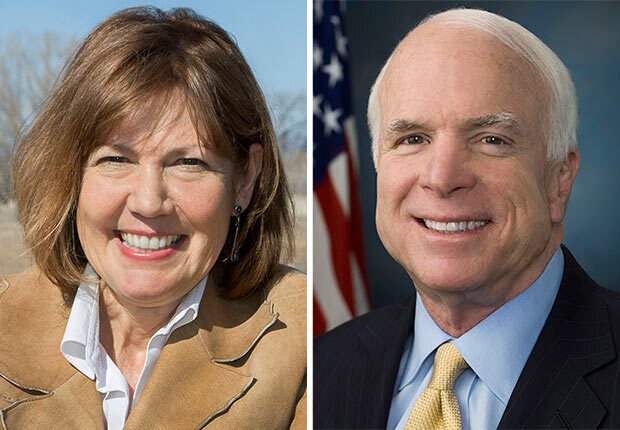 By Miriam Davidson

Arizona's Republican and Democratic candidates for U.S. Senate, Sen. John McCain and Rep. Ann Kirkpatrick, agree on the need to protect Social Security and Medicare for current and future generations, but they disagree on how best to do that.

McCain, 80, is in his fifth Senate term. Kirkpatrick, 66, is in her third (nonconsecutive) term representing the 1st Congressional District, which covers most of eastern Arizona, including Flagstaff.

McCain spoke by telephone with the AARP Bulletin; Kirkpatrick responded in writing.

Both candidates agree that Social Security must be maintained and strengthened. More than a million Arizonans rely on the federal program.

McCain said he is concerned about Social Security's future solvency—it will be able to pay only about 75 percent of benefits after 2034 if no changes are made—but noted there is time to make changes to ensure that everyone who pays into the system will receive the benefits they've earned.

"I'd be glad to entertain any proposal done on a bipartisan basis" to put the program on a sustainable path, he said, "but I would not agree to any change to benefits for present retirees."

Kirkpatrick said the system's current benefit structure is inadequate. "I support expanding Social Security benefits for seniors because benefits no longer seem to cover the cost of food, prescription drugs or household bills." She would support lifting the $118,500 cap on income subject to the Social Security tax.

Both candidates said improving Arizona's economy to create more higher-paying jobs would help ensure the program's future viability.

On Medicare, which will be unable to pay full benefits by 2028, Kirkpatrick said she would oppose any attempt to privatize the program or raise the eligibility age.

McCain contends that repealing and replacing the Affordable Care Act (ACA) with other health care strategies, such as the creation of high-risk pools for people with preexisting conditions, would strengthen Medicare's finances.
He criticized a provision in the law that created an Independent Payment Advisory Board authorized to make changes to Medicare's rates and rules without congressional approval.

Although conceding the ACA is "far from perfect," Kirkpatrick said the law should be improved, not repealed.

"John McCain's plan for full repeal could add at least $137 billion to the deficit, roll back Medicaid expansion—which has been a lifeline for many Arizona hospitals—increase prescription drug costs for seniors, and would have disastrous effects for our state's working families, seniors, Native Americans and many others," she said.

Reducing costs
Kirkpatrick said she is "committed to working with anyone to enact commonsense reforms such as driving down the cost of prescription drugs; fostering competition, particularly in rural communities; and encouraging the use of technology like telemedicine to improve access to care and lower costs."

McCain favors reducing prescription drug costs by allowing importation of drugs from Canada, as well as by reducing the number of years pharmaceutical companies hold exclusive patents from 12 to seven, to get lower-cost generic drugs on the market more quickly.

AARP does not endorse candidates, contribute to campaigns or favor political parties. AARP is urging members to ask presidential candidates their positions on making Social Security financially secure and to consider these issues when voting.

To find out where the presidential and congressional candidates stand on Social Security, go to 2016takeastand.org. Learn more about how to register to vote, where to vote and other information about voting in your state at aarp.org/yourvote.

Miriam Davidson is a writer living in Tucson.