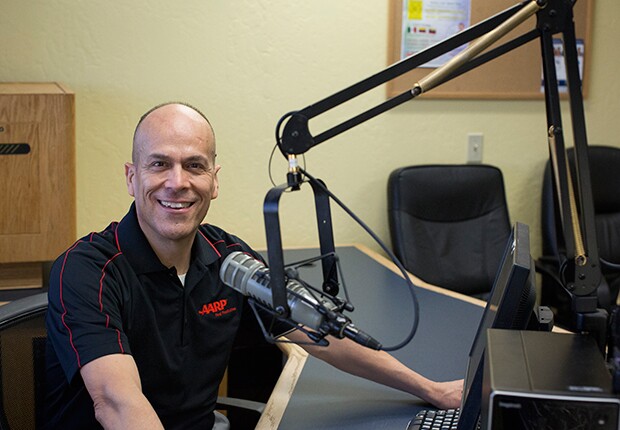 By James E. Garcia

Seated behind the microphone at a Phoenix radio station one recent Saturday morning, David Parra, a fit and slender man in his 50s, talks with a group of guests about lowriders—car enthusiasts who restore classic late-model automobiles and equip them with hydraulic lifts so they can ride high or low to the ground, a popular tradition that dates back decades in the Chicano community.

It's the latest installment of AARP A rizona Hispanic Connection, an hour-long community affairs program that airs at 8 a.m. every Saturday on Onda 1190 AM in the Phoenix Valley.

Recent episodes have highlighted the historical contributions of the state's Hispanics and their educational challenges. Another segment focused on what Parra, director of community outreach for AARP Arizona, described as the "LGBT journey," addressing a wide range of issues affecting the state's gay, bisexual and transgender community.

Hispanic Connection, which airs in English, premiered May 6 as Arizonans celebrated the Cinco de Mayo weekend. The program's goal is to "educate, celebrate and connect" the state's fast-growing Hispanic community.

The number of Latinos in Arizona, over 30 percent of the population, has more than tripled from about 700,000 to 2.2 million in the past 25 years, according to the U.S. Census. Phoenix is more than 40 percent Hispanic, and this demographic group is expected to reach majority status there in the next few years.

Parra said the inspiration for the program is rooted in AARP's commitment to advocate on behalf of the nation's 50-plus population by delivering information and services.

Aiming to educate and inform

"AARP's main goal is to serve, and as a staff member of AARP, my job is to find ways to serve the state's Latinos and our multicultural communities," said Parra.

"For years we've been providing lots of educational and informational services, mainly to Spanish speakers. But we knew we wanted to develop a way to also reach the English-speaking Latino."

Hispanic Connection is aimed squarely at that latter population. While the AM news and talk station on which the show airs is primarily geared to Spanish-speaking listeners, Parra persuaded its managers to take a chance on English-language programming.

"The program is beginning to see signs of success," he said.

Although 1190 AM does not provide listener statistics, Parra said the program's Facebook page now has about 1,100 followers. In addition to its weekly radio broadcast, Hispanic Connection also livestreams on Facebook, and videos of the show are archived on its Facebook page and on AARP Arizona Hispanic Connection's YouTube channel.

While a wide range of issues of interest to Latinos are discussed, "education has been a high priority," Parra said.

Hispanics in the United States have begun to close the education gap that exists with non-Latinos, but far too many Hispanic youths—especially males—drop out of high school and struggle to stay in college, he said.

Health care, too, is a major topic on the program. "We have also focused on health concerns and shared data and expert opinions on the dangers of chronic conditions, such as diabetes and high blood pressure," Parra said, "as well as the importance of exercising and eating healthy."

The program also challenges the conventional wisdom that it's mostly Spanish-speaking, low-income communities that need the sort of informational programming AARP Arizona Hispanic Connection provides. Parra said.

"A lot of times we think the more acculturated Latinos have made it and don't need our services, but our English-speaking and more well off Hispanic communities also need to know about things like educational opportunities, good health and financial literacy."

Ultimately, Parra said AARP Arizona Hispanic Connection is a logical extension of the "umbrella of service that AARP provides" across Arizona and nationwide.

James E. Garcia is principal owner of Creative Vistas Media in Phoenix.