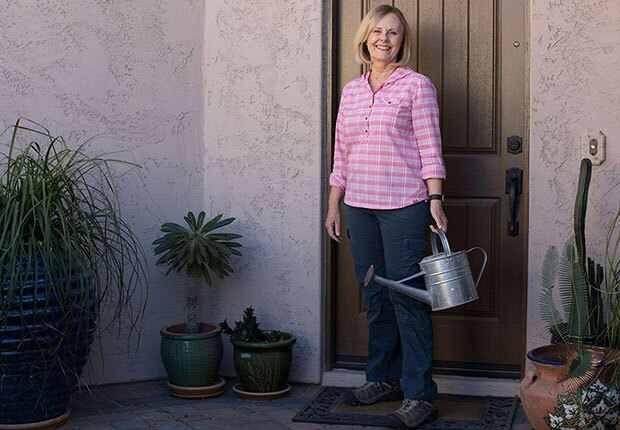 By Miriam Davidson

Marquetta White knew that her 91-year-old father, who cares for her 87-year-old mother, who has Alzheimer's disease, could benefit from a support group. But the retired state employee and social worker had trouble convincing him.

"He'd tell me, 'I don't need to go cry on someone's shoulder,' " said White, 66, of Mesa. "Then a funny thing happened: He went, and he loved it.

"Now, he still won't listen to me, but he listens to the people in his group, because they really know," White said.

In addition to helping her dad, White puts her persuasive talents to use for AARP. The longtime volunteer serves as head of the organization's Arizona Advocacy Steering Committee, fighting for public policies beneficial to older Arizonans and their caregivers.

"Family caregivers keep older Arizonans out of state-supported institutions and in their homes, where they want to be," said Steve Jennings, AARP Arizona associate state director.

White and Jennings said caregiving issues—such as the cost of hiring someone to watch a relative while the caregiver is at a support group—continue to be AARP's top priority for the legislative session that starts Jan. 8.

AARP is backing the Family Caregiver Income Tax Credit bill, which would give family caregivers a credit of up to $1,000 for eligible expenses, including home safety upgrades, health aides, adult day care and transportation.

Filling a vital role
More than 800,000 Arizonans are family caregivers, providing an estimated $9.4 billion a year in unpaid care. AARP studies have found that family caregivers contribute, on average, nearly $7,000 a year to a relative's care, and 2 in 5 are experiencing financial stress.

"Arizona is on the leading edge of a national trend toward finding more ways to support family caregivers," said Teri Kennedy of the Arizona State University School of Social Work. She noted that bipartisan bills to establish a $3,000 federal income tax credit for family caregivers were introduced in both houses of Congress last July.

In-home care is another important issue for older Arizonans.

Opal Vigil, 66, a retired caregiver living alone in Tucson on $750 a month, said she can't always afford food for herself but makes sure her Chihuahua mix, Mitzi, gets fed. Disabled after a series of surgeries, she uses a walker to get around.

She gets help from friends and neighbors, as well as from Meals on Wheels volunteers who bring five frozen dinners a week. Vigil was recently approved for services including in-home visits twice a week, and help with bathing, shopping and housework, from providers hired by the Pima Council on Aging (PCOA).

Statewide, about 2,600 low-income people over 60 are on waiting lists for in-home care, a number that AARP, the PCOA and other agencies want to reduce.

But recent increases in caregiver wages and benefits mean more state funding will be needed just to maintain current enrollment, PCOA President and CEO W. Mark Clark said. "We'll have to ask for additional money."

The AARP legislative agenda also includes preventing funding cuts and reduced access to Medicaid, protecting consumers from predatory lending practices and ensuring that public and private pension plans stay sound.

To become a volunteer, contact AARP Arizona at 866-389-5649 toll-free or aarpaz@aarp.org.

Miriam Davidson is a writer living in Tucson.