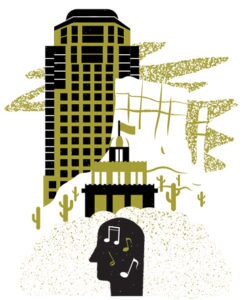 Music can help people with dementia and memory loss, which is why AARP in Phoenix and a musical duo are offering a workshop for families on Wednesday, June 19, at the Musical Instrument Museum, 4725 E. Mayo Blvd.
Conducted by Shannon Wallace and her musical partner, Charles Lewis, the Musical Memory Care Workshop includes a light lunch and a free guided museum tour.
The duo specialize in interactive music programs for people living with all forms of dementia and cognitive impairment.
The free event will be held from 10 a.m. to noon. Additional AARP-sponsored workshops are scheduled for Sept. 4, Oct. 2 and Nov. 6 (all Wednesdays).
"I'm so thrilled to be working with two wonderful organizations that support those living with dementia and their care partners," Wallace said.
For many people with dementia, music is a way to reconnect with memories. The workshop is part of Phoenix in Motion, a series of AARP Arizona events designed to keep people 50 and over active.
For more information, call 866-389-5649 or email aarpaz@aarp.org, or contact Wallace at shannonwallacesings@gmail.com or 480-330-5061.
Register for the workshop at aarp.cvent.com/d/h6qc49 or call 877-926-8300.
—James Garcia