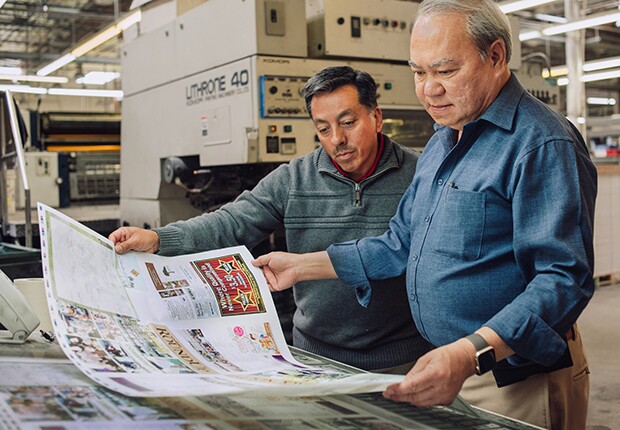 By Miriam Davidson
Lam Q. Bui, 65, has worked hard to build his Phoenix-based, family-owned Complete Print Shop from one worker in 1979—himself—to a thriving business with 36 employees.
Many of Bui's workers have been with him for 15 years or more. "Mostly they do have some savings; they are pretty stable," he said of his staff. But he is unable to provide them with a company retirement plan. "I can't afford it," he said.
Bui, one of the "boat people" who fled Vietnam after the war, said he would offer a workplace savings plan if it were set up and administered at little or no cost.
He's not alone. An AARP survey released in January found wide-spread concern among working Arizonans about the difficulty of saving for retirement.
In the survey ( aarp.org/retirementsecurityAZ), 76 percent of respondents said they would approve of the creation of a state-sponsored, no-cost-to-taxpayers savings plan for people with no option at work.
AARP conducted the survey to lay the groundwork for a bill establishing a retirement savings plan that businesses could participate in voluntarily.
"We think this is something many small businesses would like to be able to offer their employees on a voluntary basis," said Dana Kennedy, AARP Arizona state director.
Seven states have already established state-sponsored retirement plans, and about 30 others are considering one. AARP has joined with small-business advocacy groups and others to support these plans.
Kimber Lanning, 49, heads a nonprofit group of independently owned businesses called Local First Arizona, with nearly 3,000 members. She also owns Stinkweeds, a Phoenix music shop.
Anxiety about retirement
Lanning said she was unfamiliar with the savings-plan proposal, but could attest to the need for it.
"I've had a heck of a time creating a retirement plan for my manager," she said. "It's nearly impossible for small businesses to create savings plans where employees don't have to pay taxes on the money upfront."
According to the AARP survey, more than half of registered voters ages 35 to 70 in Arizona are very or somewhat anxious about their retirement savings. Other surveys have found about 45 percent of working-age households nationwide have no retirement savings at all.
Joe Rodriguez, 48, head of business development and sales at Complete Print Shop, has no retirement savings. His wife, a public employee, does, but he'd like to have his own.
By deducting savings automatically from paychecks, the proposed plan could help him and others save more.
"Sometimes it's just easier to have the employer take it out," he said. "You learn to live with it."
Rodriguez said any successful plan would have to be portable—workers could carry it from job to job—and not too burdensome for employers to administer.
Small-business groups such as the Arizona Hispanic Chamber of Commerce and the Arizona Small Business Association have yet to take a position on the proposal, but representatives say they are interested in learning more.
AARP Arizona will continue its public outreach and work with business owners and legislators to formulate a plan that has widespread, bipartisan support, Kennedy said.
To learn more about state-sponsored savings plans, go to aarp.org/ppi/state-retirement-plans.
Miriam Davidson is a writer living in Tucson.