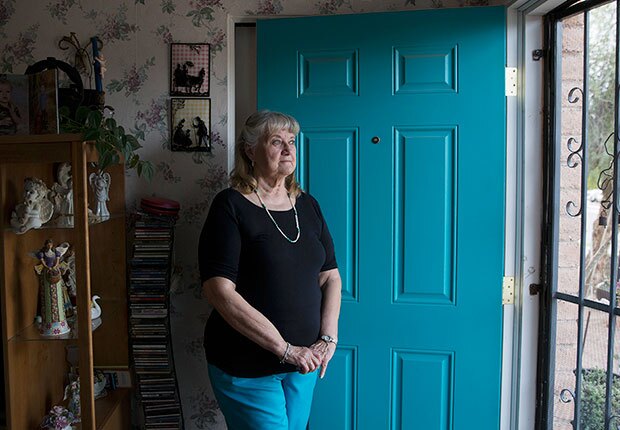 By Ford Burkhart

Donna Collins, 75, felt like a prisoner in her own home. She was the sole caregiver for her husband, Irvin, as he lived with dementia in Tucson until he died last October at 88. Tight finances had put her in a pickle.

Fortunately, her son in Phoenix told her about respite assistance through the Arizona Caregiver Coalition (ACC), with strong support from AARP.

"ACC was a real lifesaver," she said. "I was stuck. I couldn't get to the bank, even the grocery store. Oh, my goodness, it was awful."

The ACC offered her $300 worth of time off quarterly. "They gave me the freedom to go to church, to the store. I could get out and just clear my head. They saved me."

With a special focus on underserved populations and veterans, the ACC's primary mission is to assist family caregivers like Collins who can't find short-term respite help elsewhere.

Every 90 days it provides that prepaid $300­­ (about 27 hours) of respite care, coordinated through an Adult Day Health Center (ADHC). The program is funded by a three-year, $262,600 state grant.

Under the grant, family caregivers can take a loved one to any of the 19 state-certified ADHCs, from Yuma to Prescott Valley to Tucson, including centers in Phoenix, Glendale, Mesa, Peoria, Sun City, Surprise and Tempe.

The ACC can even arrange transportation of up to 10 miles to the centers for the recipient.

"At the health centers, the care recipient receives a nutritious meal, has some social interaction and can get help with medication," said Cindy Findley, the ACC's executive director.

"It can provide the caregiver with a life away from their all-day responsibilities," she said.

AARP helps promote the organization's Caregiver Resource Line (888-737-7494 toll-free) and a website (azcaregiver.org), which is loaded with resources and tips.

The ACC and AARP Arizona also organize an annual Family Caregiver Day at the state Capitol and offer support to caregivers who attend. While they are at the event, their care recipient can stay at a complimentary respite location nearby.

Dana Marie Kennedy, AARP Arizona state director, is a former ACC cochair who has experienced family caregiving firsthand. In Kennedy's family, five generations lived within a single block. She provided respite care for a grandmother to free up her mother for other activities.

"I learned that allowing a little bit of a break can make a huge difference," she said.

Kennedy invites Arizona caregivers to call AARP for assistance at 602-256-2277. "We want families to be aware of the resources that are out there to help a loved one live as long as possible."

The ACC is planning two new activities. One will train high-functioning disabled persons to be paid caregivers, thereby helping address a statewide caregiver shortage, Findley said.

She noted that this program will also establish a caregiving career technical education track in Arizona high schools.

The other initiative will provide support and mentoring to caregivers ages 8 to 21 in its Young Caregiver Program, in cooperation with Arizona State University and the Children's Society, a British charity.

"Children are caring for chronically ill and disabled family members," Findley said. "They are taking on an adult role at the expense of their education and social identity."

Ford Burkhart is a writer living in Tucson.