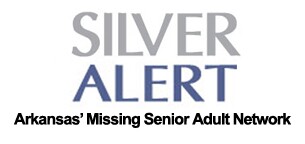 In 2010, AARP Arkansas helped initiate creation of the Arkansas Silver Alert—a system that mobilizes searches for lost adults with Alzheimer's disease and similar cognitive disorders.

Silver Alerts are based on the same concept of immediately alerting and disseminating information statewide through various media outlets as the Amber Alert for missing children.

Silver Alerts use a wide array of media outlets—such as commercial radio stations, television stations, and cable TV—to broadcast information about missing persons. Silver Alerts also use variable-message signs on roadways to alert motorists to be on the lookout for missing seniors.

The Arkansas State Police, working with the Arkansas Sheriffs' Association and Arkansas Association of Chiefs of Police, implemented the Arkansas Silver Alert.

According to the Alzheimer's Association, over 60 percent of people with Alzheimer's disease wander. They could end up miles away from home, scared and confused. They might not be able to communicate where they are supposed to be.

A Silver Alert helps coordinate an effort to find the missing person and arms law enforcement with information about the person's mental condition.

It's a good idea to have a conversation with your loved one before they have any symptoms of dementia. That way you can agree on the best approach to take.

AARP tips on dealing with this issue include:

Identification
Multiple forms of ID, emergency contact numbers and disclosure of their medical diagnosis of dementia are a good idea – this could include an ID bracelet or pendant, identification inside their clothing and in their wallet.

Use Technology
If your loved one has a cell phone, ensure there is a GPS tracking system installed that you can access. You can also attach GPS trackers to clothing, keys, wallet, car, or just about anywhere. If they wear a personal emergency response system (PERS or emergency medical alert), consider one that has GPS capability anywhere —not just in the home — so they can be tracked wherever they go if they become lost.

Monitor Driving
Many people drive for a while after a dementia diagnosis. If your loved ones are still driving, be sure to constantly monitor their judgment, safety and driving skills. If they stop driving, have alternative transportation options available. Some caregivers have to hide the car keys or remove the car from the home to prevent their loved ones from driving.

When family of a missing older adult with Alzheimer's or similar cognitive decline contact law enforcement to request a Silver Alert, key information to provide includes a description of the older adult's vehicle description and license plate (if they likely left by automobile) and information about the missing person's mental health diagnosis.

AARP also has resources and information about caring for a loved one with dementia and safety at home when dealing with dementia.