En Espanol | Arkansas officials have expanded absentee ballot access this year, allowing more residents to vote safely from home amid the coronavirus pandemic:

Election Day is Tuesday, Nov. 3, and polls will be open from 7:30 a.m. to 7:30 p.m. The state's voter information portal has more information about where to cast your ballot. LYour polling place may be different this year, so check before you leave.
Be prepared for potentially long lines, and remember to take your mask and to follow social distancing measures at the polls.
You'll need to bring an approved ID with you when you cast your ballot. A list of approved IDs can be found on the secretary of state's website.
With Election Day only days away, consider dropping off your completed absentee ballot in person. You can drop off your ballot at your local county clerk's office.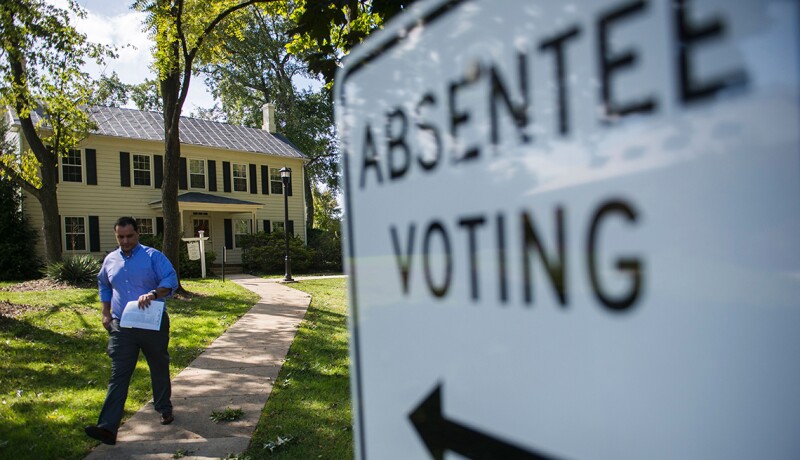 Here's what else you need to know:

How do I register to vote?

You can register by mail or in person. You can print out, complete and mail the application form from this website. Or you can request an application be sent to you by filling out a form on that same site, or by calling your county clerk's office or the secretary of state's Elections Division at 800-482-1127.

Applications should also be available at your local county clerk's office, DMV locations, public library, disability agency or military recruitment office. Registration applications must be received by your local county clerk's office by Monday, Oct. 5, to be processed in time for the November general election.

Note that you must register to vote where you live, even if you own property in another county. You will also need to provide either your Arkansas driver's license number or the last four digits of your Social Security number on your voter registration application if you submit it by mail.

The county clerk will send you a personalized voter registration card after your application has been processed, which may take several weeks. Check your registration status by calling your county clerk or visiting the state's voter portal, where you can also update your address and party affiliation and check your ballot status and polling location.

How can I get an absentee ballot? Are there important deadlines?

An executive order from Gov. Hutchinson will allow voters who are concerned about the pandemic to cast their ballots safely from home. To request an absentee ballot application, contact your county clerk, or download the application in English or Spanish. You can have the application mailed to you (though you will have to pay postage), or pick it up at your county clerk's office. If you request an absentee ballot by mail, the county clerk must receive the request by Tuesday, Oct. 27. You can also designate a bearer, which can be anyone you choose, to pick up or return your application for you.

An authorized agent can also file an affidavit with the county clerk to pick up and drop off completed applications for patients at hospitals or nursing homes. Agents must submit the applications by 1:30 p.m. on Election Day, Nov. 3.

How do I return an absentee ballot?

Once you receive and fill out your ballot, there are several options for its delivery. If you choose to submit it by mail, your county clerk must receive it by 7:30 p.m. on Election Day, Nov. 3. If you choose to drop off your absentee ballot in person at your county clerk's office, you must do so by Monday, Nov. 2 (the day before the election). If you designate someone to return your ballot for you, it must be delivered to that office by 7:30 p.m. on Election Day. You may not fax or email a completed ballot.

Can I vote in person before Election Day?

Yes, early voting will begin on Monday, Oct. 19. In most counties, early voting will take place at your county clerk's office, though a few counties offer offsite early voting options. Because of the coronavirus pandemic, last-minute changes in locations may be required. Check-in with your county clerk's office to confirm your early voting location. Early voting will not be available on Sundays. On weekdays polling sites will be open from 8 a.m. to 6 p.m. On Saturday, sites will be open from 10 a.m. to 4 p.m. Early voting ends at 5 p.m. on Monday, Nov. 2.

How do I know my absentee ballot is secure?

Absentee voting in Arkansas has several security measures, including county clerks' ability to track each voter's ballot, from the time you receive your ballot application until you submit your completed ballot to election officials. Absentee ballots are also carefully counted and processed to identify any discrepancies. You can track the status of your absentee ballot.

When is Election Day? When are polls open?

Tuesday, Nov. 3. Polls will be open from 7:30 a.m. to 7:30 p.m.

What form of identification do I need to vote?

In-person voters will need to present a state-issued or federally issued document or ID card to vote on Election Day. Photo IDs issued by colleges and universities in Arkansas may also be accepted. A list of approved IDs can be found on the secretary of state's website.

Generally, absentee voters must send a copy of a document or identification card along with their completed absentee ballot in order to verify their voter registration.

Acceptable documents and identification cards include a driver's license; photo identification card; concealed handgun license; U.S. passport, employee badge or identification document issued by an accredited post-secondary education institution in Arkansas; U.S. military identification document; public assistance identification card with a photo; or a voter verification card.

If the document or card has an expiration date, it cannot have expired more than four years before the election. You can vote using a provisional ballot at your polling facility if you don't have an appropriate ID but you'll need to fill out additional paperwork.

Residents of licensed long-term care facilities in the state don't have to show ID when voting in person. Instead, the administrator of their facility should give them documentation confirming they are residents.

What is being done to make polling places safe from coronavirus?

Secretary of State John Thurston has said gloves and hand sanitizer will be available at polling locations. Arkansas also has a mask mandate for residents who are at least 10 years old, in the presence of people outside of their households and are unable to socially distance.

The state is also planning to order enough disposable stylus pens that all voters can use them to cast ballots on electronic voting machines.

Will I be able to vote in the same place as I always have?

Not necessarily. Arkansas is anticipating having fewer election workers this year. That may mean that polling places will be combined. As Election Day draws closer, check the state's online voter portal to find your polling place.

What are the key races in my state?

U.S. President
U.S. Senate: Incumbent Tom Cotton (R) vs. Ricky Dale Harrington Jr. (I)
U.S. House: All 4 seats
State Senate: 17 of 35 seats
State House: All 100 seats
This guide was updated on Nov. 2 with more information about how to vote in person. Voting rules and procedures may change before Election Day. We'll update this story if they do, so bookmark this page and check back.

AARP is urging older Americans to ask the candidates 5 key questions:

Just over half of all older Social Security beneficiaries rely on the program for at least 50 percent of their income. If elected, how will you ensure that current and future Social Security benefits are not cut as part of deficit reduction?
Half of the people with traditional Medicare spend at least a sixth of their income on health care. If elected, how will you protect Medicare from benefit cuts, as well as lower health care costs and ensure that older adults continue receiving the affordable health care they have earned?
COVID-19 has caused death and suffering for too many older Americans who require long-term care. If elected, how will you make sure these citizens can access safe and affordable long-term care at home, as well as in facilities like nursing homes and assisted living?
Also of Interest