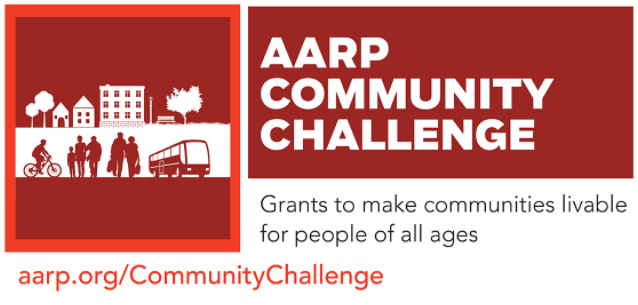 Español AARP is now accepting applications for the 2018 Community Challenge grant program to fund "quick-action" projects that spark change in local communities. The grant program, which is now in its second year, is part of AARP's nationwide Livable Communities initiative, which aims to make communities great places to live for everyone.

The Community Challenge is open to 501(c)(3), 501(c)(4) and 501(c)(6) nonprofits and government entities. Other types of organizations will be considered on a case-by-case basis. The application deadline is 5 p.m. ET, May 16, 2018, and all projects must be completed by November 5, 2018. Applications must be submitted through AARP.org/CommunityChallenge.

Projects may range in scale from small, short-term activities costing hundreds of dollars to larger projects with budgets of a few thousand dollars. The program will accept applications in the following categories for 2018:

delivering a range of transportation and connectivity options in the community through permanent or temporary solutions that increase walkability, bikeability, wayfinding, access to transportation options and roadway improvements
creating vibrant public places in the community through permanent or temporary solutions that activate open spaces, improve parks and improve access to amenities
supporting the availability of a range of housing in the community through permanent or temporary solutions that increase accessible and affordable housing options
other innovative projects to improve the community
"The AARP Community Challenge Program is aimed at catalyzing change and improving the quality of life for people of all ages in communities nationwide," said AARP California State Director, Nancy McPherson. "There are tremendous opportunities for positive change in communities across California and we encourage eligible entities to apply for these quick-action grants to make their communities more livable for all."

In 2017, AARP awarded 88 grants through the Community Challenge to nonprofit organizations and government entities representing every state. In California, 4 grants were awarded:



The City of Fontana received funding to implement "Fontana Walks," a new initiative that encouraged residents to walk 2 billion steps (or 1 million miles) in 365 days.

The City of West Sacramento received funding for pedestrian safety improvements. The project utilized funds to extend signal timing and install talking pedestrian crossing buttons and countdown timers.

Habitat for Humanity Monterey Bay received funding to develop an aging in place program called "My House My Home," which allowed senior homeowners on fixed incomes, who may be at risk of losing their homes, an opportunity to build an accessory dwelling unit (ADU) and age in place while earning rental income with the addition of an affordable rental unit.

Consumer Advocates for RCFE Reform (CARR) received funding to develop "Boomer.ology," a game concept that is based on AARP's 8 Domains of Livability. The purpose of the game is to orient San Diego residents to senior care and housing issues and to promote grassroots discussions and advocacy.
Please visit http://bit.ly/2017GrantWinners to learn more about the 2017 winners in action, helping to revitalize alleyways, build dog parks, enliven underutilized public spaces and improve unsafe intersections.

AARP California, in collaboration with communities across the state, works to help make California's counties, towns and cities great places to live for people of all ages. The AARP California State office has worked to support open street programs like VivaCalle and CicLAvia, increase affordable transportation and housing options for people of all ages, stem discussions on creating vibrant open spaces, and much more. To learn more about AARP California's work visit aarp.org/California .