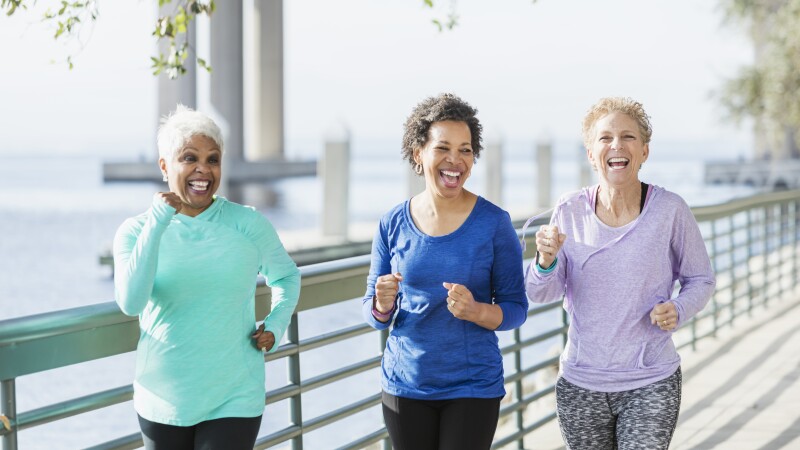 At AARP, we believe communities that are livable should be designed to promote physical independence, safety, dignity, and opportunities for engagement – and this includes access to walkable and safe streets. To help drive change and improve livability in California, AARP has sponsored 15 fellows to participate in the America Walks' Walking College program.

The Walking College will provide fellows with an opportunity to hone their skills and knowledge around creating vibrant, safe, accessible communities for people of all ages and abilities. Fellows, paired with experienced leaders in the urban planning field, will learn about the historical underpinnings of the car-centric transportation landscape and the basics of design and policy that foster safe, inclusive, accessible design for non-motorized transportation while developing essential leadership skills. Over the course of the program, fellows will also create a blueprint to address a specific problem in their community. AARP California will cover the fellowship program fees and provide fellows who successfully complete the program with a $1,000 stipend.

The selected fellows come from varying professional and personal backgrounds from across the state. We invite you to meet the fellows!


| | |
| --- | --- |
| | Megan Howell - Meg Howell is the Recreation Supervisor for the City of La Mesa Adult Enrichment Center. In addition to managing programs and events at the center, she oversees the La Mesa Walks program, the annual Flag Day Parade, a grant-funded Rides4Neighbors transportation program, and the City's Livable La Mesa Age Friendly Community project. Her background also includes past positions in recreation and aquatics for the YMCA and City of El Cajon and as an arthritis prevention aquatics instructor for the Grossmont Hospital Recreation Therapy Department. |
| | |
| | |
| | |
| | |
| | Janet Castaños - Janet Castaños is a retired college administrator who is an avid walker and active community member. She is currently chair of the Community Police Oversight Board, chair of La Mesa Conversations, and board member for Envision La Mesa, a grassroots organization that works to improve neighborhoods one step at a time. |
| | Hilda Gaytan - Hilda Gaytan is an immigrant from Mexico City. At the age of 47 she returned to school. She graduated from Compton College and studied Sociology with a minor in Urban Planning and Design at the University of California Irvine (UCI). She has a certificate in sustainability from UCI and is a UC Master Gardener. She is a 2018-19 ARTS for LA Activate fellow, serves as a board member for Walk Long Beach, the Uptown Planning Land Use and Neighborhood Strategy (UPLAN), Urban Agricultural Council, and Puente Latino Association. During the last 10 years, Hilda has been a community activist and organizer advocating for sustainable practices, public health, and the arts as a way of acquiring social equity. |
| | Robert Cota - Robert Cota grew up in North Long Beach and graduated in sustainable landscape design and principles from Long Beach City College. He is currently working with several Long Beach nonprofit organizations to help better the local communities. He is also involved in several other city-wide projects in collaboration with other local groups that include beach and neighborhood clean-ups, and most recently the designing and build out of a public community garden surrounded by native drought tolerant landscape. |
| | Marsha Adler - Marsha Adler holds a Ph.D. in political science and has served in the U. S. House of Representatives, the U. S. Senate, and on the staff of California's Lieutenant Governor, and as staff aide to Santa Clara County Supervisor Liz Kniss. She has also held posts in national and regional associations, nonprofits, and higher education institutions. Most recently, Marsha served as Coordinator of Age-Friendly San Jose from 2017 until 2020, and currently facilitates a weekly online (Zoom) current affairs discussion group for older adults through the Sunnyvale Senior Center. |
| | Nancy Newkirk |
| | Juanita Edwards - Juanita Edwards is a native of Marin City and attended Bayside Elem, North Bay in Marin City and graduated from Tamalpais High School. Juanita did her post high school college work at College of Marin and Dominican College in field of Psychology. Her passion is community work. She is currently employed by the Marin City Community Service District as the Senior Center Service Coordinator. |
| | Vicki Nichols - Vicki Nichols is a semi-retired Sausalito resident who is active in local government through committee and other volunteer work for 40 years. The last 7 ½ year she has served on the Sausalito Planning Commission and was Chair of the Planning Commission during the development of the City's updated General Plan. One of the several boards that she has served on is the Marin Conservation League (MCL) where she just completed a 12-year term in April of this year. |
| | Sybil Boutilier - Sybil Boutilier is Chair of Age Friendly Sausalito and sits on the Marin County Commission on Aging. Prior to "retirement" she worked for the City of San Francisco in various roles for Parks, Library System and Department of Aging. Previously she spent more than a decade in New York and Washington, DC as an executive in Public Relations and Government Affairs including a focus on international Economic Development. Her passion is to develop and nurture collaboration among people and the environment. |
| | Gilbert Valencia - Gilbert Valencia is a Transportation Planner in the Sacramento area. He lives in a small town 30 miles away and wants to help improve the walkability and cycling for the residents. He believes people are interested in Active Transportation and just need to have adequate infrastructure, safety measures and a strong education campaign to help motivate them. |
| | Dorothy Wong - Dorothy "Dot" Wong was born and raised in Hawaii then moved to Los Angeles earning a BA in Communications and Business Administration, from Loyola Marymount University. Dot worked in Hollywood for 20+ years in Television Production and is a member of the Directors Guild of America. Dot is a gold medalist in mountain biking at the World Masters Games in 2003, and in 2013 became a Certified Bicycling-Pedestrian Instructor working with community-based organizations, schools, cities across the region. Teaching people of all ages and abilities. Dot also serves on the Executive Board of the California Bicycle Coalition and is a Nature for All Steward graduate advocating for public access for recreation and environmental conservation and working toward her California Naturalist Certification this year. Dot is currently in her second term as a Council Member in the town of Altadena, unincorporated LA County where she and her husband Jeff have been living since 2002. |
| | Krystle Yu - Krystle Yu is an aspiring urban planner who is passionate about the equitable creation of climate-resilient cities. Currently, she is a California Climate Action Corps Fellow with the Los Angeles Koreatown Youth and Community Center and an Active Transportation Outreach Coordinator with Day One Pasadena. In her spare time she enjoys trying new foods and going for nature walks. |
| | Ariel Hamburger - Ariel Hamburger is a Community Health Program Specialist with the County of San Diego's Chronic Disease and Health Equity Unit. Ariel sees improvements to the food system and built environment as a proxy of social justice and believes these approaches could transform underserved communities. Ariel works on a variety of policies, programs, and projects at the intersection of environmental justice and health equity. Prior to working at the County, Ariel worked on healthy food access issues at the UC San Diego Center for Community Health and worked on cross-border issues through the County's Office of Border Health. She graduated with honors from San Diego State University with a Master's in Public Health and a Master's in Latin American Studies. |
| | LaDona Knigge - LaDona Knigge is interested in creating better communities through the development of active transportation systems, local food systems and co-housing and other alternative housing strategies. She is a professor and department chair in the Department of Geography & Planning at California State University, Chico and will be on sabbatical in fall 2021. She has been at Chico State from 2006 to the present. She completed her PhD at University @ Buffalo, in Buffalo, NY with her dissertation on vacant lot community gardens in the City of Buffalo. LaDona grew up in Gillette, Wyoming, with an undergraduate degree in Geography & Sociology. LaDona enjoys biking, walking, hiking, cooking, watercolor painting and gardening in her edible landscape in Chico, CA. |
| | Magdalena Morales-Maithalouni - Magdalena Morales-Maithalouni is a leader in community partnerships and engagement and a Certified Integrative Health and Wellness Coach. She has over 30-years of experience working with and for nonprofits such as Mexican American Opportunity Foundation, Fiesta Educativa, COFEM and Hispanic Access Foundation. She has also had experience in both government (U.S. Census) and corporate America (H&R Block) partnering with Latino and Disability communities in Southern California. Magdalena has a Bachelor of Arts in Liberal Studies from California State University Los Angeles and Executive Leadership Certification from Bloch School - University of Missouri, Kansas City and a Certificate in Event and Meeting Management from California State University, Long Beach. She is an avid walker and urban hiker in the greater Los Angeles area. Magdalena is a twin with a brother with Down Syndrome with a dream of walking adventures with other Latino families that have a member with a developmental/physical disability. Magdalena and her husband Moe live in Northeast Los Angeles with their dog Zaki. They currently have a tax, notary, and live scan business in El Sereno. |
Learn more about America Walks and the Walking College program HERE.