Flora Johnson of Tulare, California is the recipient of the 2021 AARP California Andrus Award for Community Service – AARP's most prestigious volunteer award. The award recognizes outstanding service and is given to a community-minded person 50-plus who most exemplifies the motto of AARP's founder, Dr. Ethel Percy Andrus, "To serve, not to be served." The award is given annually to one Californian.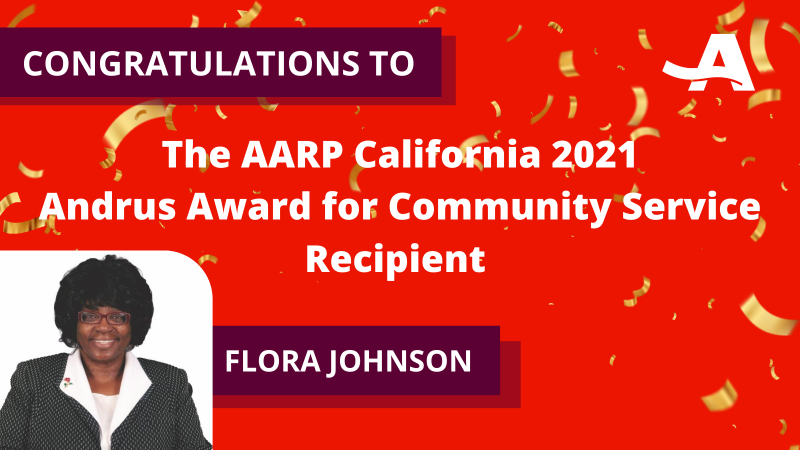 Out of more than 70 volunteer leaders nominated for the 2021 Andrus Award in California, Flora Johnson, founder and CEO of Grandma's House – A Vision of Hope received the award on Wednesday, December 15th for her extraordinary community efforts.

Grandma's House – A Vision of Hope provides children in grades K-6, who are performing below the California Standards for their grade level, with educational and personal support. Johnson had a dream and set out to make Grandma's House a reality because she saw firsthand, as a teacher and a principal, that no matter how good teachers are, some kids fall between the cracks. She knew that a facility like Grandma's House was needed in her community to further support children's education. With no outside financial help, Johnson started substituting in her school district and used the money to get Grandma's House up and running. Since its founding, Grandma's House has helped countless youth and provided an impactful volunteer opportunity for retired teachers.

As the award recipient, Johnson received a $1,000 check from AARP and that she chose to donate to Grandma's House. The continued efforts made by Johnson and volunteers of Grandma's House is an important reminder for us to give back to our community this holiday season and as we enter the new year.

Learn how you can volunteer virtually and in-person in your community by visiting, Create the Good.