Did you know that May is Asian American & Pacific Islander (AAPI) Heritage Month? Join AARP in California as we celebrate AAPI Heritage Month through community events, a video series, and more!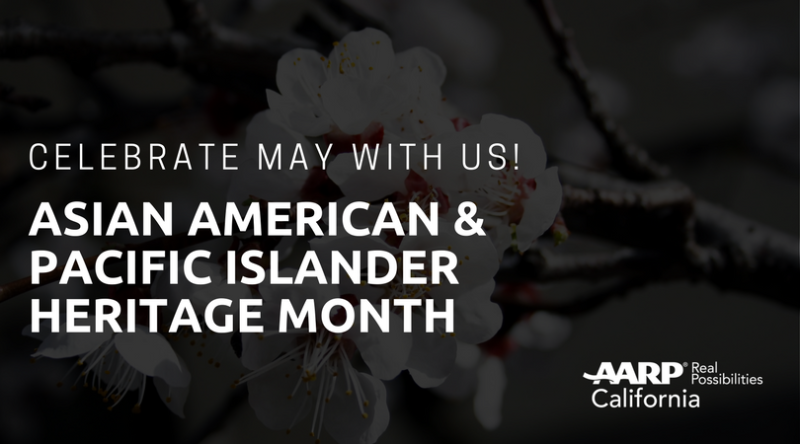 Asian Cultural Festival | San Diego
On Saturday, May 4 th from 10am-5pm, AARP will participate in the Asian Cultural Festival at Mira Mesa Community Park, 8575 New Salem Street in San Diego. This FREE event will feature live cultural performances, music, food, art and more. There will be plenty of activities for people of all ages to enjoy! And don't forget to stop by AARP's booth to learn about the work we are doing locally and receive your FREE giveaway.

CAAMFest | San Francisco
From May 9 th to May 19 th, AARP will sponsor the 37 th CAAMFest. The Center for Asian America Media (CAAM) film festival is the nation's largest showcase for new Asian American and Asian film, food and music programs! We hope you will join us there on Opening Night on May 9 th at 6:30 p.m. at the Castro Theater in San Francisco for the premiere of CHINATOWN RISING by director and producer Harry Chuck. We will also present OUR TIME MACHINE by director S. Leo Chiang and WHEN WE WALK by director Jason De Silva. Learn more, watch trailers, and purchase your ticket(s) HERE.

Asian Mother's Day Celebration | Los Angeles
On Sunday, May 12 th AARP will join the JCUAA (Joint Chinese University Alumni Association) in thanking and celebrating our inspiring, incredible mothers. This special event will feature a "Gentlemen's Cooking Contest" that will feature Chinese American chefs from across the San Gabriel Valley and Los Angeles communities. The event is free and open to the public. The majority of the event programming is in Chinese, with some English translation.

626 Golden Streets Festival| Los Angeles
Join AARP California on Sunday, May 19 th at the 626 Golden Streets Festival in downtown Alhambra, the heart of Los Angeles' Chinese community. Instead of cars and traffic, city streets will be filled with people walking, biking, rollerblading, and enjoying an all-day open streets festival. Stop by AARP California's booth and pick up a limited edition water bottle and resources in both English and Chinese.

Dragon Boat Festival Celebration| Sacramento

On Thursday May 23 rd from 5:30-9pm the Organization of Chinese Americans (OCA) will host their annual Dragon Boat Festival Celebration in Sacramento. This formal event will focus on the theme of "Making it Count," drawing attention to OCA's work around AAPI's and the 2020 Census. Learn more and register HERE.
AARP is also proud to commemorate the contributions of AAPI's that have helped their community thrive. In honor of these contributions, AARP in California is presenting a series of videos recognizing a few outstanding individuals. We hope that you enjoy hearing their stories and advice throughout the month of May via videos posted on AARP California's social media accounts. Find AARP California on Facebook (/AARPCalifornia) and Twitter (@AARPCA).
To learn more about AARP's AAPI work, visit aarp.org/aapi.