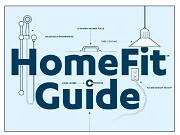 This is a fundamental question that many fail to ask. AARP's FREE HomeFit workshops offer tips and ideas to make sure you can continue living in your home as you age. You'll learn about simple modifications, such as installing bar handles in bathrooms -- that can help prevent falls and other injuries, which become more likely as both houses and their inhabitants age. The workshop comes with the AARP HomeFit Guide, which offers advice on simple fixes that you can do yourself, as well as improvements that professionals can make.
What: AARP HomeFit Workshop
When: Thursday, July 6th from 10:00 a.m. to 11:30 a.m.
Where: Centro Maravilla Service Center, 4716 César E Chávez Ave. Los Ángeles, CA 90022
To learn more about the HomeFit workshop and to reserve your place, CLICK HERE or call toll-free 877-926-8300
The HomeFit workshop is FREE and anyone may attend.
Like us on Facebook and follow us on Twitter to learn about other AARP events like this one in your community!