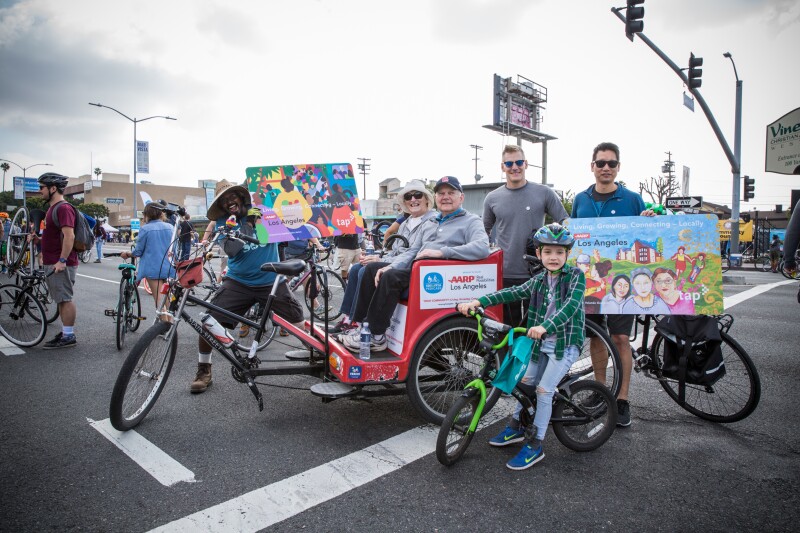 What would major streets in Los Angeles County look like without motor vehicles? It's hard to imagine, but on June 11 th you can experience a day of car-free streets in Glendale.
Join AARP at CicLAvia, the country's largest open-streets event, as we work in partnership with Los Angeles County and the city of Los Angeles to address the community's desire for safe streets and healthy living for people of all ages. Over the last six years, CicLAvia has temporarily closed streets to motor vehicles across the city and county of Los Angeles, to enable people from all backgrounds to come together to bike, walk, skate, dance, and play. Free to the public, the event "unlocks" the streets, giving the community a safe and affordable environment for exercise, play, and social activity. At the same time, it broadens our thinking about how public space is used in our communities.
At CicLAvia, attendees will have the chance to experience open streets and fun activities. AARP will provide free "pedicabs" at the three hubs throughout the route, and also host a Classic Play Zone near the Central Hub (611 S. Central Ave.), where friends, families and neighbors can engage in intergenerational fun with classic board games. AARP will also be handing out AARP Metro Tap Cards to those who show their AARP membership card. Additionally, you'll be able to connect with AARP volunteers and hear remarks from AARP California State President Patricia Pérez and State Director Nancy McPherson, who will talk about AARP's livable communities work.
We hope to see you on June 11 th. Be sure to keep an eye out for the AARP pedicabs and visit the route hubs for information regarding upcoming AARP programs and activities in your neighborhood.
For additional information on CicLAvia visit http://www.ciclavia.org/ciclavia_glendale17. Learn more about open streets at aarp.org/livable-communities.
Find AARP California on Facebook (AARPCalifornia) and Twitter (@AARPCA).