ATTENTION SACRAMENTO ARTISTS:

At the Sacramento PRIDE 2017 event, AARP hosted a "listening post" featuring the question: "What should AARP know about the challenges facing LGBT caregivers?" (Caregivers are those who provide care for a family member or friend including assistance with daily living activities such as bathing, feeding, and getting dressed.) More than 100 responses were posted, containing a wide range of answers, including fear, discrimination, lack of information about services, and long-term care facilities that are LGBTQ-friendly.
In order to highlight the concerns and challenges faced by LGBTQ elders and their caregivers, AARP is asking local artists to create a visual artwork (e.g. painting, sculpture, etc.) that illustrates one or more of the responses we received. Artworks will be evaluated by a panel of judges that will choose a winner, who will receive a $5,000 prize and whose work will be widely publicized by AARP.
Please SCROLL DOWN to view listening post answers, contest rules, and details about how to submit your artwork. Listening post answers are also available to view at the Sacramento LGBT Community Center at 1927 L Street in Midtown.
SUBMISSION DEADLINE IS NOVEMBER 17. ( WINNER WILL BE ANNOUNCED IN DECEMBER.)
PLEASE SEE BELOW FOR COMPLETE CONTEST RULES. For further details, please contact Kris Ritualo at (916) 556-3025 or KRitualo@aarp.org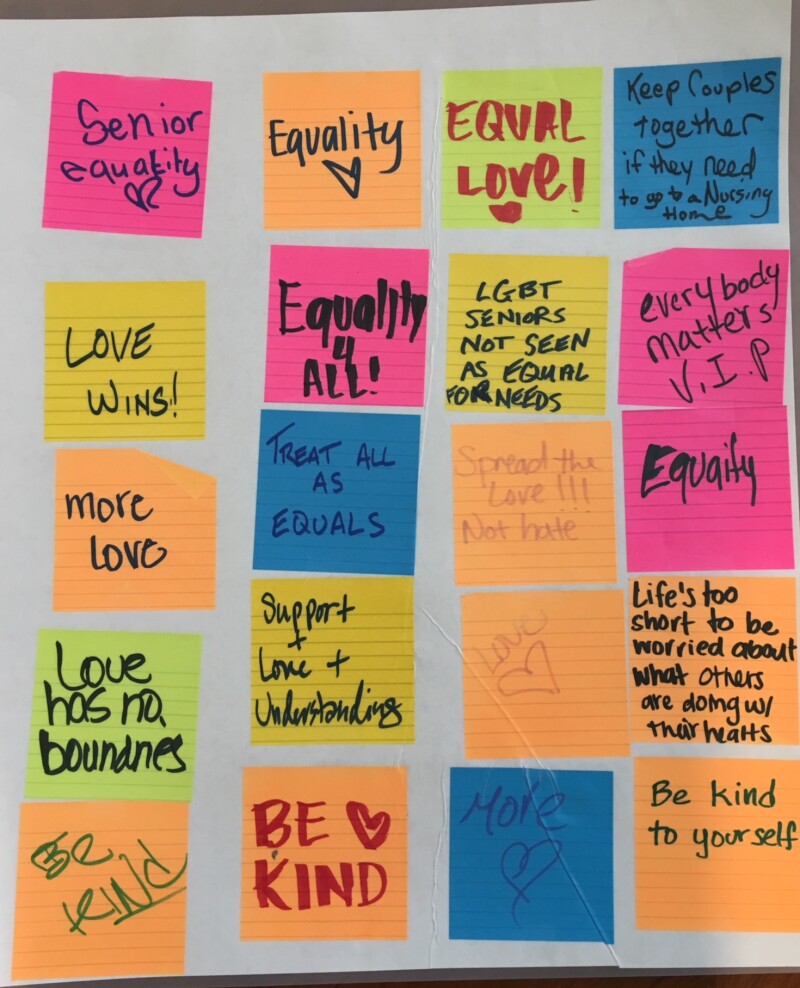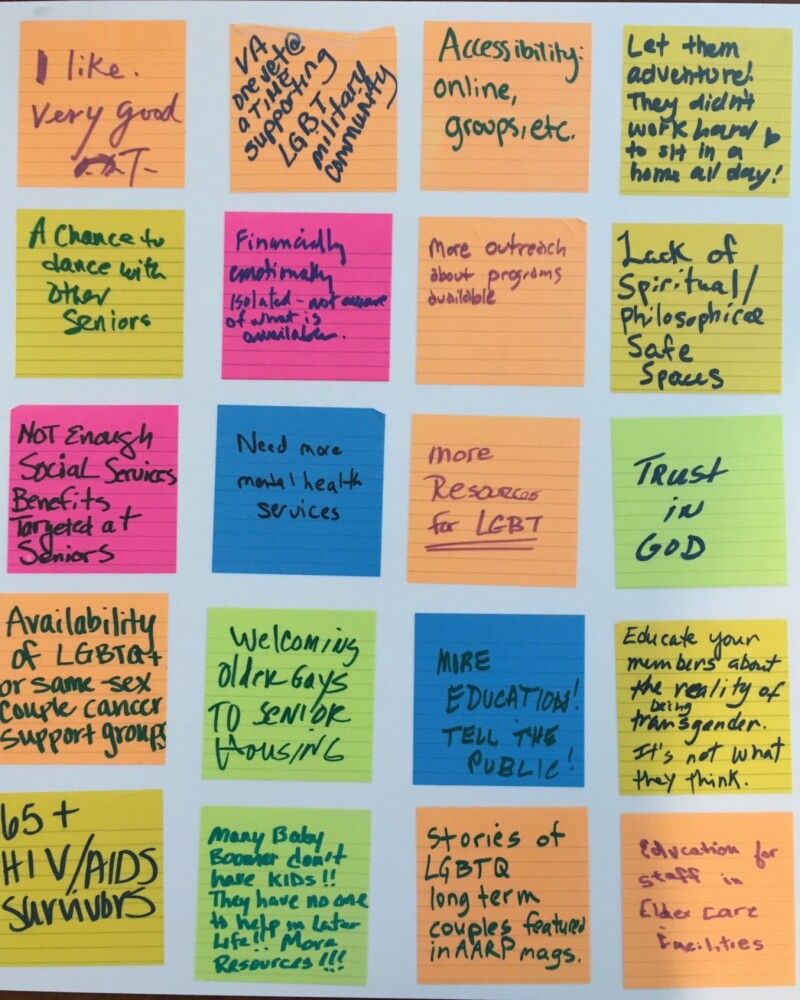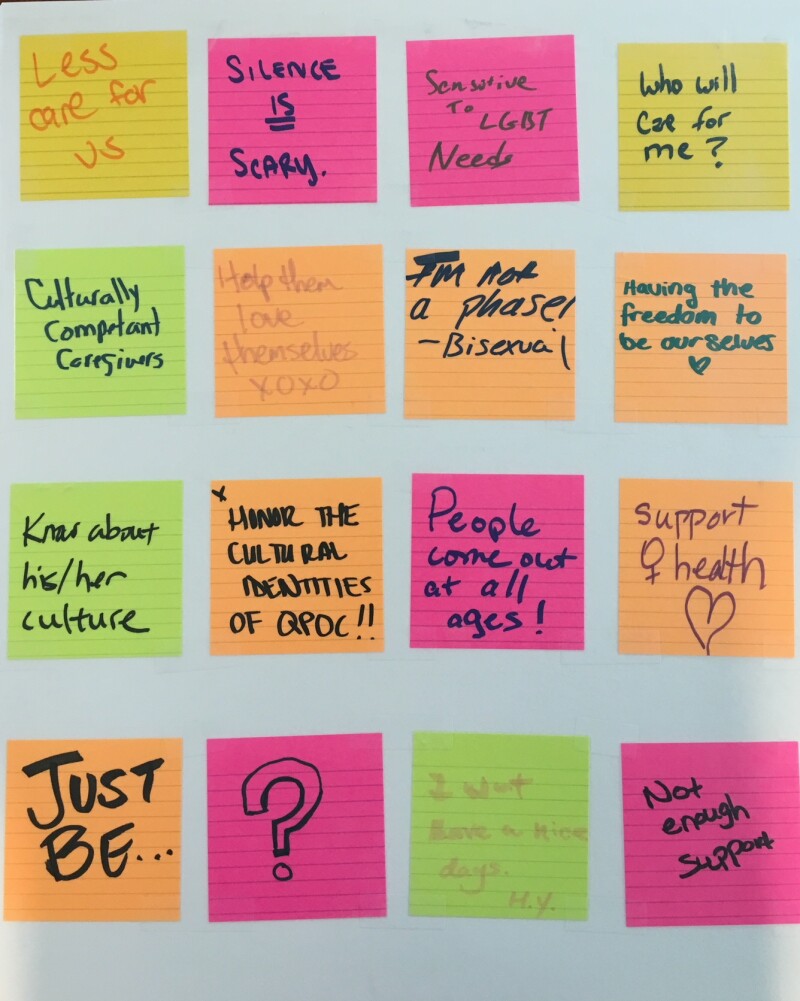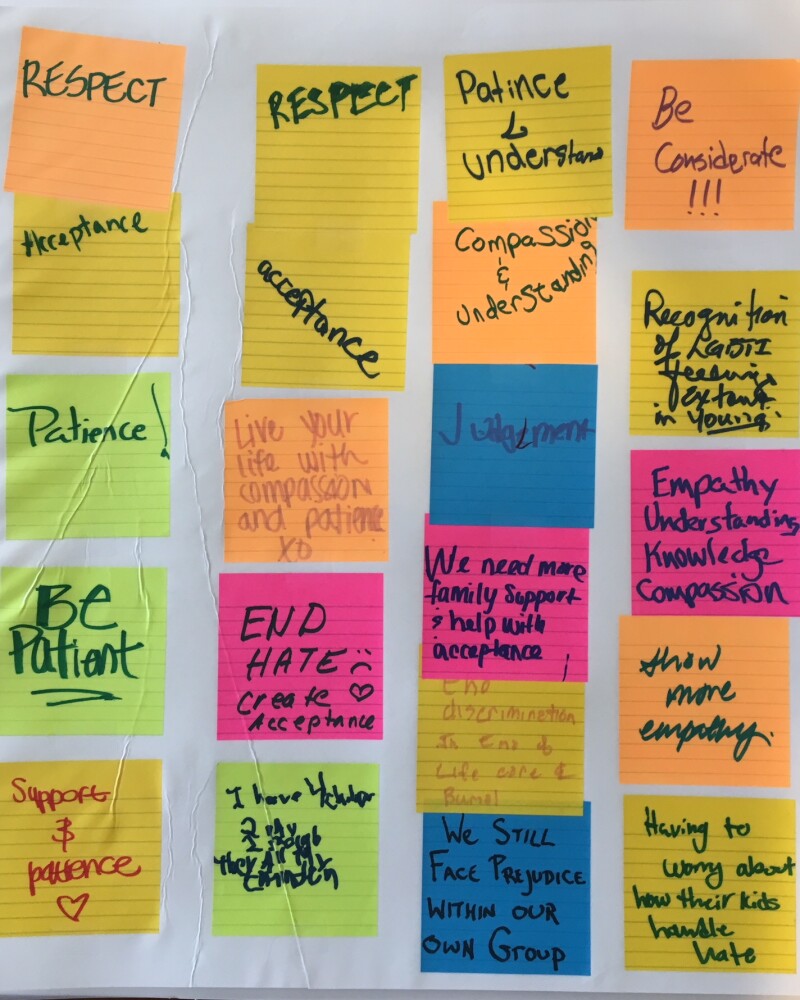 OFFICIAL CONTEST RULES




NO PURCHASE, PAYMENT OR AARP MEMBERSHIP NECESSARY TO ENTER OR TO WIN. A PURCHASE, PAYMENT OR MEMBERSHIP WILL NOT IMPROVE YOUR CHANCES OF WINNING. Void Where prohibited. ALL APPLICABLE FEDERAL, STATE, LOCAL AND MUNICIPAL LAWS AND REGULATIONS APPLY.

2. CAN I PARTICIPATE? The AARP California LGBT Caregiver Contest (the "Contest") is open to artists who are California residents 18 years and over as of October 1, 2017. Employees of AARP ("Sponsor" or "AARP"), and their respective parents, affiliates, subsidiaries and advertising and promotional agencies, and the immediate family members of, and any persons living in the same household, whether or not related, of any such employee, are not eligible. The term "immediate family members" includes spouses, parents, siblings, children, and grandchildren, regardless of where they reside.

3. HOW DO I ENTER? The Contest will begin at 9:00 a.m. Pacific Time ("PT") on October 1, 2017 and end at 6:00 p.m. PT on December 1, 2017 (the "Contest Period"). During the Contest Period, there is one (1) way to enter:
Contest Description: This Contest has been established to help society and AARP know about the challenges facing LGBT Caregivers through art. The artwork should highlight the caregiving needs and concerns of the LGBT community. The art must be visual art. Visual arts are art forms such as ceramics, drawing, painting, sculpture, printmaking, design, crafts, photography, video, filmmaking, and architecture.
Entry: Deliver the art to the AARP California State office located at 1415 L Street, Suite 960, Sacramento, CA 95814 on Monday through Friday during the Contest Period.
At the end of the Contest, judges shall select a winner based on the Criteria defined below:
Limit one (1) entry per person. Entries received from any person or in excess of the stated entry limit will be void. All entries become property of AARP.
All submissions will be available on display at the AARP California Sacramento office through the month of January 2018. As a condition of entering the Contest, the entrants grant AARP California Sacramento to right to display their art during the Contest Period and through the month of January 2018.
Artists whose entries are not selected as a winner can pick up their artwork from the office upon completion of the aforementioned display period.


WHAT CAN I WIN? .
Grand Prize: Five thousand dollars (US$5,000). AARP California will retain the winning original artwork and own the rights to this piece to be used exclusively by AARP. By accepting the Grand Prize, the winner agrees to the terms and conditions of these Official Rules.
Prizes are not assignable or transferable. Prizes are subject to availability, and AARP reserves the right to substitute a prize with a prize of comparable or greater value, at its sole discretion. Winners are solely responsible for payment of any federal, state and local taxes on prizes, as well as any other costs and expenses associated with prize acceptance and use not specified herein as being awarded. Except where prohibited, acceptance of any prize constitutes winner's consent to the publication of his or her name, biographical information and likeness in any and all media now known or hereafter devised, including without limitation, on the AARP website, for any advertising, publicity, promotional or other purpose by AARP and its designees, without territorial or time limitation or additional compensation, notification or permission. Potential winners may be required to execute a winner affidavit/release which must be returned fully-executed within seven (7) days of date of receipt of Sponsor's notification. Failure to timely execute and return the required documents, or to comply with any term or condition of these Official Rules, or the return of any prize or prize notification as undeliverable may result in a winner's disqualification, the forfeiture of his or her interest in the prize, and, at AARP's discretion, the award of the applicable prize to a substitute winner randomly selected from all remaining eligible non-winning entries received. All prize details are at AARP's sole discretion.


HOW WILL WINNERS BE SELECTED? Eligible entries will be judged by a committee of AARP California volunteers and staff. Between December 1, 2017 and December 15, 2017, one (1) potential winner will be selected based on the following criteria ("Criteria"): Adherence to the Topic (34%), Originality (33%) and Creativity (33%). The winner with the highest overall score shall be selected as the prize winner. In the event of a tie, the submission with the highest score in the "Originality" criterion, as determined by the judges in their sole discretion, will be deemed the potential grand prize winner.
Award of any prizes to the winner will be subject to verification of that winner's eligibility and compliance with these Official Rules.



WHAT ARE MY CHANCES OF WINNING? The odds of winning depend on the number of eligible entries received each day. All entries have an equal chance of winning

7. WHEN WILL I BE NOTIFIED IF I WON? The potential winner will be notified by an AARP representative by email and/or phone within 2-3 days of winning.

8. HOW DO I FIND OUT WHO WON? The winning entry will be posted on both the AARP Events page on the AARP website and the AARP Facebook page.

9. WHO IS THE SPONSOR? The AARP California State Office 1415 L Street, Suite 960, Sacramento, CA 95814.

10. MISCELLANEOUS: Except for the winner, entrants will retain all rights to their submitted art - including copyright ownership if applicable -- other than those rights licensed in these Official Rules. By submitting the art, you warrant and represent that your art is your own work created by you, is true and verifiable, has not been previously published, has not won a previous prize or award, that you own or otherwise control all of the rights to your art and that your art does not violate any law, regulation or any right of any third-party, including but not limited to rights of copyright, publicity and privacy. Submitting an entry that is copyrighted by another individual will make you responsible for any legal action the legal copyright holder might take against you.
Entrants grant the Sponsor a nonexclusive, irrevocable, and perpetual, royalty-free, worldwide right, in all media (now known or later developed) to assign, use, license, publish, edit, adapt, modify, alter, reproduce, distribute, display, copyright, create derivative works or otherwise exploit the art for commercial or non-commercial use, and without compensation to the entrant. Furthermore, Sponsor will retain the winning original artwork and own the rights to this piece to be used exclusively by Sponsor. Art may not defame or invade the rights of publicity or privacy of any person, living or deceased, or otherwise infringe upon a person's personal or proprietary rights. Art that is deemed by the judges in their sole discretion to be immoral, obscene or not in keeping with Sponsor's image will be void. Sponsor reserves the right in its sole discretion to disqualify any entry at any time which, in the Sponsor's reasonable opinion, endangers the safety or well being of any person or in the event it is determined that the entrants has not complied with these Official Rules.
All incomplete, damaged, lost, late, misdirected, incomplete or postage-due mail or entries or illegible entries and all entries submitted by software-generated or other automated processes will be void. Entries submitted by third parties are prohibited. All entries become property of Sponsor and none will be returned or individually acknowledged. Sponsor will not be responsible for failure to receive or record entries due to human processing errors or transmission or technical failures of any kind, including, without limitation, the malfunctioning of any website, computer dating system, network, hardware, or software. All decisions of Sponsor regarding the eligibility of participants and the validity of entries shall be final and binding. In the event of a dispute regarding online entries, the applicable online entry will be deemed to have been submitted by the owner of the e-mail account associated with the e-mail address identified on the online entry form. For these purposes, an e-mail account owner shall mean the natural person assigned to such account by the Internet access provider, online service provider, or other organization responsible for assigning e-mail addresses for the domain associated with such account. Sponsor is also not responsible for any injury or damage to any entrant's or any other person's computer related to or resulting from downloading any materials in the Contest. CAUTION: ANY ATTEMPT BY AN ENTRANT TO DELIBERATELY DAMAGE ANY WEBSITE OR UNDERMINE THE LEGITIMATE OPERATIONS OF THE CONTEST IS A VIOLATION OF CRIMINAL AND CIVIL LAWS, AND SHOULD SUCH AN ATTEMPT BE MADE, THE SPONSOR RESERVES THE RIGHT TO SEEK DAMAGES FROM ANY SUCH ENTRANT TO THE FULLEST EXTENT PERMITTED BY LAW. By entering the Contest, Entrants acknowledge and agree that Sponsor makes no representations or warranties, express or implied, regarding the prize and will not be responsible for any claims, losses, or injuries arising out of the winner's acceptance or use of the prize.
Entrants, by participating, agree that AARP and its parents, affiliates, subsidiaries and advertising and promotion agencies, and all of their respective officers, directors, employees, representatives and agents (collectively, "Released Parties"), will have no liability whatsoever for, and shall be released and held harmless by entrants against, any claims or liability for any injuries, losses or damages of any kind to persons, or property resulting in whole or in part, directly or indirectly, from acceptance, possession, misuse or use of a prize (including any travel or activity related hereto or any injury or harm resulting from the use of any prize) or participation in this Contest. Released Parties are also not responsible for any incorrect or inaccurate information, whether caused by site users, tampering, hacking, or by any equipment or programming associated with or utilized in the Contest. Released Parties are not responsible for injury or damage to participants' or to any other person's computer related to or resulting from participating in this Contest or downloading materials from or use of the web site. AARP reserves the right in its sole discretion to terminate the Contest (or any portion thereof) if it determines that the fairness, security or proper operation of the Contest (or any portion thereof) is compromised by a virus, errors, unauthorized human intervention, tampering or any other cause. Should the Contest be terminated prior to the stated expiration date, AARP reserves the right to award any remaining prizes by a random drawing from among all non-suspect, eligible entries received for before the termination date. AARP also reserves the right to disqualify any persons determined to be tampering with the entry process, the web site or abusing any other aspect of the Contest or who are attempting to annoy, harass or threaten any other entrant or AARP's representatives or who are in violation of these Official Rules, as solely determined by AARP, and all associated entries will be void. If there is a conflict between these Official Rules and any abbreviated rules or promotional descriptions of the Contest, these Official Rules will apply. In the event of a dispute regarding entries received from multiple users having the same e-mail account, the authorized subscriber of the e-mail account at the time of entry will be deemed to be the entrant and must comply with these Official Rules. Authorized account subscriber is the natural person who is assigned the e-mail address by the Internet Service Provider (ISP), online service provider, or other organization responsible for assigning e-mail addresses.
The Contest is sponsored by AARP. All decisions of Sponsor and the Contest judges regarding the Contest and the interpretation of these Official Rules will be final and binding on all entrants in all respects.
For a copy of these Official Rules or winners' name, send a self-addressed, stamped envelope by January 31, 2018 to: AARP California State Office 1415 L Street, Suite 960, Sacramento, CA 95814. (VT residents may omit postage for rules).