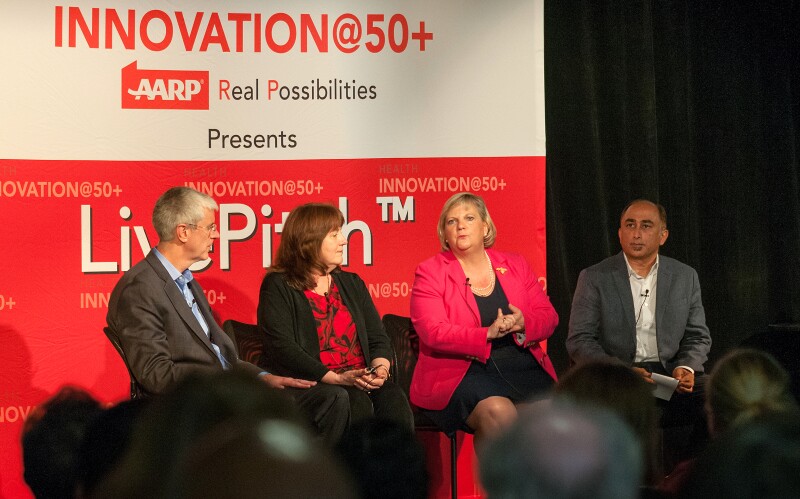 AARP members are invited to register for FREE to the sixth annual Innovation@50+ LivePitch event where they can learn about and provide real time feedback on new technology designed to meet the needs for people over 50. The event will take place Wednesday April 12 (8:30am-6:30pm) and Thursday April 13 (8:30-4:00pm), 2017 at the Computer History Museum, 1401 N. Shoreline Blvd. in Mountain View, CA.

This event is the only one of its kind, bringing together innovative startups in:



Health technology, highlighting caregiving solutions

Financial technology, focused on savings and planning
Startups will compete by presenting their ideas before expert judges and get feedback directly from AARP members. The ten finalist companies in each sector will present their business plans on stage in a rapid three-minute presentation (see finalists HERE). AARP members will listen to the pitches and share feedback in real time, providing the companies with invaluable market data on the spot. Members will have the opportunity to shape new technology that can directly impact their lives and hear from AARP CEO Jo Ann Jenkins, AARP Senior VP of Market Innovation Jody Holtzman, MSNBC Anchor and caregiving expert Richard Lui and more!

Why should AARP members attend?

Completely FREE for AARP members
Only live pitch event that brings in consumers for real-time feedback
Chance to hear from and meet AARP's top leadership and innovators
Opportunity to shape technology that will directly impact their own lives and the lives of others
Takes place in Mountain View, California, the heart of Silicon Valley!
How do I register?

To register for the event, visit http://innovation50plus.org/registration/. Registration is open to all. Registration is $99 for regular participants, but the fee is waived for AARP members. NOTE: When you register as an AARP member it will first appear that there is a fee, but once you select you are registering as a member the fee will automatically be waived.

What is included in the registration?

Member and non-member registration includes entrance to the two-day event, parking, lunch, daily refreshments and a cocktail reception with AARP leaders on April 12 th.

It's not too late to register and partake in shaping innovative health and financial technology for the future! For more information, visit innovation50plus.org.