Español. St. Barnabas Senior Services presents the 2nd annual AGING INTO THE FUTURE – SoCal's Tech + Aging conference where tech leaders, seniors and experts in the aging field come together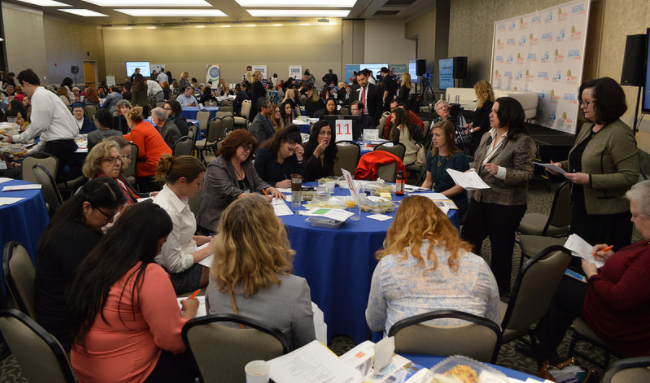 LOS ANGELES (February 12, 2018) – The latest and hottest tech solutions addressing some of the most common problems and challenges facing older adults today will be discussed at the second annual AGING INTO THE FUTURE – SoCal's Tech + Aging Conference on March 2 nd in downtown Los Angeles. Hosted by St. Barnabas Senior Services with Co-Presenters The Eisner Foundation and AARP California, the day-long conference will bring together tech companies, startups and investors, with older adults, seniors, family caregivers, aging experts and professionals who work with the 50+ older adult population, to explore how technology and innovation can transform the lives of older adults to lead healthier, independent and productive lives in the community. A limited number of tickets are now available at www.agingintothefuture.com.
One of Time Magazine's 100 most innovative people in the world, Greg Lynn, Chief Creative Officer at Piaggio Fast Forward will be a keynote speaker. The award-winning architect and designer will talk about innovation, design and aging as well as introduce Gita, a personal robot mobile carrier. Los Angeles County District Attorney Jackie Lacey will deliver opening remarks regarding the importance of finding solutions to address financial fraud and elder abuse.
Legendary game show host Wink Martindale of Tic-Tac-Dough will address the audience. Last month Martindale co-starred with Fresh Prince of Bel-Air's Alfonso Ribeiro in a social media sweepstakes campaign for McDonald's. The Facebook Live Event recalls a 1970s game show, complete with studio audience, and long, skinny microphones ( https://youtu.be/gOg11NJPJWg).
"We are at a point now in the market where organizations, entrepreneurs, investors and industry, are finally realizing that the older adult market is too big to ignore," says Nancy
McPherson, AARP California State Director. "This conference reveals the significant economic opportunities in this longevity economy which, hopefully, will spark even more innovation."
The day will include expert panels analyzing the trends, issues and opportunities in tech and aging, co-creation sessions where tech startups consult with older adults and aging experts to help build stronger, more effective products and an interactive tech exhibit hall.
"The inaugural AGING INTO THE FUTURE conference was a tremendous success convening leaders in aging and technology," says Rigo Saborio, President and CEO of St. Barnabas Senior Services. "Our goal is not only to inspire older adults, caregivers, non-profits, service providers, and government agencies toward the adoption of tech-based solutions for aging well, but also ignite tech entrepreneurs and innovators to build and design products for this growing population."
"Technology is only as important as its ability to improve lives. Innovations in communication, mobility and healthcare are keeping older adults independent and socially active—and that's so important for a thriving society," says Trent Stamp, CEO of The Eisner Foundation.
Ride N Care, an LA-based tech startup offering transportation solutions for older adults and others with mobility limitations is providing free transportation to the conference for senior attendees from eight community organizations. Danilo Toskovic, Ride N Care's CEO, says, "We are thrilled to help Aging Into the Future showcase how the SoCal tech community is focused on giving older adults a pathway to staying happy, healthy, and independent."
AGING INTO THE FUTURE will be held at the Millennium Biltmore Hotel in downtown Los Angeles on Friday, March 2 from 7:30am – 3:30pm. The $125 advance registration fee includes a light breakfast, lunch, full access to the tech exhibit, co-creation sessions featuring 12 tech startups, and prime networking. Tickets will be $150 at the door. Major sponsors include Archstone Foundation, Wells Fargo, Nelson Hardiman LLP, UnitedHealthcare, AltaMed, LA Care, Healthnet and CareMore. For more information go to www.agingintothefuture.com. Follow on Facebook @agingintothefuture and Twitter @AITFLA.
The scheduled line-up of speakers includes:
Thought Leaders & Experts in Aging:

David Lindeman, Director, CITRIS at UC Berkeley
Jeanne Home, Sr. Tech Advisor, Office of the LA Mayor Eric Garcetti
Stephen Ewell, Executive Director, Consumer Technology Association Foundation
Stephen Johnston, CEO, Aging 2.0
Trent Stamp, CEO, The Eisner Foundation
Laura Trejo, General Manager, Los Angeles City Department of Aging
Ginna Baik, Senior Care Practice Leader, CDW Healthcare
Seth Eklund, Executive Director, Bresee Foundation
Kari Olson, Chief Innovation Technology Officer, Front Porch
Tom Kamber, Founder & Executive Director, OATS (Older Adult Technology Services)
Omid Toloui, VP Digital Health, CareMore
Gloria McNeal, Dean, School of Health & Human Services, National University
Tech Companies & Investors:

Greg Lynn, Chief Creative Officer, Piaggio Fast Forward
Lisa Suennen, Managing Partner, GE Ventures
Scott Collins, President & CEO, LinkAge Connect
Anupam Pathak, Technical Lead, Google/Verily
Kai Stinchcombe, CEO, TrueLink Financial
Kevin Zhang, Partner, Upfront Ventures
Would you like to be aware of other AARP events like this in your community? Follow us on Facebook and Twitter to stay informed!