http://www.youtube.com/watch?v=ulQcYw70-bs&feature=share&list=UUpeIpxSnYBplpsl7hLeDMeQ[/youtube]
Drivers encounter a variety of challenges on today's fast-paced roads, including distracted drivers, confusing traffic signals, adverse weather, crowded streets, and pedestrians and bicyclists. But there are many tips and safety strategies that can help you prepare for the obstacles you will face while behind the wheel. First, remember the ABCs of driver safety so that you can "Always Be in Control" of your vehicle and yourself, regardless of what you face on the road.
Always be aware and alert. Being aware and alert is critical to safe driving. Stay alert—and ready to react to the actions around you—by avoiding distractions. Distracted driving, which consists of anything that takes your hands off the steering wheel, your eyes off the road, or your mind off the task at hand, contributes to almost 8,000 vehicle crashes each day (AAA Foundation for Traffic Safety). Avoid talking on your cell phone—even with a hands-free headset—eating, adjusting the radio, and other distracting activities.
One of the most dangerous forms of distracted driving is texting behind the wheel, which doesn't just include writing a text, but also simply reading text messages that you receive. According to the National Highway Traffic Safety Administration, you are 23 times more likely to crash if you are texting while driving, so put your phone away and save the texting for when you reach your destination. Instead, use your eyes to scan your surroundings continuously as you drive, monitoring for bicyclists and pedestrians and the activity of cars in parallel lanes.
Avoid brash and belligerent drivers. Dealing with drivers experiencing road rage can be unnerving, but there are ways to prevent it. Avoid eye contact with drivers who are trying to challenge you, don't overuse your car's horn, and be courteous when dealing with aggressive drivers.
One way to avoid aggressive drivers is to create a space cushion around your vehicle, which will provide you with plenty of room to maneuver if you encounter angry drivers or other obstacles. Unless there is heavy traffic, strive to have ample room ahead of your vehicle, on both sides of the vehicle, and avoid "tailgaters" by leaving plenty of room behind your vehicle and changing lanes when a driver invades the space cushion behind you.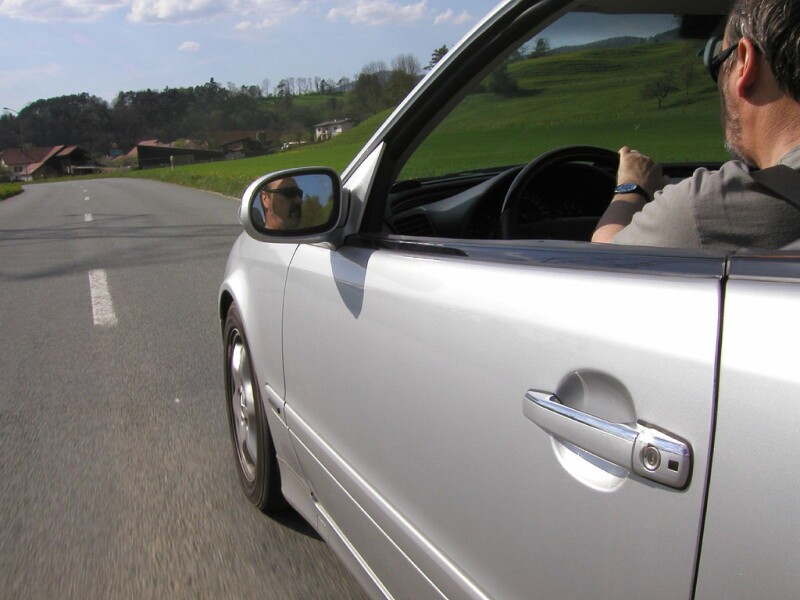 Creating a space cushion will also help you follow the three-second rule, which can further prevent dealing with brash and belligerent drivers. To achieve the three-second spacing between you and the car ahead of you, when that car passes a landmark, such as a tree or exit sign, start counting. If you pass the same spot before you count to three, you're driving too close to the other car.
Stay comfortable and confident. Feeling at ease behind the wheel starts by being properly fitted to your vehicle. Making sure your mirrors, seat, and the distance between your body and the steering wheel are adjusted properly will maximize your safety and comfort behind the wheel. Visit www.aarp.org/carfit to learn more ways to ensure that you are well-adjusted to your vehicle.
In addition to being comfortable, feeling confident behind the wheel helps you stay in control. Taking a driver improvement course, such as the classroom or online course by AARP Driver Safety, will equip you with defensive driving strategies to help you feel confident on the road. AARP Driver Safety courses are available in both English and Spanish, and you may even be eligible for an insurance discount upon completion.* For more information, visit www.aarp.org/driving45 or call 1-888-AARP-NOW (1-888-227-7669) to learn more.
*The insurance premium discount is not available in all states for the online or the classroom versions of the course. Requirements vary from state to state. In some states, separate rules may apply to online driver improvement courses. Please consult your insurance agent for further details.
[Photo courtesy of timo_w2s/Flickr]