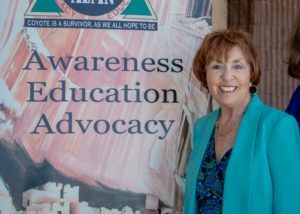 Dear Friends:

The New Year had just begun when I 'missed' two steps in my house and broke toes on my left foot. I also hit my face and got myself a dark purple 'black eye'. I know all of the statistics about the
number of people who fall in their own homes and severely injure themselves. However, I was lucky. My husband, Jack, was home and got me to a doctor who prescribed a 'big, black boot', a cane, keeping my foot elevated, rest, and no driving!

After four weeks, I graduated to a smaller boot and happily, for both of us, I have more freedom and mobility. Lucky for my mental health and my husband's too, I can now drive, make my own coffee as well as other basic life tasks.

This has been a real learning experience for both of us. My husband had to adjust his own schedule to take care of me. It was a role reversal for both of us. Jack is a 27 year cancer survivor and
now I was the 'CareGivee' and he became the 'CareGiver'! In his new role (short term, thankfully), he had to learn to use the washer/dryer, oven, vacuum cleaner, and dishwasher. He now knows the location of all the various household cleaning products, powders, mops and brooms. Although he has always helped with the shopping, he became more efficient and 'cost' conscious. He also learned the location of my hairdresser, manicurist and chiropractor.

The father of a young family with a wife in cancer treatment may suddenly have to learn things my husband learned. In addition, he may have to make arrangements for child care, take the children to dance classes, sport practices and attend games and recitals. Meanwhile, he must to keep up the family's spirits while maintaining a job.

Most men in this new cancer caregiver role remain kind and loving, but are uncomfortable and overwhelmed with these new responsibilities. Besides deep concern for their spouse, they fear for their wife and also have concerns about the effect it will have on their job. This not a fear they can express to their sick wife, their children or other family members.

Men often will internalize these feelings, and this can adversely affect their own health. They also tend to become "organizers" in this situation: giving advice, scheduling, finding
solutions, paying bills etc. In other words, they will apply common sense and practicality to deal effectively with the "mechanics" of the situation. This may lead them to neglect the emotional needs of their wife. She may need to receive occasional flowers, hear the words "I love you," and just have special time alone with him. The woman patient may need to take the lead in the emotional side of the cancer caregiving dynamic. Don't expect your husband to "know" your needs. Express them to him.

I also believe that for most women, the caregiver role is more natural than it is for men. As
wives, mothers, sisters and daughters, we are expected to have learned these skills growing up. We tend to be more comfortable with the nurturing role, and most of us are 'multi‐taskers'. We are used to balancing work and family chores. I am not saying that it is easier for us or less costly in terms of our health, careers, etc. but after my own experience, I am even more aware of the special challenges there are for men.

Valentine's Day is a reminder to show our love, and to be thankful for each other. Whether you are receiving care or giving care now, it is very likely we will all be one or the other, or both, at some time in our life!

I will discuss this topic in future blogs but also in my book, which I have just started working on. And, I will tell you more about how you can participate.Together, we can build a Cancer Caregivers Community to improve the quality of life for all of us!

Barbara Kavanagh, MSW, Founder and CEO of AZ MN® and Cancer Caregivers AZ®
Visit our website: www.cancercaregiversaz.com. to see our photo gallery and other cancer caregiver's information.
















Barbara Baroff Kavanagh, MSW, LCSW

Barbara B. Kavanagh is the Founder and CEO of Arizona Myeloma Network (AzMN). She is a published author and served as faculty for universities including Boston University, Boston College Graduate School of Social Work, and Arizona State University. She holds a master's degree in Social Work from Boston University and a bachelor's from Duke University. Her first business, People to People Associates, Inc., a counseling, consulting, and training company, operated for fifteen years in Lexington, Mass.

AzMN is 501(c)(3) nonprofit organization started in 2004 by Barbara and her husband Jack who is a 27-year survivor of multiple myeloma. In 2003, they moved to Arizona to be near the Mayo Clinic for his ongoing treatments. In 2005, Barbara organized the first of many Living with Myeloma Roundtable and Conferences in Scottsdale, AZ. The conference attracted more than 300 attendees annually. All AzMN programs are designed to educate cancer patients, cancer caregivers, oncology healthcare professionals, researchers, and the public on the newest in cancer treatments and how to give and receive the best possible care.

AzMN has delivered hundreds of cancer patient and caregiver conferences throughout the State. Multiple Cancer Caregiver Education Program (CCEP TM) conferences are scheduled in 2018. Conferences are free and open to the public. They provide cancer patients and their caregivers the practical knowledge, skills and strategies necessary to effectively care for themselves. CCEP TM is a customizable program for companies and healthcare organizations that want provide onsite training for employees and constituents.

The Office of the Governor of Arizona recognizes AzMN with a proclamation annually designating a week in March as "Arizona Myeloma Awareness Week." AzMN is recognized by Great Nonprofits as a "Top-Rated Nonprofit" for multiple years. Barbara, herself, continues to receive awards for her work. She is the recipient of the prestigious Hon Kachina Outstanding Volunteerism Award, The Phoenix Business Journal's Healthcare Hero Award, the Arizona Rural Healthcare Association Volunteer of the Year award and the 2014 Arizona Business Magazine's Healthcare Leadership Award for Community Outreach. She was profiled as a Woman of Distinction in the 2016 edition of WOD Magazine. She is featured on radio, television, and in publications.

Barbara and Jack are mentioned in Tom Brokaw's book A Lucky Life Interrupted: A Memoir of Hope. Her books on volunteerism and patient advocacy include The New Volunteerism, A Community Connection; The New Partnership: Human Services, Business and Industry; and Training Volunteers in the New Millennium: An International Connection reflect a life dedicated to teaching and mentoring others to achieve their goals and transform their own lives and those they touch. She is currently working on her next book "Caring for the Cancer Caregiver". Her intent is to provide practical information on how to navigate the complex world of cancer patient and caregiver survivorship.