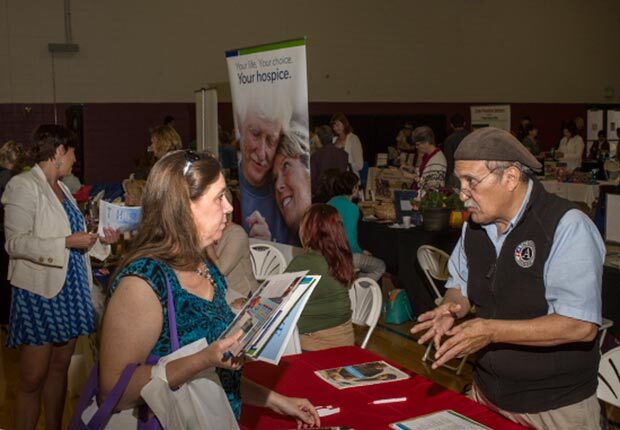 By Cynthia Pasquale

Last year, more Coloradans than ever secured health insurance. But Hispanics— 21 percent of state residents—lag in coverage, accounting for 37.6 percent of Colorado's uninsured population.

AmeriCorps and AARP Colorado want to change that. The two organizations have teamed up in the Denver area to help the uninsured take advantage of health care options through the Affordable Care Act (ACA) and other programs.

Since February, David Ronquillo, an AmeriCorps liaison working with AARP, has conducted health care workshops and question- and-answer sessions, and provided literature, in neighborhoods with many Hispanics. His special focus is on those 50 and older.

"This group is among those who can least afford skyrocketing health care costs," Ronquillo said. "It's vitally important that Latino seniors be aware of the health care options available to them to avoid costly out-of-pocket expenses, such as emergency room visits for normal health reasons."

AARP has worked with Ameri­Corps for several years through a Boomers Leading Change in Health program focusing on caregiving and more general health care. Ronquillo's efforts have a specific goal.

"This year we wanted to do a special outreach targeting the Hispanic community and focus on the Denver metro area to see if we could have an impact," said Roberto Rey, AARP Colorado's multi­cultural outreach director.

Barriers to enrollment
One of the main obstacles to Hispanics signing up for insurance is lack of access to modern technology, particularly the internet, said Ronquillo, 66.

Other barriers to care include poverty and inadequate education. "When you are in a situation where you are struggling with day-to-day issues, it's hard to devote the amount of time needed to inform yourself of the possibilities of health care coverage," Rey said.

Uninsured Hispanics in Colorado are more likely to report not knowing how to get coverage (18.6 percent) than uninsured non-Hispanics (11.7 percent), according to the Colorado Health Access Survey, which tracks data on coverage and health care.

It's also estimated that 25 percent of Hispanics in the state are eligible but not enrolled for federal benefits, including Medicaid or Medicare assistance. Many don't apply because they don't realize they qualify or don't know how to enroll, Rey said.

AARP Colorado has arranged for Ronquillo to attend area health and resource fairs and other regularly scheduled events where "there's likely to be a significant Latino population present," said Rey.

Ronquillo said AARP "is clearly in the best position to take the lead in reaching out to Latino seniors... They can get the information without getting pressured to sign up for coverage."

One place that Ronquillo visits often is Denver Inner City Parish, a nonprofit that assists the city's underserved and working poor through a variety of programs.

At a recent lunch event there, Ronquillo was asked a wide range of questions: Would a grandson's family living in his grandmother's house affect Medicaid enrollment? Does ACA pay for an inhaler or needed oxygen? What about physical therapy in a home?

The answers are often complicated. Ronquillo does the research and follows up with the questioner. When someone is eligible for Medicare but isn't sure how to sign up, Ronquillo connects the person to AmeriCorps colleagues who help navigate the complicated enrollment system.

There are also a significant number of undocumented immigrants, estimated in 2014 at about one-fifth of all uninsured Coloradans, who do not qualify for ACA or Medicaid coverage. "One of our goals is to put the people who don't qualify in contact with community clinics or other organizations that provide care regardless of someone's residence status," Rey said.

For more on health care events, contact Ronquillo at 303-318-6764 or dronquillo@aarp.org, or Rey at rrey@aarp.org.

Cynthia Pasquale is a writer living in Denver.