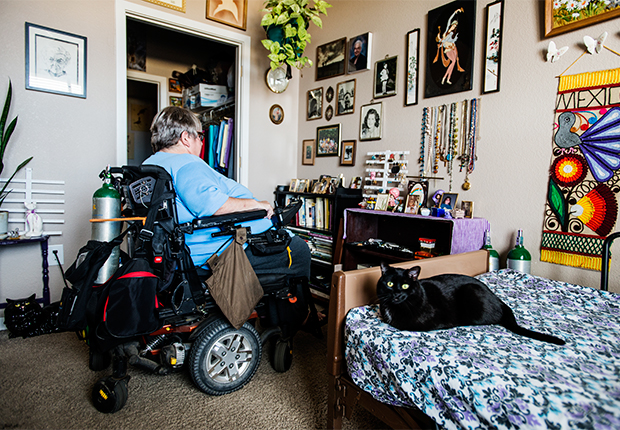 By Danica Lucker

Jackie King knows what it's like to search for housing in Denver and be hit hard financially while finding few choices. A math professor at the Community College of Denver, she has seen housing prices rise dramatically since she moved to the area in 1979.

King, 63, who uses a wheelchair and needs attendant care daily to live independently, was paying $1,200 a month in rent for an apartment in downtown Denver in 2012. Two years later, her rent jumped to $2,000 and was about to go up again, so she moved.

She now lives in an apartment in the Highlands neighborhood and pays $1,800 a month. Her care costs about $3,000 a month out of pocket.

"That was the best option I could find and still be downtown," King said, "but between rent and my attendant care, I'm barely getting by."

Her story illustrates why the city created its first affordable housing fund, going into effect this month.

The fund will raise $150 million for affordable housing over the next decade by using part of a small 2012 property tax increase (about $12 a year on a $300,000 home) and instituting a one-time development impact fee on new projects. In its first year, the measure is expected to bring in $10 million. An additional $5 million will come from the city's general fund, including marijuana taxes.

About 6,000 units are expected to be created or preserved through the new funding, in addition to 1,400 units the city is projected to support in the next decade with loans and grants from existing state and federal programs.

"It's not just the lower-income population that's been affected by housing prices," King said. "Denver really needs more, readily available options for moderate-income people, too."

A range of support
Councilwoman Robin Kniech, who initiated the proposal, said the fund will subsidize the preservation or construction of apartments, help with homeownership programs and assist with emergency services to keep people in their homes.

Rental units will be geared to those making up to 80 percent of the median income in Denver ($64,080 for a family of four).

"To me, this is about both helping individuals as well as maintaining the vibrancy of the city that's full of different people—from individuals, to families, to senior citizens, to people of different racial and ethnic backgrounds," Kniech said.

The new fund has received strong support from AARP Colorado members, said Roberto Rey, multicultural outreach director. An email explaining it was sent to about 4,800 members, and the property tax impact did not receive any negative feedback.

"People didn't feel it was a burden, considering the size and importance of the issue," Rey said.

Some developers and businesses were concerned the program might create an inflated market, so the City Council set a 10-year limit, and the revenue structure will be evaluated in 2026.

Susan Powers, president of Urban Ventures, a Denver development firm, supports the fund. "Unless we figure out how to address this issue of affordability, we are going to lose our workforce," she said. "The city housing fund is the beginning of the answer."

Danica Lucker is a writer living in Highlands Ranch, Colo.