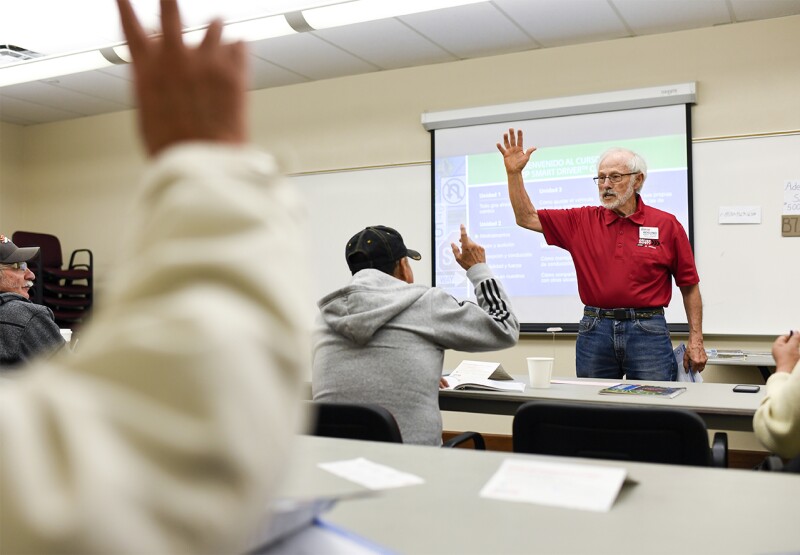 By Cynthia Pasquale

Adelino Sanchez makes a point of discussing the dangers of distractions in every AARP Smart Driver course he teaches—and for good reason.

In Colorado last year, nearly 15,700 accidents involved distracted drivers, leading to 53 deaths, state data shows.

"We are talking to people who have been driving 30 or 40 or 50 years, so we're not teaching them how to drive; we are refreshing their safe-driving skills," said the 82-year-old Littleton resident.

Sanchez, who also teaches the classes in Spanish, is among more than 100 volunteer AARP Driver Safety instructors statewide.

Geared toward drivers 50-plus but open to those of any age, the four-hour course focuses on techniques to keep them and their passengers safe and includes information on Colorado-specific guidelines and laws.

Sanchez emphasizes the importance of not using cellphones and other electronic devices while behind the wheel.

Colorado law prohibits motorists under 18 from using cellphones while driving. A bill considered by the Legislature earlier this year would have extended that rule to drivers of all ages, but it failed to pass through committee.

"Distracted driving is dangerous, careless, imprudent behavior, and it is nearly impossible not to be distracted while physically holding your phone," said state Sen. Lois Court (D-Denver), who sponsored the measure. "This bill is about ensuring public safety and encouraging safe driving."

Tackling sensitive topics

Older adults are generally safe drivers, but laws, vehicle technology and emergency procedures change over time, said Phillip Nuffer, 78, Colorado state coordinator for AARP Driver Safety and a course instructor.

"A refresher can be beneficial to update the knowledge of our older drivers," Nuffer said.

Classes cover a variety of topics, such as the effects of medication on driving, car safety technology, techniques for handling left turns and how to compensate for age-related physical changes like slower reaction times. Sanchez said class participants also want to discuss issues they face on the road.

Complaints about disrespectful drivers who don't use turn signals or who recklessly switch lanes are among the most common he hears.

Attendees also learn how to recognize when it is time to hand over the keys or have that conversation with a parent.

"We have an instruction unit that discusses what to look for in terms of whether you are still a safe driver or whether you should give up driving," Sanchez said. "In the metro area at least, there are other ways of getting around."

Participants receive a certificate for completing the course, with those 55 and over eligible for a three-year discount on their auto insurance.

For more information, to find a Smart Driver course near you or to take it online, go to aarp.org/driversafety or call 877-846-3299.

The classroom course is $15 for AARP members and $20 for nonmembers. The online version is $19.95 for members and $24.95 for nonmembers.

More about becoming an AARP Driver Safety volunteer is available at aarp.org/volunteernow.

Potential instructors receive training and the support of mentors on their way to becoming fully qualified.

Cynthia Pasquale is a writer living in Denver.