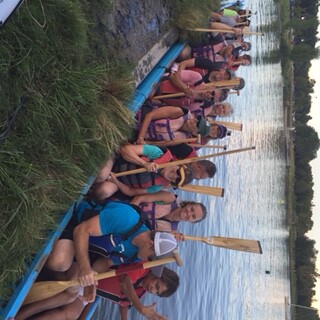 AARP Colorado is looking for people who like to have fun, enjoy exercise, learning new skills and meeting new people. If this sounds like you or someone you know, consider becoming a member of the 2017 AARP Dragon Boat Race Team which will be comprised of up to 26 people, half men and half women.

The Dragon Boat Race and Festival is over a weekend (date for 2017 not yet finalized but will be sometime between mid as end of July) and attracts 150,000 attendees , which makes it the largest in the country.

No need to have any previous experience or skills, you just need to be:

In good physical health, enable to endure at least 2 minutes of fast paddling
Able to swim at least 20 meters without assistance
Adults must sign a waiver
All paddlers must receive safety training by CDBF personnel prior to boarding a boat
We will start our training indoors, so that together , we can learn racing skills and technique and how to work together as a team.

These training sessions will be held:

L ocation

American GI Forum

1717 Federal Blvd, Denver, CO 80204

When:

February 23, 2017, 6 - 7 PM - this event has been canceled

March 16, 2017, 3:30 -4:30 PM

March 30, 2017, 6 - 7 PM

We ask that you be available to participate in at least two of these, so we can start to develop a "team rhythm ".

We will then , in April, be able to start training on Sloan Lake , where the race will be held . We will try to set up training for once a week and hope you would be able to participate in at least 75% of the time.

We are anxious to put our team together as soon as we can so if you are interested in being on the team or need more information , please contact either Alan Walker (AARP volunteer and team captain ) at alanwalker50@gmail.com or 720-357-4497

Jeremiah Mora AARP Associate State Director- Community Outreach) at jmora@aarp.org or 303-764-5986.