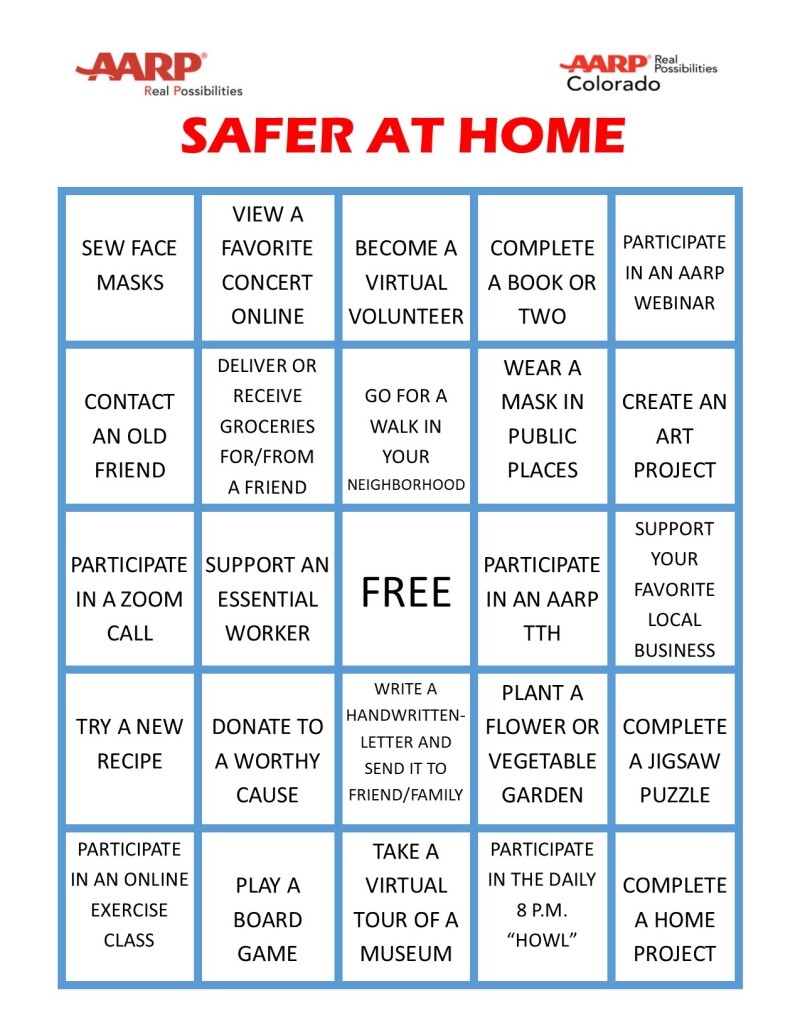 Join us for an AARPCO Bingo Party! Share with us how you've been spending your Safer at Home time. How many of our challenges might you be able to do? If interested, take a screenshot of our bingo card, mark off the challenges you've completed and share it on your facebook page with the hashtag #AARPCOBingoParty. Let's see how we've been doing staying Safer At Home!

Need help with the screenshot?

IPHONE
Press the Side Button and the Volume Up button at the same time. Quickly release both buttons. After you take a screenshot, a thumbnail temporarily appears in the lower-left corner of your screen, click on the thumbnail to edit and mark your card.

IPAD
Locate the Home and Top (Power) buttons. Press and hold the Top button when viewing the screen you want to capture, then tap the Home button and release both. For newer models, please refer to iPhone directions above.

ANDROID
Open the screen that you want to capture.

Depending on your phone: Press and hold the Power + Volume down buttons at the same time for a few seconds. If that doesn't work, press and hold the Power button for a few seconds. Then tap Screenshot. That should allow you to mark and edit your card.

PC
To capture the entire screen (everything you see on the screen, including all open windows), press the PrtScn button. This screenshot will be placed on your clipboard for you to paste wherever you want. You can also press Windows Key + Print Screen to save the screenshot to your [User]\Pictures\Screenshots folder

How to post to Facebook?
After successfully taking a screen shot of the bingo card, use the edit function to crop the card and "mark up" the squares that you have completed. Save the image to your photos and post to your Facebook account with the hashtag #AARPCOBingoParty.