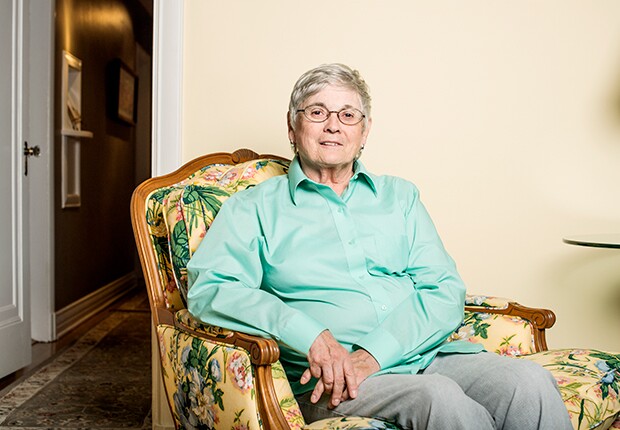 By Cynthia Pasquale

Shari Wilkins recently served as a caregiver for her aunt, a closeted lesbian who married her partner three days before dying at age 89. Wilkins was left to address the issue with surprised family, friends and church members.

"I told everyone that at the end of her life, a life well lived, came the ultimate joy: She had gotten married," Wilkins recalled.

Wilkins, 70, of Denver, is a former manager for SAGE of the Rockies, a program of the GLBT Community Center of Colorado that focuses on older lesbian, gay, bisexual and transgender (LGBT) people. She has heard similar accounts from members of her caregiver support group. For older lesbians, "that generation just didn't tell."

While many issues are similar for all caregivers, the LGBT community sometimes faces unique challenges.

To help address caregiving issues, including those specific to LGBT people, AARP Colorado has produced a series of nine- to 12-minute podcasts on topics including advance-care planning, compassion fatigue, models of care and caregiver stress.

The 40 podcasts, titled Care-FULL Conversations, are being released weekly and can be accessed on iTunes and Google Play and at aarp.org/co.

One podcast discusses the importance of being proactive. "If we wait until the crisis has hit, we are not in the position to make the best decisions, because it limits our options. We all want a choice—to be in control," said Jane Barton, podcast host.

Barton, AARP Colorado's caregiving ambassador, has a professional and personal background in caregiving and writes a blog on the topic at aarp.org/co.

Caregiver rights
Planning is important for older residents who don't have the authority to make decisions for a partner. "Many couples have been together for 40 or 50 years but have never told a medical provider that they are gay or lesbian, and so you have legal issues about who has the right to be a caregiver," Wilkins said.

Another podcast discusses how family is defined. Like Wilkins' aunt, some older people may not have been open with their family or people they rely on for help.

Those who identify as LGBT are twice as likely to be single and live alone and are four times less likely to have children. That leaves them dependent upon friends or other members of the LGBT community for support.

"Our main goal with the podcasts is to provide a holistic picture of caregiving," said Jeremiah Mora, community outreach director for AARP Colorado. "We want all people to age with dignity, and we want to release the energy of local communities."

AARP Colorado is also producing 20 short quick-tip videos. "We'll not only address how to be a caregiver but also how to take care of yourself," said Mora.

Earlier this year, AARP surveyed the LGBT community to assess caregiver needs. A second survey was sent to health care providers in the Denver area to assess their willingness to work with the LGBT community.

Medical professionals may not always be "well trained about being sensitive or compassionate" when it comes to LGBT issues, Wilkins said.

AARP Colorado will offer training to interested providers through Project Visibility, a program working to make sure aging services are informed about, and supportive of, LGBT people.

AARP Colorado staff will also march in Denver's PrideFest Parade on Sunday, June 18, with a group from SAGE of the Rockies.

Cynthia Pasquale is a writer living in Denver.