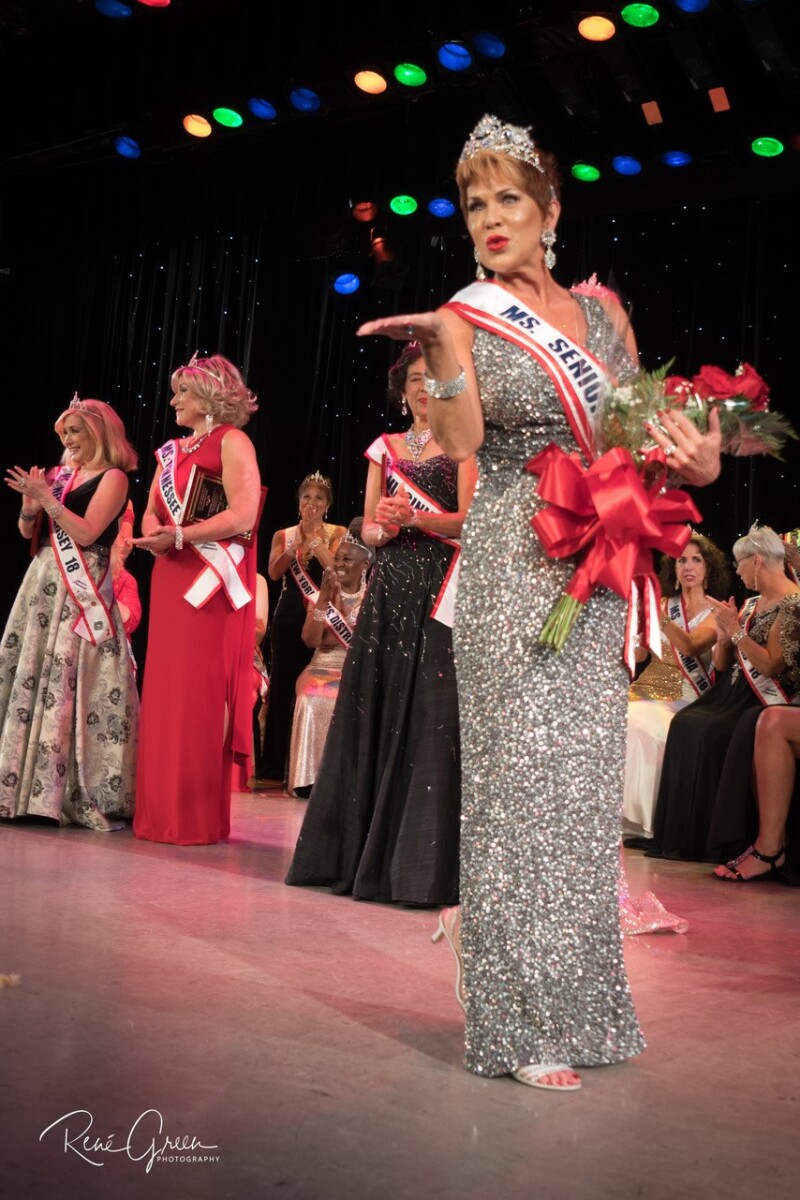 Gayle Novak entered her first-ever pageant in May and was crowned Ms. Colorado Senior. She entered her second pageant in October and was crowned Ms. Senior America in Atlantic City, N.J. on October 18.
"There is no third pageant," said Novak, who competed with 38 other contestants 60 and older in the categories of interview, evening gown, philosophy of life and talent. As she did in the Colorado competition, Novak wowed the audience and the judges with her dynamic performance of "Money, Money, Money" from the hit show "Mama Mia."
"I did it with no expectations," said Novak of entering the national pageant. "My goal was to push my boundaries, and I did it with a desire to be part of the Colorado and national Cameo Club. I love its philanthropic attitude, and I wanted to be with women who are pro-active in their communities, and role models for not only seniors, but for kids too."
The members of the Cameo Clubs across America, organizations that support the Ms. Senior America Pageant, are active in charity work, singing and dancing showcases at nursing homes, military benefits, and other local and statewide events. Every pageant participant automatically becomes a member of the Cameo Club.
Novak has already raised millions of dollars for Volunteers of America and Denver Center for the Performing Arts, and has been active in ARC events. As Ms. Colorado Senior, she's been pleased to be invited to speak by many middle schools. She said she believes that seniors and youth face many similar problems, including isolation, depression and fear of reaching out. To both groups she wants to say: "Don't give up; life keeps going. Speak out, get out and share. It's never too late to start something new and to make new friends."
The pageants have opened a wealth of new friendships for Novak, who loved the spirit of sisterhood among competitors.
Beginning in February, Novak will be on the road supporting pageants around the country and sharing her live-life-out-loud philosophy. She'll also fill a busy schedule within Colorado, including appearing in Denver's annual Parade of Lights.
The former owner of Summit Steak House, Novak is a working partner at Zane's Italian Bistro with her son Zane and husband, Ed, former owner of The Broker restaurant chain. One of her joys has been sharing the pageant experience with her family.
"My 93-year-old mother has been so supportive of me," Novak said. "And when I wear my crown and gown for my granddaughters I feel like they get to share in this bit of fantasy."
This pageant is not a beauty pageant; it is about the energy of women 60 and older, said Colorado State Pageant Director René Green. "We are active seniors involved in community work and Gayle has it all—her community work with our local Cameo Club, confidence, grace, talent, and (beauty) inside and out. Colorado is blessed to have Gayle and this title coming back to Colorado."
For more information about Ms. Colorado Senior America Pageant,* visit the colosramerica.com, or contact Green at renemcsap@gmail.com. For information about the Ms. Senior America Pageant, click here.
*Please note: These pageants are not associated with AARP, and any information you provide the host organization will be governed by its privacy policy.
_ Carol Lynn Tiegs is a Colorado writer and AARP volunteer
[Photo courtesy of René Green and the Ms. Senior America Pageant]