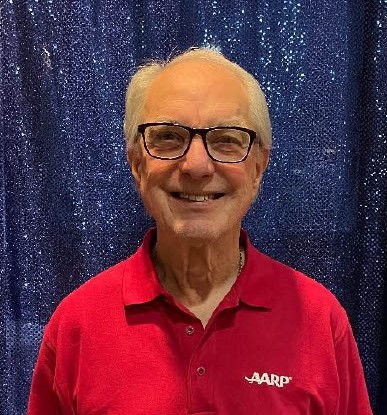 Safety on the ground and in the air is a career-long passion for Stephen Blucher of Colorado Springs. On July 6, Blucher celebrates 25 years of putting that passion to work for AARP members as an instructor for AARP Driver Safety.

"I had a friend who was an instructor and they said, 'How about it'," said Blucher. "I said I'd do it for a year and here we are 25 years later. I like being around people and doing things I think might be helping."

Blucher says he's met a lot of nice people teaching AARP Drive Safety. One of his class participants turned out to be a man he'd been in school with from age 7 to 17 in his hometown of Flossmoor, Ill.

However, a lot has changed in 25 years, Blucher said. "Potholes have gotten bigger, cars have gotten a lot smarter, and courtesy seems to have gone away. You have to be on your toes all the time; drive defensively."

Blucher remembers an alert 92-year-old women in one of his classes. "As we were talking about how much things were changing on the roads, she said she had just decided that she didn't need to be driving anymore."

Teaching AARP Driver Safety has helped Blucher learn a lot of things about how newer cars work. He urges new car drivers to read their owners manuals so they really understand what their car can and will do.

Blucher's career has included a lot of time on the air as well as on the ground. As a communications major in college, he worked in radio in Florida and Michigan before landing in Denver as in-the-air traffic reporter for KOA and KHOW radio stations. His flying career took off in 1980 when he joined a Colorado Springs company, flying their plane and hot air balloon.

Between 1993 and 1996, Blucher piloted Tony the Tiger around the country on promotional tours for Kellogg Company. A long-time member of the Civil Air Patrol Search and Rescue team, Blucher has handled public relations for Rocky Mountain AAA and the Civil Air Patrol. A hot air balloonist for more than 50 years, Blucher is active in a club in Colorado Springs. And he is an active volunteer at the Colorado Springs airport. Blucher plans to complete his 300th Drive Safety course in July, and many more to come.