SCORE, – www.score.org - mentors to America's small businesses, and has teamed up with Sam's Club to provide day-long events filled with marketing workshops, resources and mentoring for small business owners seeking to expand their ventures. The second "Marketing Your Business for Growth" event will take place in Denver on April 3, 2013 and is made possible by more than $500,000 in grants provided by Sam's Club to fund educational workshops for American entrepreneurs.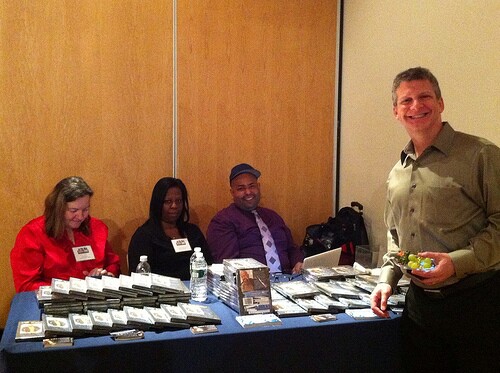 Earlier this year, Sam's Club and SCORE joined forces to host an event in Dallas, Texas for 102 small business owners selected from around the country. The shared goal of educating and assisting small businesses makes SCORE and Sam's Club a valuable resource for entrepreneurs.
One attendee of the Dallas event, Jessica McMurdie, founder of Stepping Stones Occupational Therapy in Bellevue, Washington, reflected on the experience saying, "I feel really fortunate and honored to be able to participate in this event. The topics that have been covered have been practical and helpful; the speakers are really down-to-earth and humorous. No matter what type of business you're in, you can take something from this conference."
The "Marketing Your Business for Growth" event in Denver will provide small business owners free, unbiased, and personal SCORE mentoring, peer learning and networking and great educational workshop sessions in a fun but focused environment. Workshops topics will include:

Engagement Marketing
Online Marketing and Attracting the "Right" Customers
Keeping Your Current Customers
"We highly value our relationship with Sam's Club and the wealth of educational opportunities it has afforded small business owners, including SCORE clients," said The SCORE Foundation's President, Mark Dobosz.
The "Marketing Your Business for Growth" event will be held at the Colorado Convention Center in Denver from 8 a.m. to 3:30 p.m. on Wednesday April 3. For more information and to register for this event, visit: http://events.r20.constantcontact.com/register/event?oeidk=a07e70r17a3e49f7112&llr=tib7yjcab
About SCORE
Since 1964, SCORE has helped more than 9 million aspiring entrepreneurs. Each year, SCORE provides small business mentoring and workshops to more than 375,000 new and growing small businesses. More than 12,000 business experts volunteer as mentors in over 340 chapters serving local communities with entrepreneur education to help grow 1 million small businesses.
For more information about starting or operating a small business, call 1-800-634-0245 for the SCORE chapter nearest you, or visit SCORE at www.score.org. Connect with SCORE at www.facebook.com/SCOREFans and www.twitter.com/SCOREMentors.
[Photo courtesy of www.flickr.com/photos/grantwickes/ flicker]