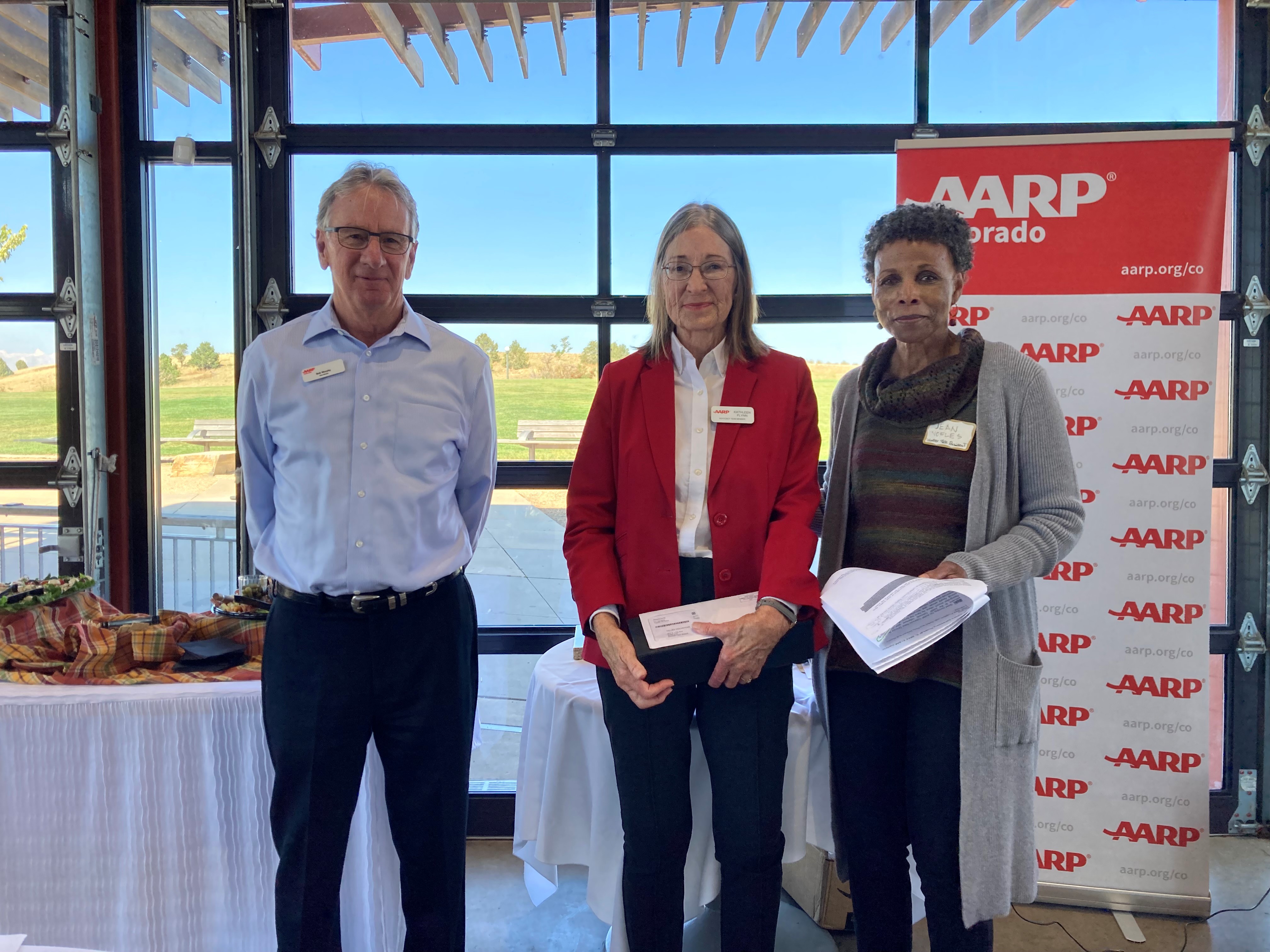 In 13 years as an AARP legislative advocate, Kathleen Flynn has worked on behalf of Colorado's seniors in areas from affordable housing to telecommunications.

For that dedication, Flynn received AARP Colorado's 2022 Andrus Award for Community Service, the Association's most prestigious and visible state volunteer award for community service. AARP Colorado State Director Bob Murphy and State President Jean Nofles made the presentation at the AARP Colorado Volunteer and Community Partner Recognition brunch on October 5.

"She leads by example, always prepared and ready to go," said Nofles. "Kathleen never fails to inspire with her ongoing optimism and interests in the betterment of the lives of others."

Flynn became an AARP volunteer after retiring from a career as a technical documentation manager for telecommunication companies.

"After I retired, I looked for volunteer work that aligned with my priorities and where I could continue learning," Flynn said.

Some of Flynn's early AARP advocacy work involved ensuring reliable 911 emergency service, particularly for rural areas. She spent time interviewing dispatchers, fire and police departments to gather information on the issue.

Age discrimination and affordable housing are especially important issues for Flynn. She held numerous stakeholder meetings and testified before the Colorado Legislature in support of a bill to protect mobile home owners from losing their property.

"Kathleen has been a fighter in the effort to increase affordable housing and protect tenant rights, and an invaluable member of AARP Colorado's Legislative Advocacy Team," Murphy said. "This award is recognition of what can be achieved toward positive social change."

In addition, AARP Colorado named Mary Fries Volunteer of the Year and Rebecca Hammons received the AARP Lifetime Achievement Award. Leslie Kalechman was named Legislative Volunteer of the Year, and Kathleen Kelleher of The Center on Colfax and Strategic Action Planning Group on Aging (SAPGA) received AARP 2022 Community Service Awards.