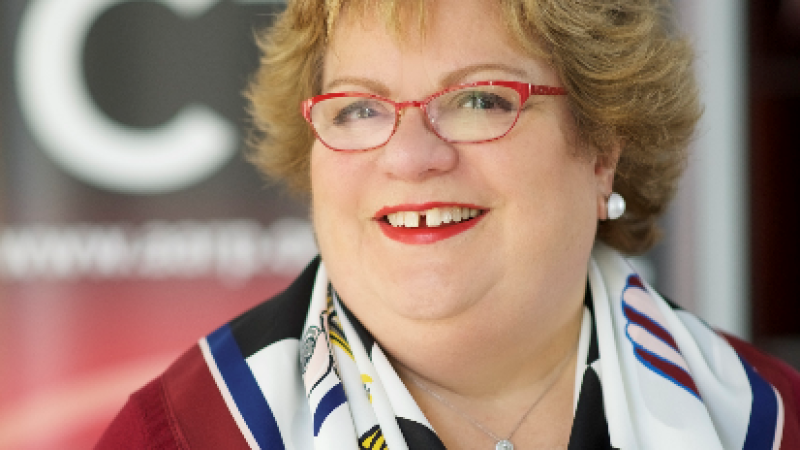 Andrus Award for Community Service Honors Outstanding Volunteers Age 50-Plus
AARP Connecticut is pleased to announce Betty Bajek of Prospect has been selected to receive the 2019 Andrus Award for Community Service, the Association's most prestigious state volunteer award, for her outstanding volunteerism and commitment to the community. Ms. Bajek was formally presented with the Andrus Award at a ceremony in Prospect on December 9, 2019.

The AARP State Andrus Award for Community Service is an annual awards program developed to honor individuals whose service is a unique and valuable contribution to society. The award is named for AARP founder, Ethel Percy Andrus, whose motto "to serve, not to be served" continues to shape our work years after she founded this association to help older Americans age with dignity and purpose.

"I am so honored and humbled to be the recipient of the 2019 Andrus Award," said Ms. Bajek. "Being an AARP volunteer has enriched my life in so many ways and opened the world of real possibilities to me. It's given me a renewed sense of purpose and the confidence to volunteer with other organizations. I'm giving back to my community and making a difference in people's lives, and in return, my soul is filled with joy."

Ms. Bajek is receiving the award in recognition of her leadership and dedication to serving her community as well as the entire state of Connecticut. She is a Board Director on the Greater Waterbury Transit District, representing the town of Prospect; the Chair of the Prospect Democratic Town Committee; is an active member of the Friends of the Prospect Public Library, Inc., co-chairing their annual book sale event; and participates in Chesprocott's emergency public health drill.

In addition to the recognition, AARP Connecticut donates $3000 on behalf of the Andrus recipient to an eligible non-profit organization of their choosing. Ms. Bajek has chosen Kellys Kids, Inc., Pets After School Program in Prospect. The organization provides a quality curriculum of continuity in education through an expanded learning environment outside the traditional school day.

Ms. Bajek has also been an AARP volunteer since 2016. She provides significant contributions to the AARP Fraud Watch Network and Disrupt Aging programs as well as initiatives focusing on age-friendly living, caregiving, and supporting the work to keep individuals living in a setting of their choice as they age. Adding to her volunteerism, Ms. Bajek became a Dementia Friends Champion and supported the Quinnipiac University Occupational Therapy students with their capstone project.