• New survey results from AARP Connecticut also show majority support standard offer plan, have concerns with rate increases & want restrictions on provider outreach
• New standard service electric rates take effect January 1, 2017

A vast majority of Connecticut registered voters are concerned about the rising costs of electricity, insufficient consumer protections around utilities and want restrictions on the provider outreach tactics, according to a recent wide-ranging survey by AARP Research.

The survey results show nearly two of every three respondent (64%) believes their interests are not being represented when utility rate increases are proposed and 86 percent want stronger consumer protections around utility rates and services.

"This survey spotlights the concerns Connecticut residents have with the utilities rates and services in our state and if their well-being is considered when it comes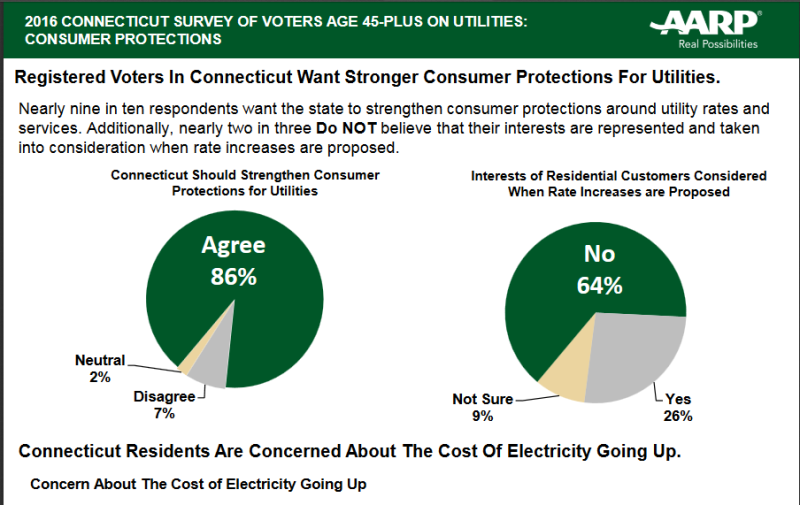 to the decisions being made," said AARP Connecticut Advocacy Director, John Erlingheuser. "AARP has fought for many consumer protections around energy issues and will make their interests a priority with Connecticut lawmakers in 2017."

Additional key findings of the survey include:

• Nearly three quarters of respondents (73%) are concerned about the cost of electricity rising.
• Nearly 90 percent of the respondents want Connecticut to continue to require the state's two electric suppliers – Eversource and United Illuminating – to provide consumers with default standard electric supply plans to compare against plans offered by third-party suppliers. The standard electric plan is required so that consumers are afford the lowest reasonable rate by Connecticut's two distribution companies.

The survey also found many of Connecticut's residents have been contacted by a third-party electric supplier, or another organization, with an offer or a lower rate (79%) or to switch electric companies (72%). In regards to outreach by electricity providers, 61 percent of the respondents feel companies should not be able to conduct door-to-door sales of their service and 29 percent of those who feel they should be allowed would want restrictions in place.

The full results of the report can be found online as well.

Survey results are from an AARP commissioned telephone survey of 800 Connecticut residents age 45 and older that was conducted between October 31, 2016 and November 10, 2016. The survey has a margin of error of plus or minus 3.5 percent.

New Standard Service Electric Rates Take Effect January 1, 2017
The Public Utilities Regulatory Authority (PURA) has approved revised generation rates for residential and business customers taking Standard Service generation from Eversource and United Illuminating.

Effective January 1, 2017, Eversource's residential generation rate will change from 6.606 cents per kilowatt-hour (kWh) to 7.874 cents/kWh. UI's residential generation rate will change from 8.0224 cents/kWh to 9.264 cents/kWh. The Standard Service generation service rates for other residential and business customer classes are also set to change effective January 1, 2017. The new rates will be in effect through June 30, 2017.

Eversource and United Illuminating provide default generation supply – labeled Standard Service on the bill – to residents who do not choose a third party, which accounts for about two thirds of residential customers. Standard Service is a fixed price that only changes twice per year—January 1 and July 1.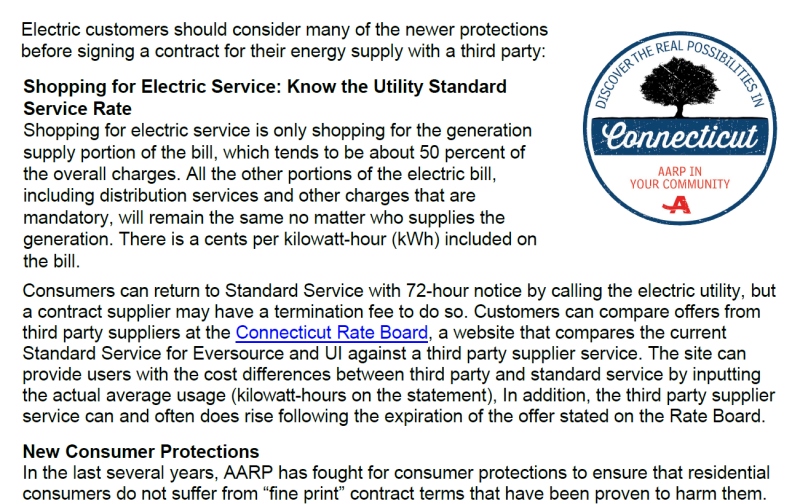 Some electric customers choose to get generation supply from a third party instead of the standard service. As a result, many third party customers pay more for supply due to misleading practices. AARP fought for many consumer protections to help customers from being overcharged by overly-aggressive marketing practices, such as misleading door-to-door sales, and a proliferation of fixed rate offers with enrollment and termination fees that have frequently resulted in residential customers paying more than the standard service over the course of their third party contract.

Electric customers should consider many of the energy-consumer-protection before signing a contract for their energy supply with a third party.