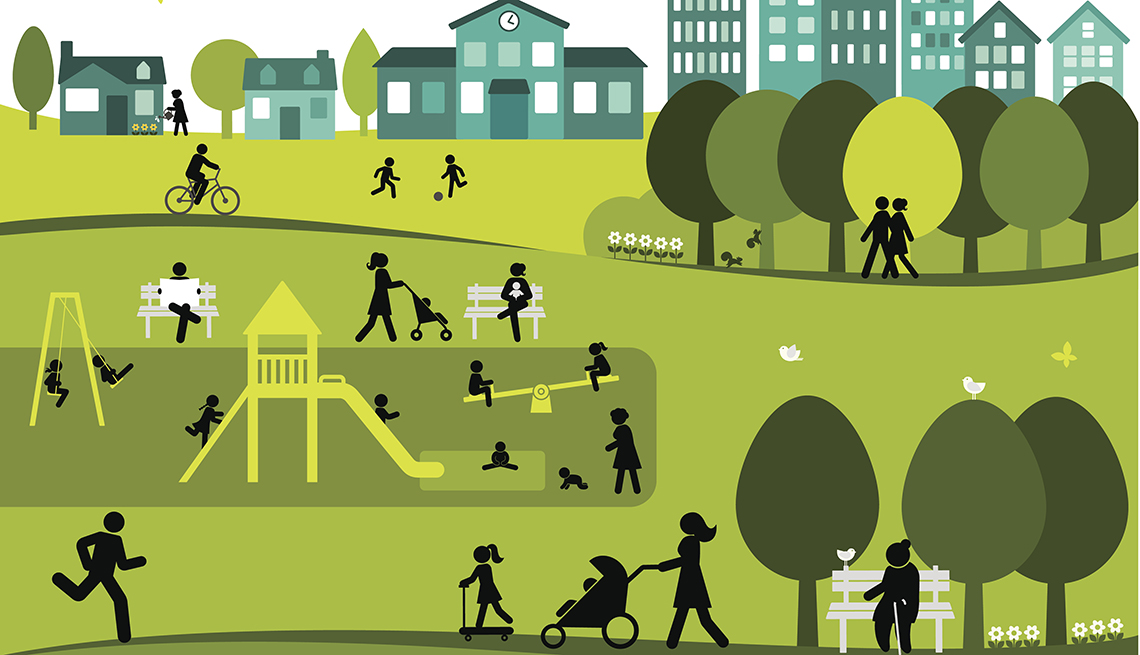 AARP Connecticut has selected seven recipients for its fifth Livable Communities Support Program that funds quick-action projects in Connecticut communities that will help make immediate improvements or jumpstart long-term progress that will support residents. AARP Connecticut has funded 29 projects since the inception of the program in 2018.

AARP Connecticut launched the Livable Communities Support Program, a local expansion of the national AARP Community Challenge initiative, to provide nonprofit organizations and municipalities in Connecticut with up to $5,000 for projects that aim to help neighborhoods, towns and cities become great places for people of all ages. The program is open to incorporated organizations that are 501(c)(3) or Connecticut government entities. The 2022 recipients are:

Agency on Aging of South Central Connecticut
With this funding, The Agency on Aging of South Central Connecticut will expand volunteer outreach and recruitment efforts for their Experience Corps Program in New Haven. This support will help Experience Corps – an intergenerational, volunteer-based tutoring program that engages older adults as literacy tutors – provide tutoring services in three new schools.
Bristol Senior Center
The Bristol Senior Center will use the funding to host a series of 12 Memory Café community program events offered to individuals experiencing cognitive changes from Alzheimer's or other forms of dementia and their loved ones. The Memory Cafés – safe places to connect with others impacted by Alzheimer's or other forms of dementia and to share experiences – will include quality programming on topics such as nutrition, stress management, art therapy, humor, exercise, meditation, or pet therapy.
Family Centers, Inc.
With this funding, Family Centers, Inc. in Greenwich will purchase technology for the Friendly Connections program that provides vital support to isolated and/or homebound Fairfield County seniors and alleviates isolation by utilizing trained volunteers and master's-level interns referred to as "Friendly Visitors." Friendly Visitors provide phone and video calls, home visiting, and support to clients navigating "end-of-life" issues, including mental health challenges or loss. They also offer case management, counseling, crisis management, referrals, and social-emotional support.
Thrive 55+ Active Living Center
Thrive 55+ Active Living Center, formerly the Groton Senior Center, will develop a pocket park in an underutilized space between Thrive 55+ and the Groton Public Library. This project will transform a field into a comfortable community space that includes shade trees and outdoor games.
Town of Glastonbury
The Town of Glastonbury will construct two compact finished surface Bocce courts adjacent to the Riverfront Community Center, which will provide a fun and accessible way for individuals of any age and ability to enjoy the physical, social, and recreational benefits of the game while connecting with others and spending time outdoors. The courts will be used for both open and league play organized by the Senior Services Department, with a focus on older adults with limited mobility or disabled individuals for whom light physical activity is recommended.
Town of Plainfield
Support from this initiative will allow the Town of Plainfield to turn an unused patio and green space at the Plainfield Senior Center into a vibrant outdoor space where older adults can gather, participate in outdoor programing, or simply enjoy fresh air. Program funds will be used to purchase patio furniture that will transform the area into a space that is inclusive, accessible, and comfortable for all.
Town of Simsbury
The Town of Simsbury will use the funds to support the Simsbury Stories Café project that combines the traditional Memory Café model with a Sharing Stories Studio. During Simsbury Stories Café programs, seniors and caregivers will be invited to reminisce about curated topics and participate in facilitated hands-on activities to foster cognitive and emotional wellbeing. Stories from older adults will be recorded and preserved for the benefit of future generations, and the recording equipment will also be available for the public to use for podcasting, marketing, or other storytelling initiatives.
"We want communities throughout Connecticut to be great places for older adults and people of all ages," said Nora Duncan, State Director of AARP Connecticut. "The projects we selected will create dynamic public spaces and build community connections. We appreciate the creative ideas that applicants bring to the table each year, and this year was no exception."

Projects can range from small, short-term activities to larger, permanent solutions, but they must be completed within 12 months of receiving the funding. Funding requests were evaluated for projects with a focus on enhancement in one or more of the following areas:

Affordable and accessible housing options for residents 50+
Delivery of services to help residents 50+ age in the setting of their choice
Creating safe and enjoyable public spaces for all ages with a focus on the 50 plus (bike and pedestrian infrastructure improvements, improving public parks,, public art, safe street crossings, navigation, etc.)
Public Transportation
Fostering intergenerational and multi-cultural connection
Financial security for low-income residents 50+
Socialization and fostering community connection for older residents
Education and awareness about LGBTQ elders
Community accessibility for disabled residents
In June, AARP's sixth annual nationwide AARP Community Challenge Program announced it will fund 260 projects across the country in 2022, including three in Connecticut. As part of the initiative, AARP provided funding for 244 projects in 2021, including three in Connecticut; 184 projects in 2020, including three in Connecticut; 159 projects in 2019 with two in Connecticut; 129 in 2018 with three in Connecticut; and 88 in 2017, including one in Connecticut. Visit www.AARP.org/CommunityChallenge to learn more about the program and awardees.

AARP's nationwide Livable Communities initiative also provides resources and publications to encourage local action such as the ABCs of ADUs and the AARP book-series Where We Live: Communities for All Ages. To learn more about AARP's livable communities work in communities across the country please visit www.aarp.org/livable.