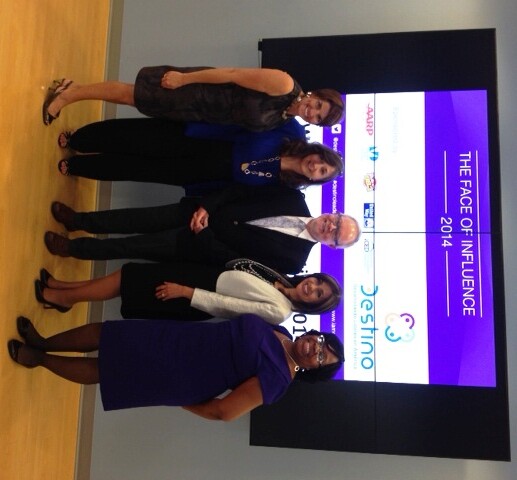 More than 350 South Floridians invested a recent Saturday learning some skills that could pay big dividends for people 50+ in their communities – and as with most good investments, it will take time to see the full payoff.

The DESTINO Leadership Academy brought 350 community leaders from local government, faith-based organizations, the Asian-American Federation and other corporations to Miami-Dade College in Miami. Attendees built leadership and community-engagement skills they can put to work on important social issues like education, civic engagement and collaborating against hunger, among others.

Now in its fifth year, DESTINO teaches its students the necessary skills to be effective communicators, successful entrepreneurs and all-around leaders who can bring about positive social change in their communities.

Starting with keynote speaker Harroll "Hop" Backus, AARP Executive Vice President of States and Communities, the event brought insights from leaders of a wide range of Miami-area community organizations to its students. Backus told the story of Dr. Ethel Percy Andrus and spoke about the meaning of being a Face of Influence and the endless opportunities that exist to be an influencer in communities.

This year, panelists included Saliha Nelson, Vice President of Urgent, Inc. and Chair of the Overtown Children and Youth Coalition; Diana Bolivar President of the Hispanic Chamber of Commerce of Orlando; Jack Kardys, director of Miami-Dade County Parks, Recreation and Open Spaces; and Yvonne Sawyer, Chief Operating Officer of Hope for Miami. Linda Schothoeffer, Director of Community Initiatives at United Way served as Moderator. AARP's own Innovations Advisor Terry Edwards inspired attendees with a presentation on Self-Reflection and Assessing Your Own Strengths.

The Academy hosted several different workshops in both English and Spanish this year including building your public speaking skills, advocating for your cause, engaging volunteers in a community service project, engaging in your child's school, collaborating to sustain faith and community-based programs, starting a non-profit organization, and funding for your cause. Workshops were developed to teach a variety of important skills essential to successful leadership.

DESTINO is the brainchild of AARP Florida's Ivonne Fernandez, associate state director for multi-cultural markets. "I can't help but get excited when I think about the influence that DESTINO graduates will have in South Florida over the years," Fernandez said. "When AARP works to equip people with the tools they need to achieve real possibilities in their communities, we are really fulfilling the mission Dr. Andrus set for us when she spoke of 'an army of useful citizens'."

The planning committee, led by Fernandez and Associate State Director Ann-Marie Flannery from AARP Florida, included community allies from United Way, Miami Dade College, Toastmasters and La Nueva Radio. More than a dozen nonprofits and 10 organizations collaborated with resources to build the academy's agenda and make Destino a success.