En español | Florida is now administering COVID-19 vaccines from Pfizer and Moderna to adults 65 and older, health care workers and long-term care residents and staff. Gov. Ron DeSantis says vaccines have been shipped to all of the state's 67 county health departments, though many seniors have not been able to get a vaccine because of high demand for a limited number of doses.
Desantis has said the state's goal is to vaccinate most people in its top priority group — including older adults — by February. The vaccine would then become available to more people, likely including essential workers like teachers and police officers.
Vaccine news is changing quickly. Check this guide for updates in days ahead.
When can older adults get the vaccine?

Some older Floridians have been able to get the vaccine in some parts of the state since late December. DeSantis signed an executive order mandating that people 65 and older be placed in Florida's first vaccine priority group. He says that all 67 county health departments have received vaccine shipments that will allow those 65-plus to schedule vaccine appointments. But distribution differs from one county to the next. In some areas, you can schedule an appointment over the phone or via email. In others, like Taylor County, you'll need to register online. In many places, it's still difficult or impossible to sign up for vaccination, even if you're 65 or older.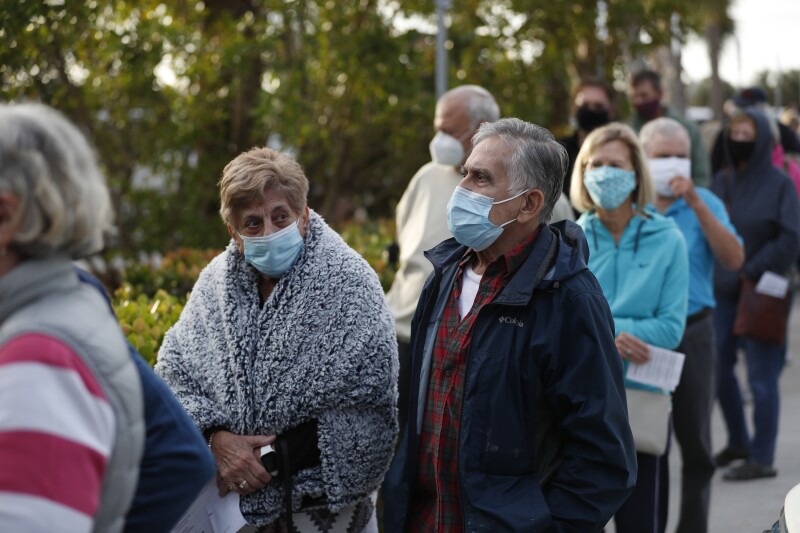 Contact your county health department to determine whether you can get a vaccine and what paperwork you may need to complete ahead of time. More than 200 hospitals are also administering COVID-19 vaccines. DeSantis recommends checking local hospitals to see if they are scheduling appointments. The Florida Medical Association maintains a list of additional state-specific vaccine resources.

With doses in short supply, some local health departments are currently unable to schedule new appointments. Floridians have reported long lines at vaccination sites and difficulty calling local health departments to schedule appointments. People who have camped out overnight at vaccine distribution centers have been turned away in some parts of the state. "You are going to get access to this. It may not be today for everyone — may not be next week," DeSantis said during a recent news conference. "As long as we continue getting the supply, you're going to have the opportunity to get this."

DeSantis' executive order puts those 65-plus in Florida's first vaccine priority group, alongside certain health care workers and long-term care residents and staff. In many other states, older adults are grouped in the second wave of vaccine distribution, alongside those with significant health conditions and a loosely defined group of "essential workers" that includes teachers, police officers, firefighters and agriculture workers.

An executive summary of the state's vaccine plan also lays out a goal of immunizing "all Floridians and visitors who choose to be vaccinated." So snowbirds are also eligible for a vaccine, although DeSantis has said he will soon issue guidelines limiting doses to full-time and part-time residents. People won't be able to travel to Florida just to get a vaccine.

DeSantis has said he hopes that by February, most of Florida's initial priority group — including older adults — will be immunized and that vaccines will then be available to more people. AARP is fighting for older Americans to be prioritized in getting COVID-19 vaccines because the science has shown that older people are at higher risk of death.

Where can I get a vaccine? 

Shots are being administered at certain hospitals, long-term care facilities and through county health departments. More than 100 Publix Pharmacy locations throughout the state are distributing COVID-19 vaccines. Contact your county health department to determine if and where you can get a vaccine.

Once that more vaccine doses are available, Florida plans to set up mass vaccination clinics and may partner with other pharmacies, community health centers and correctional facilities. Some counties have already set up drive-through vaccine sites similar to those currently used for COVID-19 testing.

How do I know when I'm able to get a vaccine?

Contact your local health department to determine whether you can get a vaccine. You can also follow updates about the vaccine's availability for various groups on the Florida Department of Health's COVID-19 vaccine website. And you can text "FLCOVID19" to 888777 to learn more about the governor's distribution plan.

AARP recommends that you talk to your doctor about the safety, effectiveness, benefits and risks of the COVID-19 vaccine. Older adults, especially those with underlying medical conditions like heart disease and diabetes, are at increased risk for hospitalization and death from COVID-19.

I've heard that some vaccines require a second shot.

The initial COVID-19 vaccines from Pfizer and Moderna require two doses. If you get one of these vaccines, you'll need a follow-up dose a few weeks later to be effectively immunized. "What you have is you get some degree, not optimal, but some degree of immunity a couple of weeks after the first dose," Anthony Fauci, director of the National Institute of Allergy and Infectious Diseases, said in December. "That's not optimal. After the second dose, you get optimal immunity anywhere from seven to 10 days after the second dose."

You may receive a vaccination card or printout that tells you where, when and which type of vaccine you received, according to the CDC. Florida's interim distribution plan says you'll be reminded to come back for a second shot after you get your first. Reminders could come via postcards, text messages or email.

The CDC has launched a web tool called v-safe that lets you sign up for text message reminders for your second vaccine appointment and report possible side effects.

How will nursing home and other long-term care residents get the vaccine?

The federal government has contracted with CVS and Walgreens to administer the COVID-19 vaccines at no cost to long-term care residents and staff. The two national drugstore chains say that more than 48,000 of the 50,000 skilled nursing and assisted living communities in the U.S. are participating in the program. The Florida Department of Health is also working with some long-term care facilities to more quickly vaccinate the most vulnerable residents and staff.

Do I have to pay for the vaccination?

AARP fought to make sure the federal government is covering the cost of the vaccine itself. But the CDC says vaccine providers may still charge a fee for giving someone a shot. The Centers for Medicare & Medicaid Services has said the vaccine will be administered free of charge to Medicare beneficiaries, with no copays. Some health insurance companies have also announced that there won't be out-of-pocket costs for policyholders.

There are already reports of scammers purporting to offer COVID vaccines and treatments and trying to charge for them. AARP's Fraud Watch Network is tracking the latest scams.

How long does immunity last after I get vaccinated?

It's not yet known how long immunity from a coronavirus vaccine lasts and whether it needs to be administered on a regular basis like the flu shot.

Should I still wear a mask after getting vaccinated?

Yes. Experts still need to learn more about the protection the vaccines provide under "real-life conditions," the CDC says. It could take your body a few weeks to build up immunity after the second dose of a vaccine. And while the Pfizer and Moderna vaccines are effective at preventing symptoms of COVID-19, it's not yet clear whether someone who's been vaccinated can still catch the virus and transmit it to others.

The vaccine is just one tool that can help slow the spread of the coronavirus. The CDC says it could take months for the population to build up immunity and continues to recommend preventive measures such as face masks and social distancing.

AARP has also called for ongoing monitoring of vaccines, once they are authorized for public use, to identify any risks that weren't evident in the expedited development and review process.

This guide was originally published on Dec. 18 and was updated on Jan. 21 with more information about vaccine availability for part-time residents.

Also of Interest: