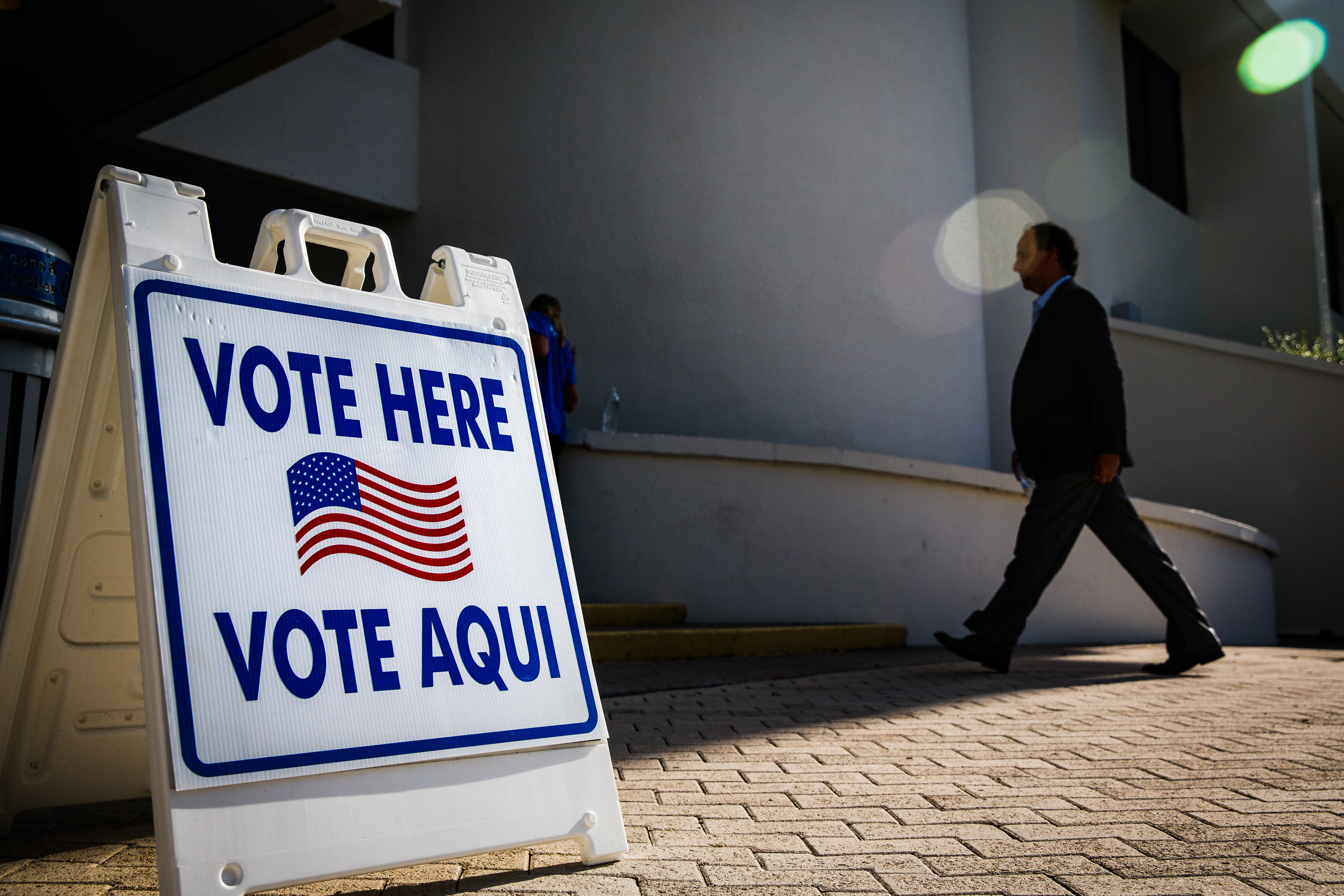 Florida's gubernatorial and U.S. Senate races are in a statistical dead heat with just two months to go until Election Day, according to a new AARP survey of likely Florida voters. The poll shows incumbent Gov. Ron DeSantis (R) holding a three-point lead over former Gov. Charlie Crist (D) and incumbent Sen. Marco Rubio (R) with a two-point lead over Rep. Val Demings (D). Both leads are within the poll's margin of error.

The poll also shows Florida voters age 50-plus are expected to play a significant role in deciding Florida's gubernatorial and Senate races in November, along with contests for the U.S. House, state legislature and other offices. More than 3 in 5 likely Florida voters (62 percent) are at least 50 years of age, according to the survey. More than 1 in 3 likely voters (34 percent) are at least 65.

"The message is clear, if candidates want to win, they should pay attention to the issues that matter to Floridians 50-plus," Jeff Johnson, state director of AARP Florida, said in a press release, citing inflation and a rising cost of living among older voters' primary concerns.

The survey of more than 1,600 Floridians was conducted by the bipartisan polling team Fabrizio Ward & Impact Research during the last week of August.

Five other key takeaways:


1. Most Floridians think the country's moving in the wrong direction. They're less pessimistic about the state's trajectory.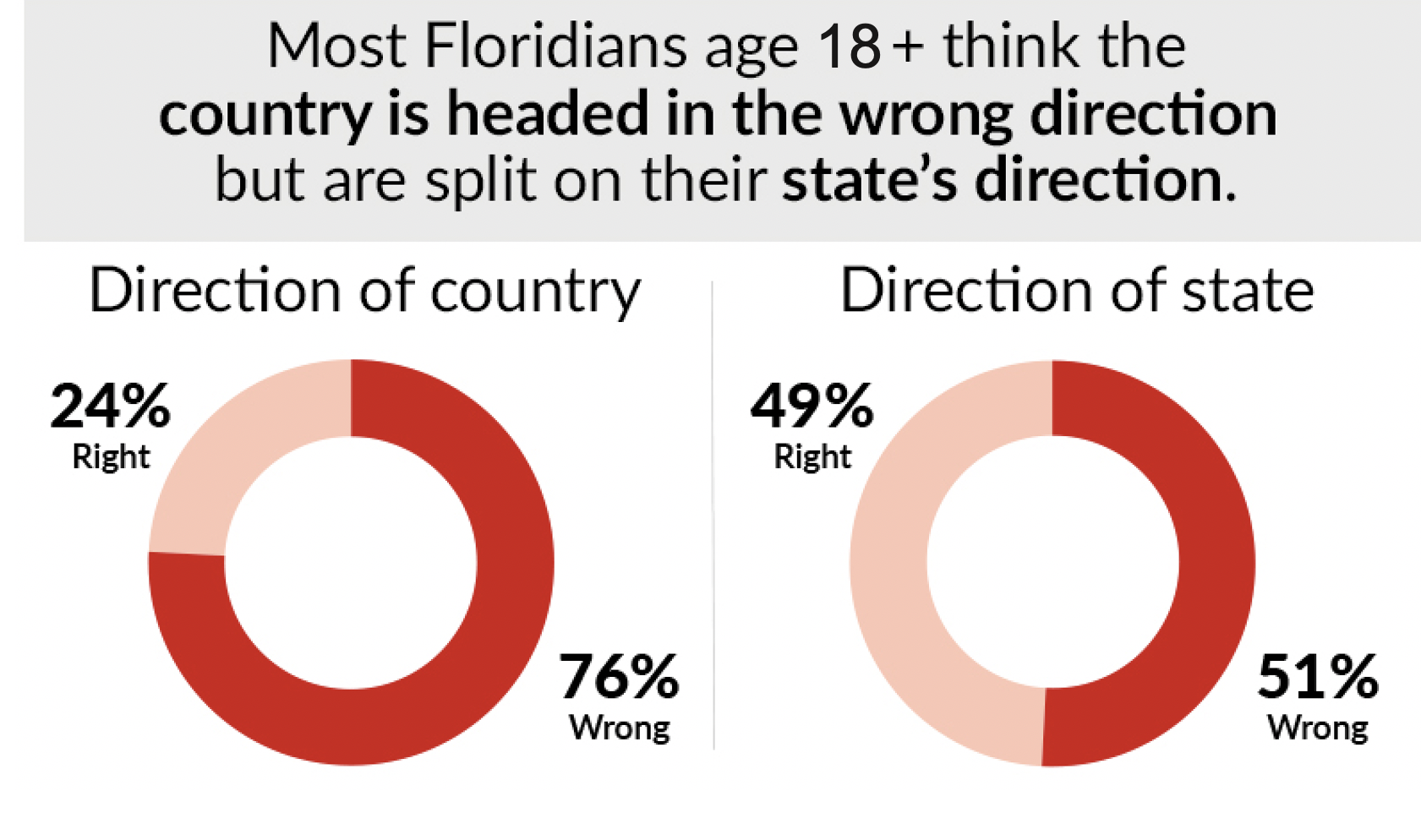 More than 3 in 4 Floridians say the U.S. is moving in the wrong direction (76 percent), the poll found. But just 51 percent said the same about Florida. Views of Florida's trajectory were split along party lines among 50-plus voters, with 89 percent of older Democrats saying the state is moving in the wrong direction and 83 percent of older Republicans saying the opposite. Older independent voters were slightly pessimistic, with 54 percent saying the state is moving in the wrong direction.


2. Inflation, economy are top issues for voters
Asked what's most important in deciding their gubernatorial vote, 1 in 5 older voters (19 percent) said inflation — more than any other issue. Inflation also topped voters' list of priorities in deciding their choice for the U.S. Senate, with 15 percent citing high prices as the most important issue.

Among older voters worried about inflation, nearly a third (32 percent) said food costs were their biggest concern. The next most common answers were housing (20 percent) and health care and prescription drug costs (20 percent).

Broader economic concerns — which include worries about inflation, taxes and the job market — were commonly listed as a top issue among older voters (36 percent in the governor's race, 31 percent in the Senate race), particularly among Republicans. Social Security and Medicare trailed inflation as the second-most-common concern in the Senate race (12 percent), while jobs and the economy were the second-most-common concern in the governor's race (14 percent).

Despite the negative view of the country's broader trajectory, 44 percent of all Floridians 18 and older say the U.S. economy is working well for them. Just 43 percent of Democrats said they are worried about their personal financial situation, compared with 80 percent of Republicans.


3. Most older Florida voters plan to cast a ballot before Election Day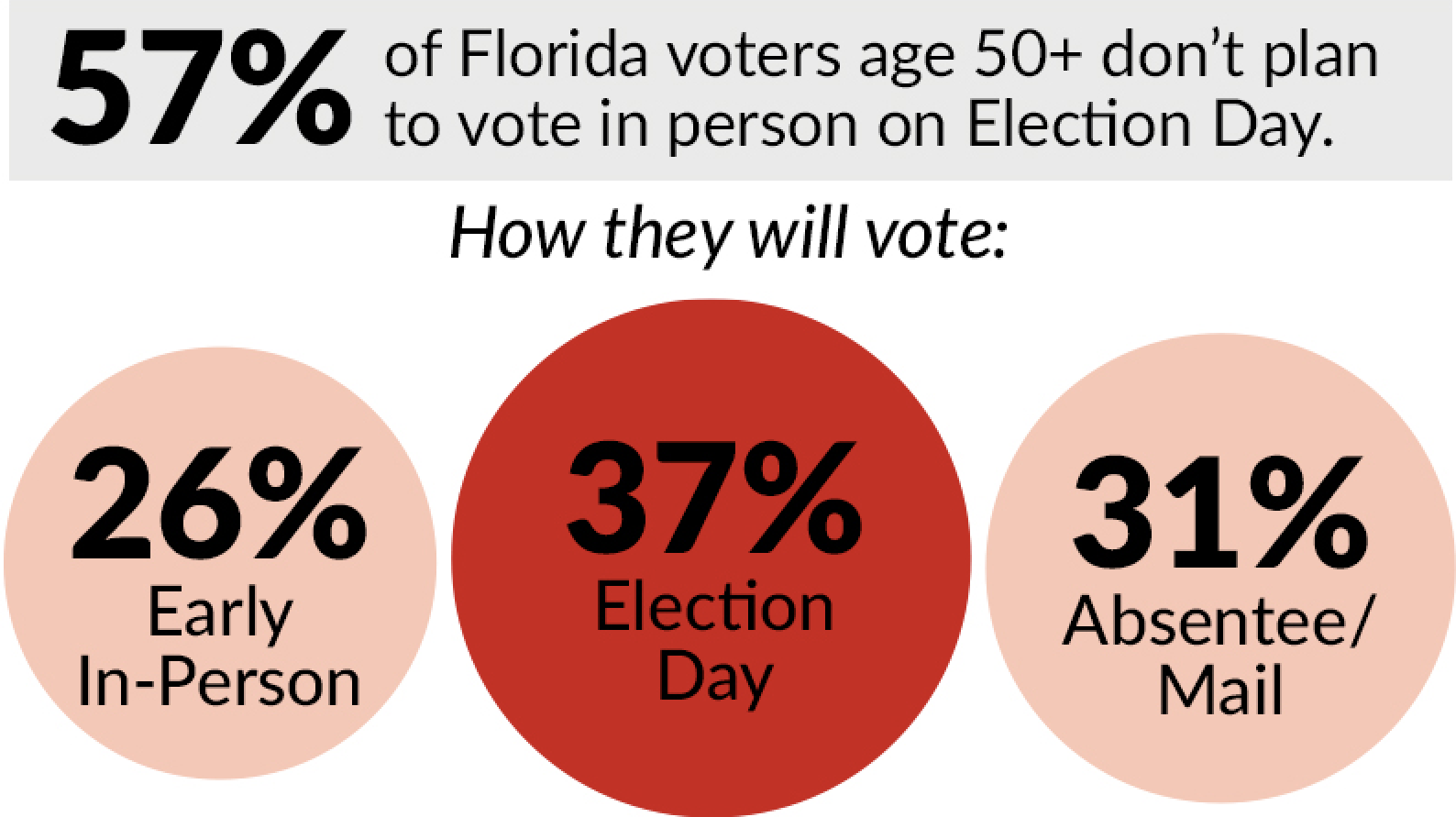 Just 37 percent of likely older voters say they plan to show up to a polling place on Nov. 8 to cast a ballot. More than 1 in 4 (26 percent) plan to vote early in person, and 31 percent say they'll cast a vote-by-mail ballot.

More than 9 million Floridians voted early or by mail in the 2020 general election, according to the Florida Division of Elections. That's up considerably from the 5.3 million who did the same in 2018. Turnout isn't expected to be nearly as strong this year as it was during the 2020 presidential election.


4. Older Floridians are much more likely to back candidates who support Social Security, Medicare
More than 9 in 10 older voters (92 percent) said they'd be more likely to support a Senate candidate who protects Social Security and Medicare from benefit cuts. A similar percentage (91 percent) said they'd be more likely to back a candidate supportive of allowing Medicare to negotiate for lower drug prices — a key component of the recently passed AARP-backed Inflation Reduction Act. The act will also cap Medicare recipients' out-of-pocket prescription costs and penalize drug companies for raising prices faster than the rate of inflation.

More than 8 in 10 older Floridians (86 percent) also said they'd be more likely to support a Senate candidate who would back a family caregiver tax credit to help offset costs family members incur when caring for loved ones. AARP has previously supported tax credits and federal support for caregivers at the federal and state levels.

A similar percentage of older voters (87 percent) said they'd be more likely to support a gubernatorial candidate who prioritizes at-home care for residents who need help with daily activities like bathing or dressing but who may not want to move to a long-term care facility. Eight in 10 respondents also said they'd be more likely to support a candidate who opposes efforts to weaken nursing home staffing requirements.


5. Likely Florida voters are mostly women, 50-plus
Women and older adults will largely decide the 2022 elections. Most likely voters (62 percent) are at least 50 years old, and more than half of that group (54 percent) are women. That's perhaps unsurprising, given women and older voters have nationally maintained higher turnout rates than their younger peers in recent decades. Turnout rates of eligible women have exceeded rates for eligible men in every presidential election since 1980, according to Rutgers University's Center for American Women and Politics.

More than 5.1 million women voted in the 2020 presidential election in Florida, representing 63.5 percent of all women in the state and 500,000 more votes than men cast that year, according to a Kaiser Family Foundation analysis of Census Bureau data.