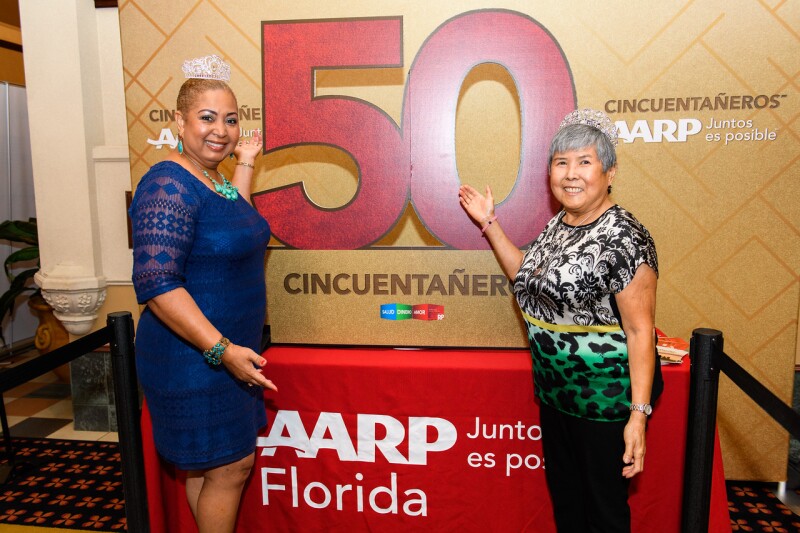 The 17 th anniversary of the Hispanic Women of Distinction Charity luncheon held on August 24 hosted by Signature Grand in Davie, Florida drew more than 900 guests including corporate partners, business leaders, media sponsors and more than 25 elected officials to pay tribute to Latina professionals who are strengthening the social fabric of this country and making inroads in the leadership pipeline for a growingly diverse America. The highly promoted celebration brought to the forefront the contributions of Hispanic women from South Florida. More than 75 nominations were submitted by past honorees and community leaders and judges selected 12, " la crème de la crème".
Presented by Bank of America in partnership with Latina Style national magazine and AARP Florida, the Signature Grand was transformed into a 'fiesta" beginning with a welcome from Mariachis de las America, a complimentary "mojito", healthy hors d'oerves presented by Baptist Health/Miami Cancer Institute and a live radio remote by La Poderosa AM during the business expo. Co-presenting sponsors included Sylvester Comprehensive Cancer Center, Latin Business Today, Baptist Health, Holy Cross Hospital, Rick Case Automotive Group and Memorial Healthcare Systems.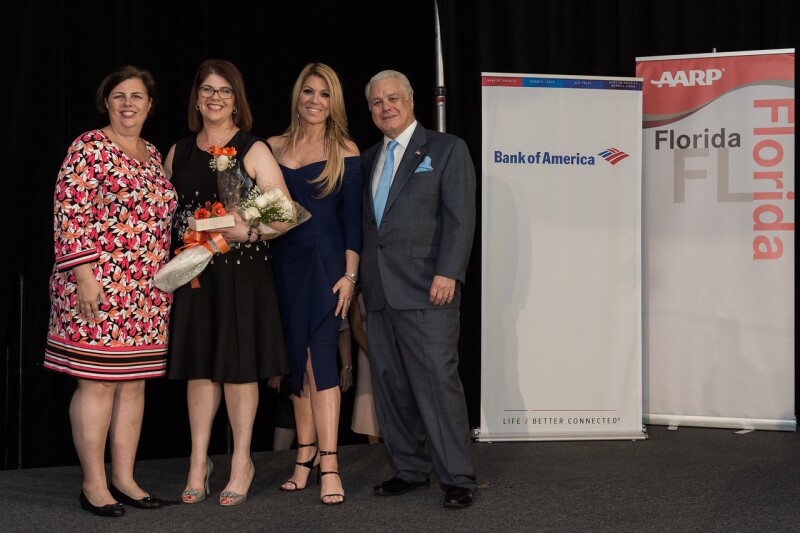 Maria Marin, Author, Motivational speaker and National Ambassador for AARP was on hand to meet her fans and aired the luncheon on her Facebook Live show, "Maria Marin Live" to her 1,300,000 followers. When the doors opened to the ballroom guests were welcomed by more than 50 past honorees strutting the 140 foot runway to high-powered Latin music and the party began. Robert Bard, Publisher and CEO of Latina Style Magazine welcomed the audience and accepted a plaque on behalf of the 188 Hispanic Women of Distinction to past Latina Pioneer of 2007, Congresswoman Ileana Ros Lehtinen, for her service to south Florida for over 3 decades and to the U.S.A.
Myriam Masihy, Mistress of Ceremonies introduced the 2018 Latina Pioneer, a special award each year presented to a Latina who has paved the way for others to follow. Ana Maria Guevara, President AVENTI Associates is a respected expert and thought leader in both government and business sectors with extensive experience in International trade, customs, & women economic empowerment. A seasoned public speaker, Ana has represented organizations in the U.S., Africa, Asia, Latin America and Europe.
During an elegant lunch, a fabulous runway fashion show was presented by Karnna Fashion Group, by designer Karina Gomez Herrera, a past honoree. Born in Venezuela, and resident of Pompano Beach, was a victim of domestic violence and she took her extensive fashion talent and expertise to not only train and help new designers, but also created a fund to assist victims of abuse move forward and learn a new profession. On stage presenting the show was Telemundo TV personality, Carlos Anaya and Angela Posillico, CEO of the Ms. Latina International Pageant.
Habitat for Humanity Broward which brings people together to build homes and communities has partnered with more than 400 hard-working, low-income families to make the dream of home ownership possible raised more than $14,600 in a one-hour silent auction at the cocktail party. Habitat offers a hand-up, not a hand-out to low income families who are unable to qualify for conventional financing and are willing to work hard to improve their family's lives. Women Build, a signature Habitat program, will raise 12 homes for families this fall in its newest, largest community: A Rick Case Habitat Community in Pompano Beach, featuring 77 Habitat homes and a community park when complete.
In addition to the silent auction, $5000 was donated to the Light of the World Clinic, a free healthcare facility founded by the late Dr. Erwin Vasquez and founder of the luncheon in 2001, and $1000 check presented to Kakes 4 Kids, a charity that provides birthday parties for over 400 foster children, founded by Mistress of Ceremonies, Myriam Mashihy of NBC 6 and Telemundo Ch. 51.
"We are proud to be part of this exciting event and bring the much needed awareness to Habitat for Humanity of Broward to the many new friends we made during this luncheon and the pre-event activities, said Nancy Robin, CEO. "We are beyond honored that we were chosen us this year!".
12 Honorees honored on stage:
Natalie M. Alvarez - Private Banking Wealth Management Professional, Key Bank, North Palm Beach
Silvia Cerezo Beebe -Assistant Division Director, Broward County Community Partnership Division.; Town of Davie
Samantha Conde –Palm Beach County, Boynton Beach
Christine Marie Bernard-Frederick - Executive Director, FLITE Center, Coral Springs
Cristina Miranda Gilson - Chief Executive Officer, HDS Companies, Weston
Ingrid Macher - Founder & President, Celebrity Transformation Coach, Burn20 LLC, Hollywood
Maria Nardi - Director, Miami-Dade County Parks, Recreation & Open Spaces Departm ent; Miami-Dade County
Anne Reinstein - CPA, President, McCleary & Reinstein, P.A., Plantation
Isabella Sanchez - Vice President Media Integration, ZUBI Advertising, City of Miami
Tania T. Sanchez - Victim Advocate, Miami Beach Police Dept. Criminal Investigation Division - Pembroke Pines
Edith Shiro , Psy.D.- Licensed Clinical Psychologist - City of Miami
Emily Zubizarreta - Founder & CEO, Miami Women who Rock - Coral Gables
"I am thrilled that each year the community comes out to support these fantastic ladies. It's a tribute to my late husband, Dr. Erwin Vasquez who believed that bringing these women to the forefront will show the diversity and contributions of each of them, "said Elaine Miceli Vasquez, producer. "His legacy lives on."
PHOTOS BY: Downtown Photo