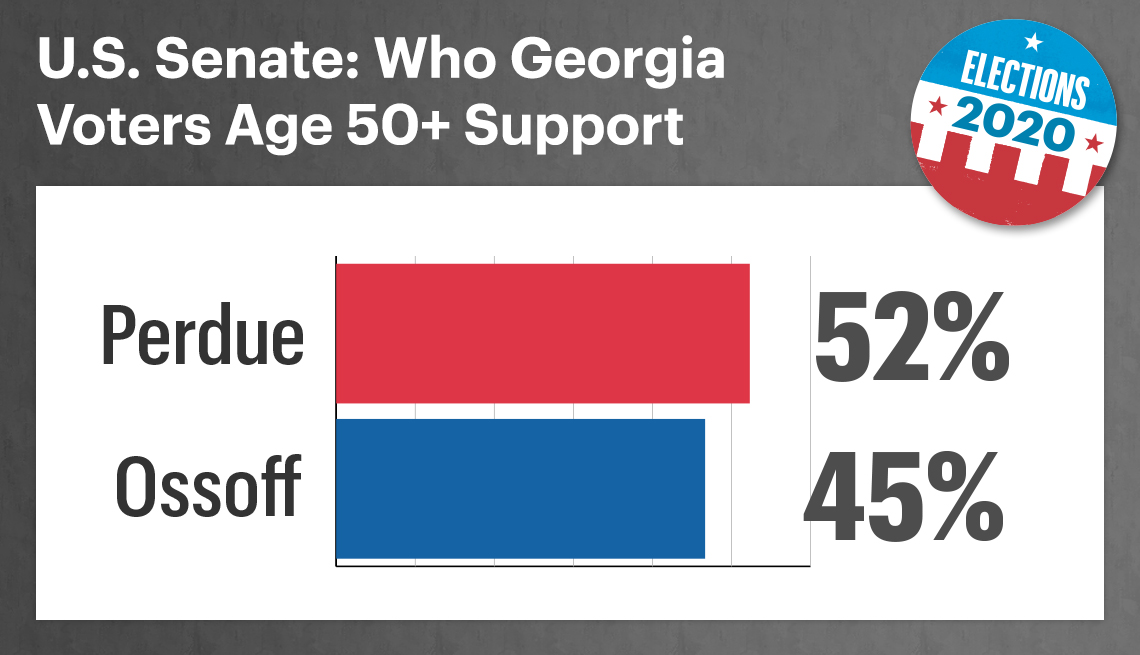 Jobs and the economy is the most important issue for Georgia voters age 50 and older in deciding which U.S. Senate candidate to support, followed by Social Security and public safety and crime, according to a new AARP poll that shows older voters could decide the 2020 elections.

The full results of the AARP poll, released Tuesday, find that 60 percent of voters 50-plus believe the country is on the wrong track, while 31 percent say it is moving in the right direction.

Ninety percent of older voters cite jobs and the economy as their most important issue, while 86 percent cite Social Security or public safety/crime. And those voters worry most about having to pay too much in taxes (64 percent), the coronavirus (62 percent) and prices rising faster than their incomes (62 percent).

Georgia voters 50-plus are more likely to vote for a candidate who supports protecting Medicare from cuts and ensuring America's seniors get the health care they need (93 percent), allowing Medicare to negotiate with drug companies for lower prices (89 percent) and protecting Social Security from cuts (86 percent).

AARP's results show that, despite the strong partisan divisions in the country, "there are some foundational programs that cut across these divisions — notably Social Security and Medicare," says John Hishta, AARP senior vice president for campaigns. "These are areas that 50-plus voters care deeply about, no matter where they stand. And it shows that the candidates should be addressing those issues with these voters."

Other key findings of the poll:

A majority of voters (51 percent) say they are more likely to vote for a candidate who is focused on maintaining law and order and preventing looting and rioting in America's cities than one who is focused on increasing racial justice and reducing police violence against unarmed African Americans (42 percent).
A majority (61 percent) say they are concerned that an expansion of mail balloting will lead to voter fraud compared with those who are not concerned (39 percent).
Voters are tied at 48 percent on whether they are more likely to vote for a candidate who is focused on rebuilding the economy by reopening businesses and getting people back to work or keeping families healthy and reducing the spread of coronavirus in their community.
A majority (67 percent) say that neither they nor someone in their household know someone who has contracted the coronavirus.
Earlier results from the poll, released last week, showed that President Donald Trump holds a seven-point (51 percent - 44 percent) lead over former Vice President Joe Biden among Georgia's likely voters over age 50, but the race is virtually a tie among all Peach State voters, with Biden ahead by a single point (47 percent - 46 percent)

In the U.S. Senate race, while David Perdue, 70, who is seeking his second term, leads Jon Ossoff, 33, a documentary filmmaker, among older Georgia voters, the two candidates are in a virtual dead heat among all Peach State voters polled, with Ossoff leading Perdue 48 percent to 47 percent.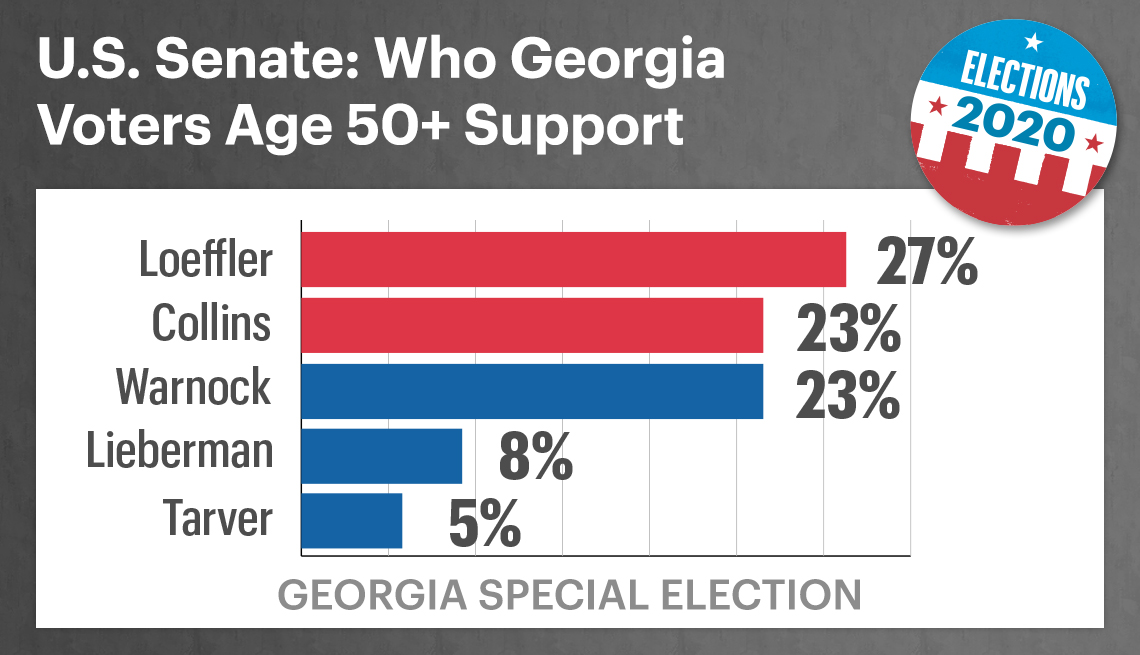 In the special U.S. Senate election, the AARP poll shows that so far no candidate would receive the 50 percent threshold they would need to win this election. Republican Sen. Kelly Loeffler, who was appointed to fill Johnny Isakson's seat last year, is leading among the top five candidates, with 27 percent support among voters 50-plus. Republican Rep. Doug Collins, a member of the U.S. House of Representatives since 2013, and Democrat Raphael Warnock, a minister, are both polling at 23 percent among older voters. Democrats Matt Lieberman, a businessman, and Ed Tarver, a former U.S. attorney, were supported by 8 percent and 5 percent, respectively, among 50-plus voters. Support among all Georgia voters is 24 percent for Loeffler, 20 percent for Collins, 19 percent for Warnock, 10 percent for Lieberman and 7 percent for Tarver. If none of these candidates receive 50 percent on Nov. 3, the top two vote getters — regardless of party — will face off in a runoff election on Jan. 5.

The survey also found that Georgia's 50-plus voters are worried about their votes being counted. A 64 percent majority said they were very or somewhat concerned that reductions in the U.S. Postal Service are going to prevent votes from being counted in November. Among those polled, 35 percent said they were not concerned about that issue. Among Georgia's 50-plus voters, 28 percent say they plan to mail in their ballots in November, 41 percent plan to vote in person during early voting, and 29 percent will vote in person on Election Day.
AARP's Protect Voters 50+ campaign is designed to help make sure that even as America continues to deal with the coronavirus crisis, all voters get the information they need to safely cast a ballot.

"One thing we know is that virtually all older voters plan to vote this year," said Nancy LeaMond, AARP executive vice president and chief advocacy and engagement officer. "They want to vote; they want their voices heard and they're going to find a way to do that that's safe," she said. AARP is working in every state to educate older voters on what their voting options are.

"We believe 50-plus voters are going to play a critical role in this year's election," LeaMond said. She pointed out that while Americans 50 and older comprise 45 percent of the voting population, they accounted for 56 percent of the ballots cast in 2016. "They punch above their weight," LeaMond added.

AARP commissioned the bipartisan polling team of Fabrizio Ward & Hart Research to conduct polls in five states with key U.S. Senate races, including Georgia. The firms interviewed 1,600 likely Georgia voters, which includes a statewide representative sample of 800 likely voters, with oversamples of 400 likely voters age 50 and older, and 400 Black likely voters age 50 and older, between Aug. 30 and Sept. 5. The interviews were conducted via landline and cellphone. The margin of sampling error for the 800 statewide sample is plus or minus 3.5 percent; for the 758 total sample of voters 50+ is plus or minus 3.6 percent; and for the 597 total sample of Black voters 50+ is plus or minus 4 percent.

Also of Interest