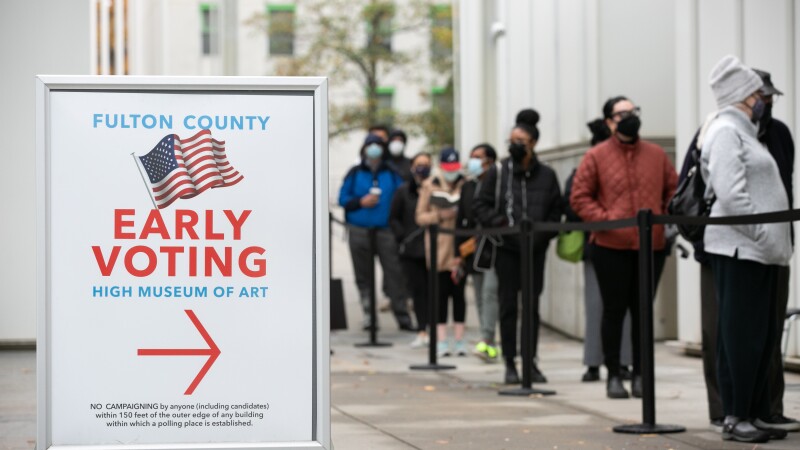 While the top two candidates for governor of Georgia on Nov. 8 are the same as four years ago, the dynamics have changed.

Republican Brian Kemp, formerly Georgia's secretary of state, is now running as the incumbent, and Democrat Stacey Abrams, former minority leader in the state House of Representatives, is vying to unseat him. AARP approached candidates to ask about issues important to older voters. When live interviews were not possible, we allowed candidates to submit answers in writing. Abrams participated in an in-person interview; Kemp supplied answers in writing. Interviews have been edited for clarity and space.


Are there steps you can take to help combat inflation and the rising cost of living, especially as it affects older Georgians?
KEMP: As small business owners, Marty [Kemp's wife] and I know how scary that can be, and we know many Georgians fear for the future. That's why I have taken action in Georgia to provide economic relief. Working with leaders in the General Assembly, we refunded more than $1 billion in surplus funds back to Georgia taxpayers. We passed and signed the largest income tax cut in our history, and suspended the gas tax to fight rising prices at the gas pump. I have also used executive powers to ease logistics constraints to keep goods and services moving in our state and lessen the impact that increased supply chain costs have on Georgia consumers.

ABRAMS: Georgia is in the unique position of having a surplus of resources designed for exactly that purpose. I would leverage the $450 million it is receiving in eviction rental assistance to help support housing, because a number of seniors are facing housing pressures and eviction. I would expand access to SNAP [Supplemental Nutrition Assistance Program] benefits for those facing food insecurity. I would maintain the suspension of the gas tax. Georgia just received $2.4 billion in ARPA [American Rescue Plan Act] funds. We should spend $1 billion of that in rebates but focus on those who have $250,000 or less in income.


Georgia has well-documented disparities in health access and outcomes. What steps would you take to narrow those gaps?
ABRAMS: We must expand Medicaid to help early seniors who have not reached Medicare age—mainly seniors who lost their jobs or who work for employers that don't offer health care coverage. Medicaid expansion will also infuse more money to meet the assisted living needs of more seniors. The most important piece is that expansion will allow us to attract more doctors, nurses and health care workers to Georgia. We have an extreme shortage.

KEMP: Throughout my first term, Republicans in the General Assembly have passed more than 52 health care bills aimed at creating affordable and accessible health care. Under the Patients First Act, we created the Georgia Pathways and Access waivers to cover more Georgians, provide a pathway off the failed promises of Obamacare and increase private-sector competition to drive down costs.


Do you think more changes need to be made in Georgia's voting procedures, particularly to ensure that older Georgians are able to cast their vote on or before Election Day? If so, what would you like to change and why?
KEMP: Georgia has seen record turnout since the General Assembly passed—and I signed—the Election Integrity Act. That commonsense legislation expanded opportunities for Georgians to cast their ballot early and on weekends in advance of Election Day and ensured every county has a secure, monitored drop box available for voters. It has also secured our election processes by requiring an ID for absentee ballots, mandating the continuous counting of ballots and banning outside money from flooding local elections.

ABRAMS: Voting has to be made more accessible by mandating fair allocation of polling places. Many of these locations are not forced to comply with the Americans with Disabilities Act. We also need to expand mobile voting precincts. In 2020, mobile voting that allows locations in nursing homes and senior centers increased participation rates. For seniors, disabled Georgians and Georgians voting in areas with long wait times, it is important we make it easier to vote by mail.


How would you improve retirement savings or savings options for Georgians, many of whom have no way to save for retirement through their work?
ABRAMS: Right now, Georgia provides very few options. … I want to create a pipeline that helps match savings and encourages savings accounts, working to make certain that more of our seniors … have matching resources as they invest. … Even if you were not in a company that offers a 401(k) or 403(b), we should be able to work with companies and organizations to create matching funds and to encourage savings.

KEMP: Under my administration, our state has secured thousands of high-quality, well-paying jobs with good benefits and retirement options. … State leaders are committed to lowering costs, creating economic opportunity, and ensuring Georgians have the resources necessary to build a brighter future for themselves and their families. As governor, I will continue to work with those leaders to ensure our state remains the best place to live, work, raise a family, and retire.


What steps would you take to ensure access to affordable, reliable internet for Georgia families? And what can be done to ensure older Georgians have the skills and support they need to use it?
KEMP: My administration has taken historic steps to expand internet access to every Georgian, no matter their zip code, both through public-private partnerships and setting aside historic funding in the state budget to enhance access. Working with local EMCs [Electric Membership Cooperatives], we have invested hundreds of millions of dollars to deliver high-speed fiber internet access to thousands of communities in rural Georgia. … Thousands of Georgia families will soon have affordable access to the best internet services you could get anywhere.

ABRAMS: We have two challenges. One is expanding broadband infrastructure. … We can use the money from the bipartisan infrastructure law and the existing surplus that Georgia has to start doing even deeper investments, but we also have to tackle affordability. For some, it is not that they don't live in an area with access. It's that they can't afford to use that access. That means that we have to reduce the cost of leveraging what is now a vital technology.

—Drew Jubera

For more information on the candidates, visit staceyabrams.com and briankemp2022.com.

Also of Interest: