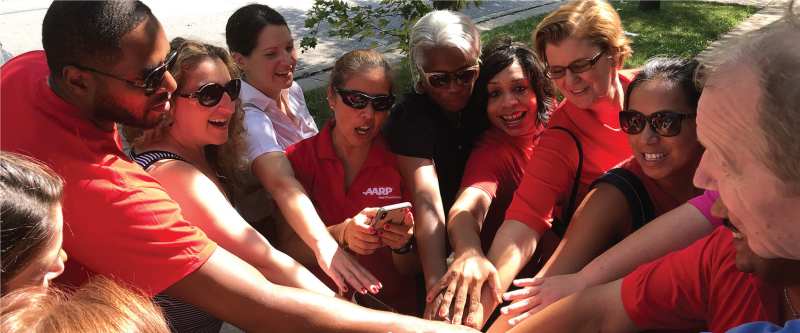 With offices in both Springfield and Chicago Illinois, AARP Illinois team members specialize in issue areas that span across all regions of Illinois in order to cover the varied needs and locations of our 1.7 million members and all older adults in the state.

AARP Illinois team members advocate on behalf of our 1.7 million members and all people 50+ in Illinois on critical issues, such as longterm care, healthcare, caregiving, financial security, consumer protections, affordable utility services, and livable communities.

AARP Illinois could not do the hard work of advocating on behalf of older adults without our volunteers. Our state office has a growing team of volunteers who lend their time, expertise and service in a variety of ways.

With 16 staff members and a volunteer pool of hundreds, we host programs, workshops and community events geared at improving the lives of older adults and their families.

AARP Illinois Staff

Bob Gallo
State Director

BGallo@aarp.org

Responsible for the direction, planning and implementation of AARP's national, state and local agenda as it relates to the well-being of Illinois individual's ages 50+. Bob directs the staff and volunteers on community outreach, state and national government affairs, communications and operations.

Mary Anderson
Director of Advocacy & Outreach – Northern Illinois

MAnderson@aarp.org

Oversee all of AARP Chicago advocacy, volunteer, and community engagement work for northern Illinois, at the federal, state, and local level.

Ryan Gruenenfelder
Director, Advocacy & Outreach – Southern Illinois

RGruenenfelder@aarp.org

Ryan manages state and federal advocacy for AARP Illinois as well as AARP's outreach, education and targeted local community presence advocacy throughout downstate Illinois.

Sonja Gibbons-Reed
Senior Program Assistant

SOreed@aarp.org

My focus is to support the Springfield Legislative Staff and Volunteers.

Ellen Acevedo
Associate State Director – Volunteer Engagement & Mobilization

EAcevedo@aarp.org

Working with volunteers to train and engage them for where they want to spend their time and passion.

Joshua Harris
Associate State Director, Advocacy & Outreach

JOharris@aarp.org

I focus on advocacy and outreach to the AA/B community – specifically on the south side of Chicago and south suburbs of Cook County. My policy portfolio includes financial security and voter engagement – including the Graduated Income Tax & Vote by Mail.

Lori B. Hendren
Associate State Director, Advocacy & Outreach

LHendren@aarp.org

I am an Associate State Director for the Peoria region and my focus areas are Caregiving, Nursing Homes, Telehealth and Prescription Drugs.

Teresa C. Jones
Associate State Director, Advocacy & Outreach

TCJones@aarp.org

My focus area is Livable Communities, Caregiving and Consumer Protection.

Janice Love
Communications Program Associate

JAlove@aarp.org

Provides support for all aspects of state work including communications, advocacy, community outreach, member and volunteer engagement.

Vikki Ortiz
Director of Communications

VOrtiz@aarp.org

Vikki manages communications for all AARP Illinois work through advertising, media relations, a local web page, social media platforms, e-blasts and unique community partnerships.

Jeff Scott
Associate State Director for the Metro East region

JScott@aarp.org

My focus areas are Energy and Financial Security.

Courtney Hedderman
Associate State Director, Advocacy & Outreach

CHedderman@aarp.org

Advocacy and outreach in Southwest Cook, DuPage, Grundy, LaSalle, and Will counties. Her policy expertise is in Medicare and Medicaid.

Yelena Konkina
Business Operations Analyst

YKonkina@aarp.org

Focus on building a stronger and more efficient AARP IL Team by providing guidance and support.

Álvaro R. Obregón
Associate State Director, Advocacy & Outreach

AObregon@aarp.org

Monika Wnuk
Associate State Director of Communications

mwnuk@aarp.org

Responsible for the strategic development and implementation of AARP's integrated marketing and communications strategies, including earned media, paid media, owned media and social media presence in communities across Illinois.

Diamond Fikes
Advocacy & Communications Intern – Northern Illinois

dfikes@aarp.org

Deborah F. Romero
Communications and Advocacy Intern – Southern Illinois

dfromero@aarp.org

Executive Council:

Rosanna Marquez
Executive Council, State President

Involved in all aspects of AARP's advocacy and outreach efforts in Illinois. Lead the AARP IL's Executive Council to help bring the voice of our members on the most important issues of concern to the 50+ and their families in Illinois.

Howard A. Peters III
Executive Council, Volunteer Advocate

Paula Bull
Volunteer Advocate and Board Member

Theresa Collins
Executive Council Member for the Metro East Region

My focus areas are Caregiving and Livable Communities.

Tamala L. Jurgenson
Executive Council

Advocacy and support for the AARP IL state agenda, and my focus areas are RX Greed, Livable Communities, and Food Insecurity.

Alan Hollenbeck
Executive Council

My focus as an Illinois AARP volunteer is assisting AARP staff in advocacy with elected officials in support of programs that improve the lives of seniors.

Susan Caplan
Executive Council

Diversity, minority and immigrant services, social isolation, health and wellbeing.