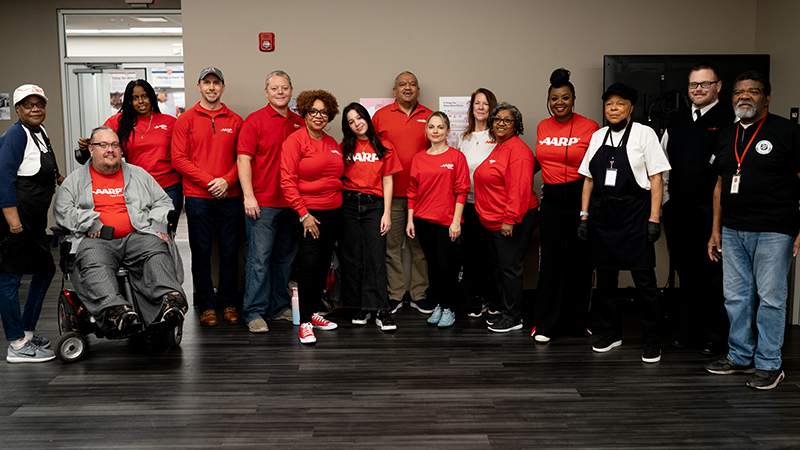 With offices in both Springfield and Chicago Illinois, AARP Illinois team members specialize in issue areas that span across all regions of Illinois in order to cover the varied needs and locations of our 1.7 million members and all older adults in the state.

AARP Illinois team members advocate on behalf of our 1.7 million members and all people 50+ in Illinois on critical issues, such as longterm care, healthcare, caregiving, financial security, consumer protections, affordable utility services, and livable communities.

The team includes 16 staff members and a volunteer Executive Council, which works to establish the state's strategic priorities and objectives consistent with AARP's National strategic framework and within AARP's policies.

Along with the incredible support of a volunteer pool of hundreds of people across the state, AARP Illinois hosts programs, workshops and community events geared at improving the lives of older adults and their families.


AARP Illinois Staff

Philippe Largent
State Director

plargent@aarp.org

Mary Anderson
Director of Advocacy & Outreach – Northern Illinois

MAnderson@aarp.org

Oversee all of AARP Chicago advocacy, volunteer, and community engagement work for northern Illinois, at the federal, state, and local level.

Ryan Gruenenfelder
Director, Advocacy & Outreach – Southern Illinois

RGruenenfelder@aarp.org

Ryan manages state and federal advocacy for AARP Illinois as well as AARP's outreach, education and targeted local community presence advocacy throughout downstate Illinois.

Ellen Acevedo
Associate State Director – Volunteer Engagement & Mobilization

EAcevedo@aarp.org

Working with volunteers to train and engage them for where they want to spend their time and passion.

Courtney Hedderman
Associate State Director, Advocacy & Outreach

CHedderman@aarp.org

Advocacy and outreach in Southwest Cook, DuPage, Grundy, LaSalle, and Will counties. Her policy expertise is in Medicare and Medicaid.

Lori B. Hendren
Associate State Director, Advocacy & Outreach

LHendren@aarp.org

I am an Associate State Director for the Peoria region and my focus areas are Caregiving, Nursing Homes, Telehealth and Prescription Drugs.

Teresa C. Jones
Associate State Director, Advocacy & Outreach

TCJones@aarp.org

My focus area is Livable Communities, Caregiving and Consumer Protection.

Yelena Konkina
Business Operations Analyst

YKonkina@aarp.org

Focus on building a stronger and more efficient AARP IL Team by providing guidance and support.

Janice Love
Communications Program Associate

JAlove@aarp.org

Provides support for all aspects of state work including communications, advocacy, community outreach, member and volunteer engagement.

Álvaro R. Obregón
Associate State Director, Advocacy & Outreach

AObregon@aarp.org

Vikki Ortiz
Director of Communications

VOrtiz@aarp.org

Vikki manages communications for all AARP Illinois work through advertising, media relations, a local web page, social media platforms, e-blasts and unique community partnerships.

Chartay T. Robinson
Associate State Director, Advocacy & Outreach, Northern Illinois

I focus on advocacy and outreach to the African American/ Black community – specifically on the south side of Chicago and south suburbs of Cook County. My policy work includes financial security.

Jeff Scott
Associate State Director for the Metro East region

JScott@aarp.org

My focus areas are Energy and Financial Security.

Monika Wnuk
Associate State Director of Communications

mwnuk@aarp.org

Responsible for the strategic development and implementation of AARP's integrated marketing and communications strategies, including earned media, paid media, owned media and social media presence in communities across Illinois.

Executive Council

Alan Hollenbeck
Volunteer State President

Al leads the Executive Council, which help shape the work AARP Illinois does to improve the lives of our 1.7 million members and all older adults across the state. Al retired in 2019 after a 42-year career in Civil Engineering. He was President/CEO of RJN Group for 25 years, and has served on AARP Illinois' Executive Council since 2020.

Paula Bull- Cooper
Executive Council Member

Throughout her career Paula has specialized in providing services to the elderly in a variety of settings including home, rehab centers, skilled nursing facilities, adult day centers, and assisted livings.

Theresa Collins
Executive Council Member

Theresa is the Chief Executive Officer at Senior Services Plus, Inc. where she has worked since 2008 to provide opportunities and resources to individuals as they age. She has over 25 years of professional experience in social services and management and believes that the work of her agency is life changing.

Toyia Hemingway
Executive Council Member

Toyia is an experienced financial services executive, with over twenty years of experience in banking and payment processing in major Chicago area institutions. Toyia became active as an AARP volunteer in 2018 working with advocacy issues before joining the Executive Council.

Jane Light
Executive Council Member

Jane has over 35 years of reporter and editorial experience in the Midwest and New York. Jane joined AARP in 2020 volunteering on advocacy, and legislative issues.

Helen Rosenberg
Executive Council Member

Helen was formerly the Director of the Gerontology Certificate Program at the University of Wisconsin-Parkside, where she taught for 30 years. Upon her retirement early this year, she knew she wanted to volunteer with AARP because its values are aligned with her own desire to advocate for the benefit of older adults.

Gregory Scott
Executive Council Member

Gregory has over 30 years of management experience in the public and private sectors in the healthcare field.

Ron Traub
Executive Council Member

Ron is a resident of Deerfield and was formerly the Economic and Community Development Director for the City of Mentor, Ohio, responsible for planning & zoning, economic development and code enforcement. Ron has a master's of City and Regional Planning from Ohio State University and a bachelor's in Environmental Studies from Earlham College.

Candice Trees
Executive Council Member

Candice D. Trees is a lifelong resident of Springfield, Illinois. Throughout her life she has worked for the betterment of her community by volunteering. She has a Bachelor of Arts from University of Illinois Springfield and a master's in Organizational Behavior from Benedictine University. She has experience on the local, state and federal level, but her greatest roles have been wife, mother and grandmother.