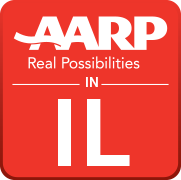 AARP fights for the issues that matter most!
Yesterday, AARP Illinois joined the Bronzeville Neighborhood Collaborative for a 4 th Ward Candidates Debate where contenders sparred for over healthcare, employment, safety, security and education.

[gallery ids="125245,125246,125247"]

Chicago's WVON radio personality Cliff Kelly moderated a distinguished panel that included appointed Alderman Sophia King who was endorsed by President Obama, along with candidates Ebony Lucas, Gregory Seal Livingston, Gerald Scott McCarthy and Marcellus Moore.

[gallery ids="125249,125250,125251,125252,125254"]

AARP's Ruby Haughton-Pitts told the standing room only crowd that informed voters makes politicians more accountable and that makes communities stronger.

[gallery ids="125255,125256,125257,125258,125259,125261,125262,125263"]

The 4 th Ward debate is just one example of how AARP Illinois advocates on behalf of communities like Bronzeville.