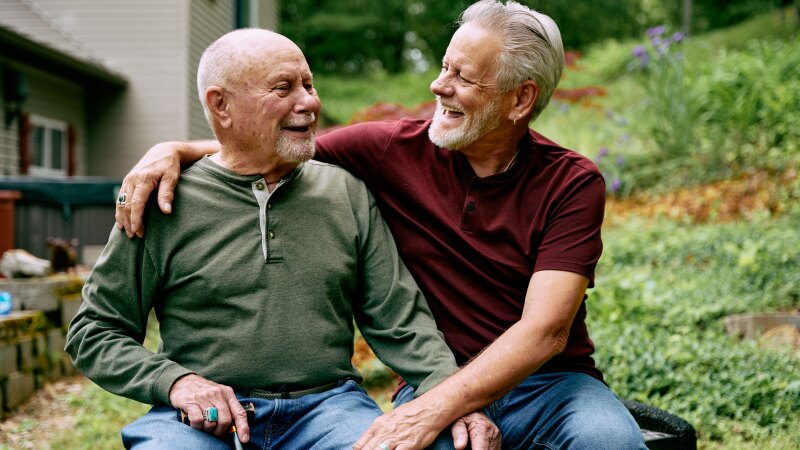 More than a decade ago, Billy Rogers and Harold Diebolt were establishing a health care relationship at a new medical clinic. As a married gay couple, they wanted to interview the doctor "to see if he was worthy of having us as patients," Rogers says.

He told the receptionist he was covered by Diebolt's insurance.

"She said, 'Oh, another one of those,' " recalls Rogers, who lives in Du Quoin, in southern Illinois.

It wasn't the first or the last time Rogers, 66, and Diebolt, 87, felt the sting of prejudice.

"There is a stigma for trans people, people of color, LGBTQ people," says Rogers, an AARP volunteer who cofounded the LGBTQ advocacy group Golden Rainbows of Illinois South.

AARP Illinois is working to change that. A bill it supported would create the Illinois Commission on LGBTQ Aging and provide an LGBTQ older adult advocate at the state's Department on Aging. It would also mandate awareness and competency training at state-funded facilities.

Both chambers of the Illinois General Assembly passed the measure, which Gov. J.B. Pritzker (D) signed in May. It is estimated there are more than 500,000 LGBTQ adults in Illinois, about one-quarter of them age 50-plus. After years of discrimination, many are concerned about

being harassed or refused medical or social services, according to a 2021 "Disrupting Disparities" report by AARP Illinois and LGBTQ advocacy group SAGE; the report notes that about half of older LGBTQ adults have concerns that they'll need to hide their identity to get proper treatment.

Finding a 'Chosen Family'

Beyond medical discrimination, 3 out of 4 LGBTQ adults 45 and older are concerned about having enough support as they age. They're more likely to report feelings of social isolation. And many depend on "chosen family," or an inner circle of friends.

"We are caring for each other as we age," Mary Anderson, AARP's director of advocacy and outreach for Northern Illinois, says of the LGBTQ community.

The competency training in the disparities bill is designed to make older LGBTQ adults feel safe and respected when seeking medical care and other services. It addresses common terms, such as lesbian, gay, bisexual and transgender; teaches positive ways to communicate with or about older adults; discusses health and social challenges; and reviews key legal issues.

SAGE designed the training— already mandatory in California, Massachusetts, New Jersey and Washington, D.C. It's been used by more than 60 health care facilities in Illinois, says Aaron Tax, SAGE's director of advocacy.

State Sen. Karina Villa (D-West Chicago), the bill's primary sponsor, says the training will help "further create Illinois as a safe space" and "provide seniors in this community with equitable care that truly suits their needs."

The Peoria-based Illinois Pro-Family Alliance opposed the bill. "Helping persons with medical needs is not opposed by our members, but it should be for all persons, too, not just one category," say founders Molly Malone Rumley and Ralph Rivera.

But as AARP volunteer Donald M. Bell, 72, of Chicago, says, LGBTQ people continue to be underserved—which "leads to social isolation. And social isolation kills us."

Lisa Bertagnoli is a writer living in Chicago.

Planning Your Advance Health Care Directives
For More on Health Care