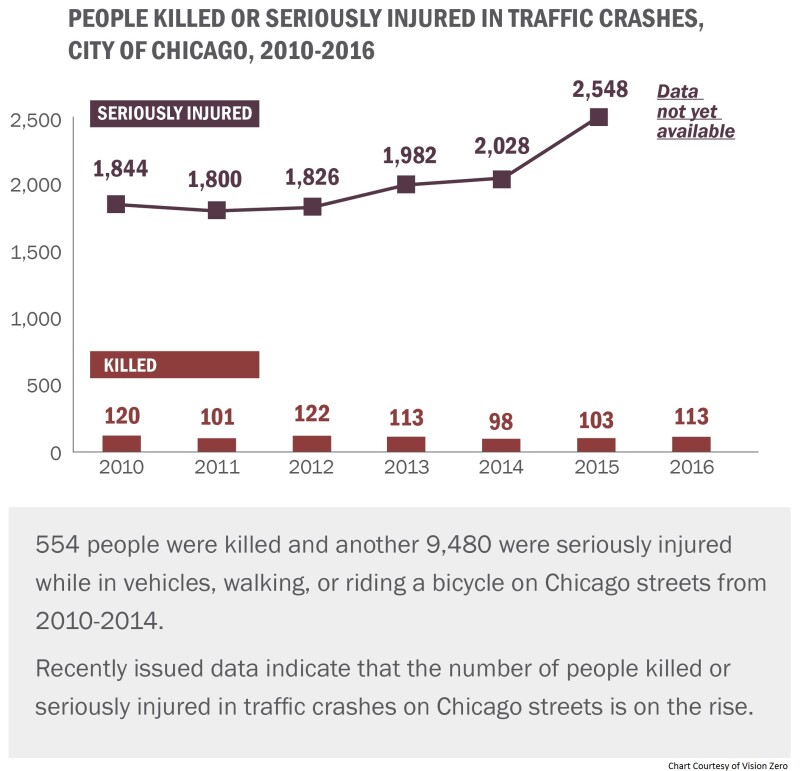 On June 12, 2017, Mayor Rahm Emanuel vowed to work alongside the Chicago Department of Transportation and other leading organizations to prevent and eliminate traffic-related deaths and serious injuries citywide by 2026. This initiative is Vision Zero Chicago.

Vision Zero Chicago is a newly implemented plan to eliminate traffic fatalities and injuries, joining other cities across the nation with the ultimate goal of reaching zero by 2026.

Vision Zero is enforcing the idea that traffic crashes are not to be referred to as "accidents," because each crash, fatality, or injury is preventable through safer driving, better technology, education, and traffic enforcement.

With that being said, Vision Zero's action benchmarks are to reduce deaths from traffic crashes 20% citywide and to reduce serious injuries from traffic crashes 35% citywide by 2020.

To ultimately reach zero fatalities and injuries, the action plan developed four primary goals.; Equitably investing in various communities severely impacted by crashes throughout Chicago, changing behaviors to create a citywide culture of safety, making streets safer, implementing safer policies, training, and technologies for drivers in the city.

These primary goals create an umbrella for Vision Zero leaders to commit to pursuing safety throughout Chicago.

This is an important initiative for the city of Chicago because visioning zero fatalities and injuries caused by traffic crashes is what Chicagoans deserve, according to Chicago Department of Transportation assistant commissioner Sean Wiedel.

The crashes are preventable through safer streets, better education, and the enforcement of policies in regards to walking, cycling, and driving. While a fair approach to a strengthened policy of traffic enforcement is a key component of the plan, AARP advocates also for significant budgetary commitments from the city, additional street markings, reduced citywide speeds, and other measures that help Chicago be safer for all residents.

AARP is proud to participate in Vision Zero's goal. The plan to protect Chicagoans from traffic-related fatalities and injuries will succeed if the City addresses the need for change in its culture of safety, and all Vision Zero partners educate citizens about the goals of Vision Zero.

The bottom line is that older adults and children have a higher rate of being injured or killed in these types of crashes, but the reality is that individuals of all ages are at risk. It is unacceptable.

On behalf of our 500,000 members in Chicago and all citywide residents, we must all work together to implement the bold vision and the far-reaching plans that Vision Zero espouses, in order to ensure that pedestrians, bikers, and motorists share our roads safely.

Click here to learn more about Vision Zero Chicago.