It's Sunday afternoon and I was twerked off because I needed to travel for work. Again. I just returned home Thursday and here I was, just two days later, headed for Atlanta and the AARP Annual Life@50 event. I have been to Atlanta in the past, but hadn't really experienced much of the city. Once there, despite my reticence, I decided to use the opportunity to explore.

I've taken to using motorized scooters to make it easier for me to get around. In fact, fact I own one in Des Moines. Using the scooters has changed my life; it has allowed me to re-engage in life and my community. So,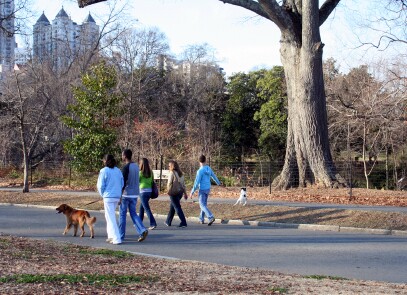 aboard my scooter, I headed out onto the streets in Midtown Atlanta. After about 10 minutes I ended up in historic Piedmont Park. The park was active with couples spooning while they napped on the grass. There were dogs everywhere, big dogs; little dogs; every breed you can imagine. As I watched people enjoying their day, I realized my attitude was changing. My new found mobility had allowed me to engage with this community of people -- and pets, for Sunday at the park.

As I moved through the park I could hear drums in the distance. They grew louder as I made my way into the park. I rolled up on five or six drummers beating out rhythms as folks gathered around. I have always enjoyed the drums. I wanted to play them as a kid but the band teacher Mr. Bees said I had to take two years of piano before I could learn how to keep a beat. Anyway, my Sunday was getting better and I was really enjoying being in this park and I was feeling the moment.

As I listened in the distance I could hear more drums. They seemed a bit muffled compared to the first group using drum sticks and it took me a minute to figure out where the sound was coming from. I moved down the sidewalk and came upon the other group of drummers. Instead of sticks, these players used their hands. They were an older group and included one woman. There wasn't a lot of chatter in this group just each of them listening to each other and trying to find the groove that they would jam on for as long as it took them.
As I listened to the drums my mind wandered, I had stumbled upon a scene that had played out all over the world over the last thousands of years --communities gathering. Some were friends; some were families, others just passersby, while still others were children, pets or artists. The rhythms had attracted dancers and not far away a women dressed up in white flowing gowns started a spiritual ceremony with a young woman. This community had come together on a Sunday afternoon to fuel up on the energy communities give us.

As the afternoon went on the drum groups began to play off each other and again I was taken back thinking about how people all over the world communicated with their communities and neighbors long before technology invaded. In Africa, the Americas, and Europe, music brought folks together and it's still happening today.

At AARP we are expanding our connection to communities. In some communities it's about making streets safer in others it's about helping folks improve their skills as they look for work. It's about connecting people to learn, share and have some fun.

What communities are you connected to? How do you stay connected?