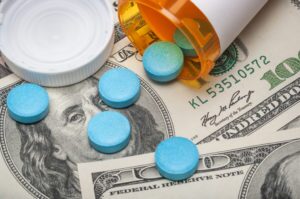 By Lisa Bertagnoli

Zevernett Holloway owns her home and leads a fairly active life. Still, the retired registered nurse requires prescription drugs to keep high blood pressure and other ailments in check.

With a modest fixed income, the 69-year-old Springfield resident struggles to cover the high cost of her medications, forcing her to weigh medical needs against expenses like food and electricity.

"You have to decide what you can pay for," Holloway said.

AARP Illinois is urging state lawmakers to tackle skyrocketing drug costs, which often hit older Americans like Holloway particularly hard.

"Illinoisans are forced to make trade-offs. Do you pay for food and housing or your prescription drugs? Or do you simply go without, which increases health care costs down the road?" said Andre Jordan, AARP Illinois associate state director.

The system "shamelessly shifts costs to patients and taxpayers while drug companies remain free to set high prices," Jordan said.

AARP is backing two pieces of legislation aimed at curbing drug prices, by providing those who prescribe them unbiased information on pharmaceuticals and mandating more transparency on how manufacturers set the costs of prescription meds.

One proposal would require the state Department of Healthcare and Family Services, in collaboration with the University of Illinois at Chicago's College of Pharmacy, to oversee an education program designed for prescribing physicians.

If such a program were adopted, prescribers would learn about drugs from parties without financial links to the pharmaceutical industry.

The second bill, the Prescription Drug Pricing Transparency Act, would add new disclosure requirements for manufacturers, insurance companies and the state, to make it clearer how costs for drugs are determined.

The pharmaceutical industry fiercely opposes the measures, as it has similar proposals in other states, arguing that they do nothing to actually lower costs.

They don't address the supply chain middlemen who don't share rebates and discounts with consumers, contends the Pharmaceutical Research and Manufacturers of America (PhRMA), which represents drugmakers.

Search for alternatives

Almost 20 percent of American adults ages 18 to 64 who were prescribed medicine in 2017 asked their doctor for a lower-cost drug, and 11 percent did not take their prescription in order to reduce their costs, according to survey results released in March by the National Center for Health Statistics.

Also, 5 percent sought out cheaper alternative therapies.

"Drug companies are making record profits. We deserve to have them be more accountable for the prices they set and to at least notify the public before there are exorbitant increases," said Rep. Mary Flowers (D-
Chicago). She is the sponsor of the transparency proposal.

AARP Illinois wants consumers to share their stories of high drug prices and to contact lawmakers, seeking their support for the two bills. Email aarpil@aarp.org or call 866-448-3613 for more details.

Learn more about AARP's nationwide Stop Rx Greed campaign at aarp.org/rx.

Lisa Bertagnoli is a writer living in Chicago.