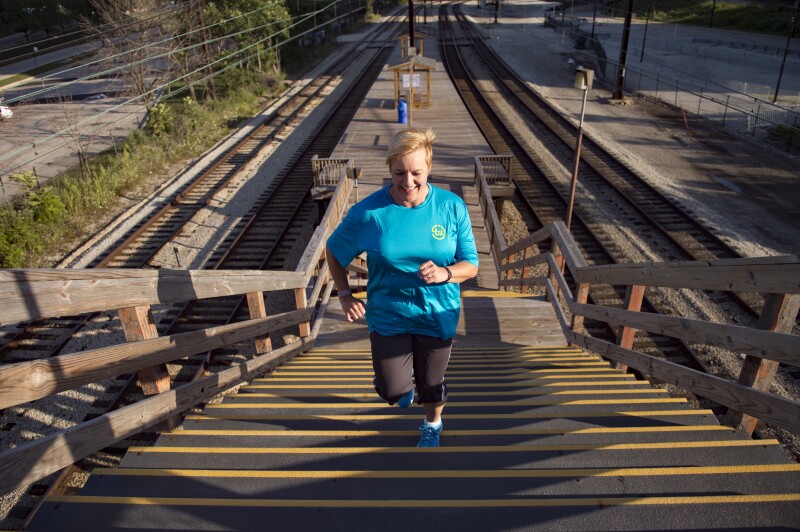 In honor of Father's Day, we share a story of a strong advocate of a father with Alzheimer's disease and how family history led to genetic test results that sparked lifestyle changes to reduce risk of Alzheimer's.
For Chicago resident Christiane Shaughnessy, genetic testing for Alzheimer's disease was never a question. Her father was diagnosed with
the disease at age 60 and passed away in 2016 at age 79. Her father's mother also had a form of undiagnosed dementia. Understandably, Christiane was concerned about her inherited risk of Alzheimer's.
She recalls one of the earlier times during her father's battle with Alzheimer's when she walked downstairs and noticed her father standing in the mudroom in his socks, looking at his shoes. In that moment, Christiane saw the confusion on his face. Unnoticed, she watched him as he tried to figure out if he was coming or going.
The moment passed quickly, but it stuck with her, highlighting how easily Alzheimer's can abduct a person's intellectual awareness.
Christiane heard about genetic testing for APOE e4 during a brain health event with NorthShore Neurological Institute and AARP. She learned that people who inherited one copy of APOE e4 are four times more likely to develop Alzheimer's, and people who inherited two copies are 15 times more likely to develop the disease.
"I thought if I found out I was at high genetic risk, I would plan my life differently and go into overdrive to keep my brain healthy," she recalls.
Empowered by Education
As a patient at the NorthShore Center for Brain Health, Christiane underwent a blood test to find out if she carried a gene variation associated with Alzheimer's—Apolipoprotein e4 or "APOE" e4. While carrying APOE e4 does not determine whether someone will develop Alzheimer's, it increases the likelihood. Research suggests that while anyone can benefit from the lifestyle changes that reduce risk of Alzheimer's disease, people who carry APOE e4 may stand to benefit the most from them, including:
• Improving sleep quality
• Engaging in regular aerobic exercise
• Achieving an advanced education
• Staying socially active
• Being a lifelong learner
• Adopting a Mediterranean diet
Christiane's test came back positive for APOE e4, which means she runs a 30 percent risk of developing Alzheimer's. People not carrying APOE e4 have an 8 to 10 percent risk.
"I have to pay attention to my lifestyle, so I'm tackling the problem from all sides," she explains, adding that she worked to shed more than 30 pounds in eight months. She also signed up for a triathlon, which she successfully completed and is now training for another. In addition to physical challenges, Christiane looks for ways to keep mentally active. She's considering learning Arabic or sign language and is looking for more challenging books to read, both in German (her native tongue) and English. She's also evangelizing. Having witnessed Alzheimer's, she talks openly about her experience and encourages people to pursue early testing and intervention, eat a Mediterranean diet, exercise and continue learning.
Part of Something Bigger
Christiane's motivation to undergo the Alzheimer's test extended beyond herself and her family. As a volunteer with the Alzheimer's Association, she knows what the power of people can accomplish. She says she initially started volunteering with the Alzheimer's Association in 2015, a year before her dad passed away. It was her way of giving when she couldn't be there for him in Germany. Over the next two years, Christiane spent roughly five hours every Tuesday in the association's downtown Chicago office, helping with office tasks, and feeling like she was contributing to something more.