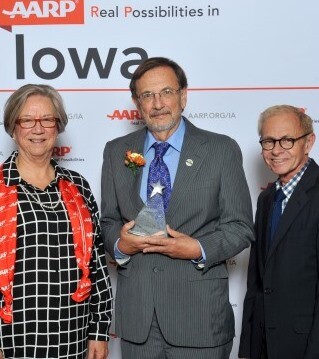 Don Corrigan of Des Moines has been named winner of the 2016 AARP Iowa Andrus Award for Community Service, AARP's most prestigious and visible volunteer award.

Corrigan received the award at a statewide celebration honoring the 2016 Andrus Award nominees and all AARP Iowa volunteers on Nov. 17 at the Holiday Inn Des Moines. AARP 2015 Iowa Andrus Award recipient Betty Kelly of Iowa City and keynote speaker AARP Central States Regional Volunteer Director Jim Scheibel presented the award.

In his keynote comments, Scheibel congratulated Corrigan and all AARP Iowa volunteers and award nominees for their service, noting their efforts contribute to Iowa's high ranking in the 2016 National Corporation for Public Service recently released annual survey of volunteerism. Iowa ranked tenth in the nation for its community service, with more than one third of residents volunteering and more than half of Iowans donating $25 or more to a charity during 2015.

"Iowans are making a difference in their communities every day volunteering with AARP and all the many fine organizations in this state. It's something the state should be very proud of," said Scheibel.

AARP's highest award for community service, the Andrus Award honors the work and legacy of AARP founder, Dr. Ethel Percy Andrus. From the beginning, her motto, "to serve, not to be served," has shaped AARP's community service efforts at the national, state and local levels. The Andrus Award winner is nominated by his or her peers and the award recipient is chosen by the AARP Iowa Executive Council.

"This award acts as a symbol to members and the public of the significant, positive social change volunteers make in community," said AARP State President Martha Willits. "Don embodies the spirit of volunteerism and we are proud to present him with tangible recognition for his outstanding work." In addition to the crystal award, Corrigan received a $1,000 check for the charity of his choice, which he designated to Friends of Des Moines Parks.

Corrigan was selected for his distinguished service and leadership with a number of organizations. They include: AARP Iowa, Age Friendly Greater Des Moines Initiative, Drake University Ray Society, State of Iowa Trails Advisory Committee, Grand View University Alumni Council, Iowa Lutheran Hospitals, and the Iowa State Fair Blue Ribbon Foundation. He has been the driving force behind several key projects in the Greater Des Moines community.

Among other accomplishments, he has:
• Represented AARP's Take A Stand 2016 voter engagement initiative, raising the issue of the future of Social Security attending 75 Presidential candidate events pre-and post-Iowa Caucuses;
• Spearheaded the goal-making process of the Age-Friendly Greater Des Moines Infrastructure Committee since 2012, with several community betterment projects emerging as a result of his leadership, including a partnership with Habitat for Humanity to build accessibility features into homes of aging adults, and a healthy living exercise center at Martin Luther King Jr. Park;
• Represented walkers and hikers on the State of Iowa Department of Transportation Trails Advisory Council; and
• Advocated on behalf of older Iowans as a Hub Leader of the AARP Iowa Grassroots, Elections and Advocacy Team, lobbying at the state and federal levels to lead positive social chance to enhance the quality of life for all Iowans.

Corrigan's nominators acknowledged his commitment to volunteer service and his passion for advocating and helping people. "Don is always the one to say, 'I'll do it.' He comes early, stays late, closes up and engages everyone around him…He makes volunteering fun, interesting, and meaningful. He is an inspiration to me and others to find a varied array of activities to stay engaged and productive."

Finalists for the 2016 Iowa Andrus Award were also honored at the event. They include:

Karen Agee of Waterloo for her help improving her community as volunteer mentor English-as-a-second language teacher for the Burmese community in Cedar Valley;
Kathryne Cutler of Council Bluffs for her efforts to reorganize of Habitat for Humanity of Council Bluffs;
Kenneth Hulstein of Sioux City for his tireless advocacy and companion for the home bound as a volunteer for the Senior Companion Program of Greater Siouxland;
Evelyn Moran of Des Moines for her 11-year volunteer work with the Animal Rescue League of Iowa where she helps care and feed animals and inspire new volunteers;
Judy Herman of Waterloo for her advocacy for children and community as a court-appointed special advocate for children (CASA), mediator for Black Hawk County and Friend of the Waterloo Library.
Pam Petersen of Clinton for founding and sustaining the "Riverfront Running Gang" and a health and wellness movement in her community, in addition to her work with the Clinton YWCA, United Way and Junior Achievement.
Judy Ray of Cedar Rapids a retired teacher known as "Grandma Judy" for her volunteerism at College Community Schools to help support teachers & students achieve their best;
Edd Soenke of West Des Moines for his efforts as architect and lynch pin in state efforts to develop professional design standards for a growing population affected by low vision; and
Kent Zimmerman of Des Moines for his work with Calvin Community Foundation and partners to create a free, educational series of programs on aging to help prepare older Iowans for the future.

Andrus Awards are presented in every state to acknowledge the volunteer work members engage in that enhances the lives of AARP members and prospective members, improve the community in or for which the work was performed, and inspire others to volunteer. Nominations for the 2016 Andrus Awards will open in the spring.