AARP Kentucky Lobby Day - Kentucky General Assembly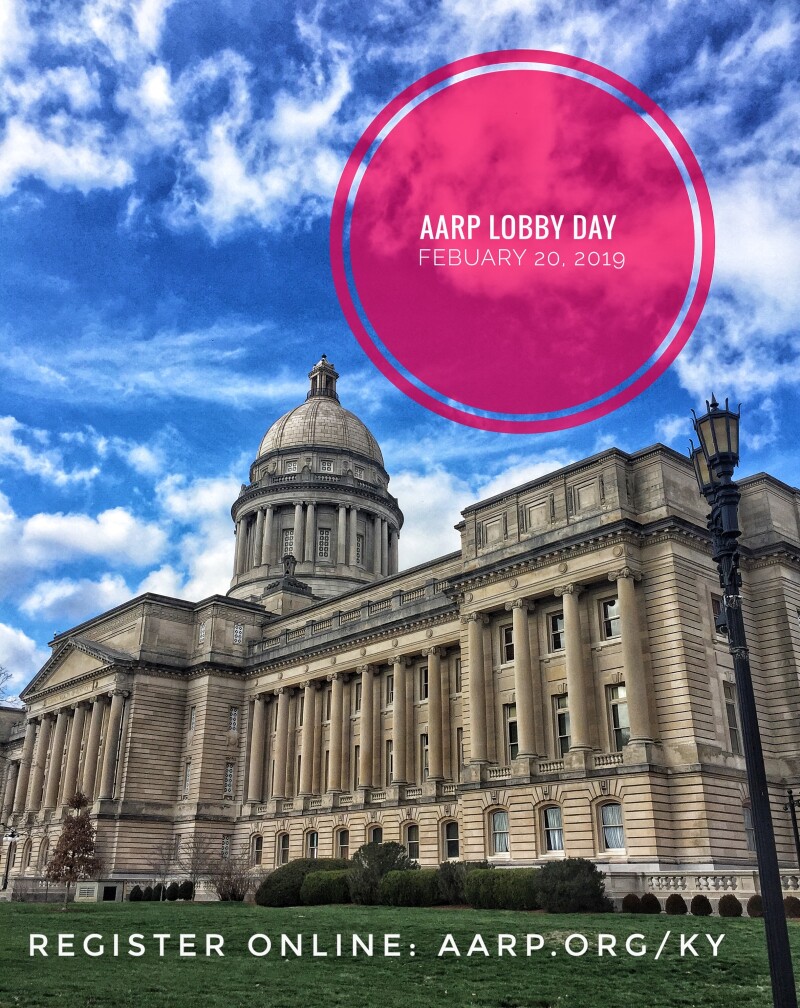 In today's non-stop tech driven world of Tweets, texts, and email, the faces and stories of "folks back home" still make a difference in the Capitol. That's why AARP Kentucky is bringing our volunteers, Chapters, and grassroots activists back to Frankfort on Wednesday, February 20, 2019. AARP Kentucky Lobby Day is an exciting way to meet your lawmakers face-to-face. It's an important part of making the voices of Kentuckians 50-plus heard in the 2019 General Assembly.
We need your help to connect with lawmakers in the General Assembly and support Kentuckians 50-plus. Grassroots constituents' opinions are an essential part of making new law and policy decisions that affect Kentuckians at every age. Save the Date and make plans to join other volunteers and AARP members for Lobby Day 2019.
AARP Kentucky plans a series of training sessions in advance to prepare you on priority legislative issues and talking points, scheduling meetings with lawmakers, and how to get around in the Capitol.
Please RSVP to Senior Program Assistant Aneshia Gray in the Kentucky State Office 1-866-295-7275 -or- RSVP online https://aarp.cvent.com/AARPKYLobbyDay2019.
Follow the work of your legislators during the 2019 General Assembly every day at Legislative Research Commission. Who's your legislator? Click here to look up your lawmakers.

2019 AARP Lobby Day Grassroots Advocates Resources:
Update: AARP Kentucky will begin Lobby Day at 9:00 a.m. ET in the Capitol Annex Building Room 149
Download your printable copy of the AARP Kentucky Legislative Agenda, here: AARP_Kentucky_2019_LegislativeAgenda_2_11_19 (PDF)
Download the latest AARP KY priority legislation talking points, here: 2019_AARP_Talking_Points_revised (PDF)
Download Frankfort/Capitol Parking Map and Directions, here: Frankfort_Capitol_map_parking
Download new LRC Guide to KY General Assembly, here: 2019_KY_GA_Directory_NEW (PDF - 62 pages)
Download Standing Committee Schedule, here: 2019_KY_General_Assembly_Standing_Committee_Schedule (PDF)